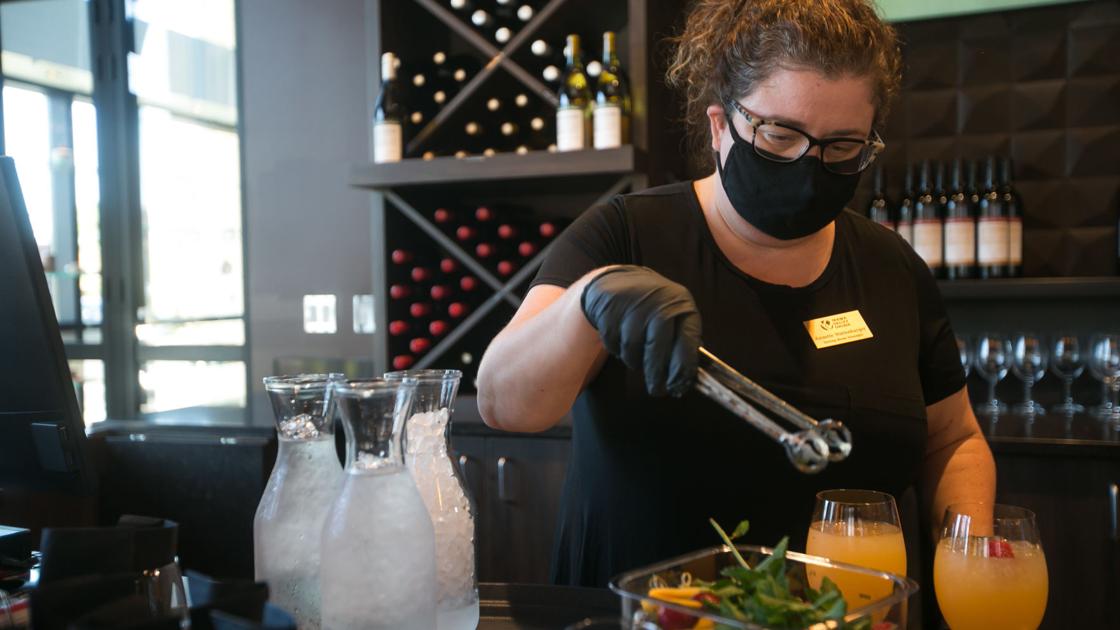 One of the Yakima Valley's little-known gems may not be so little-known for long.
Yakima Valley Vintners, the fully functional Yakima Valley College teaching winery that has been going for about a decade and a half on the YVC Grandview campus, just opened a tasting room in Yakima. The new location, which complements the tasting room and production facility in Grandview, is right next to the new Larson Gallery on the expanded YVC Yakima campus along Nob Hill Boulevard. That means a lot more people are about to learn about the student-produced wines that consistently win awards in competition with professional wineries. A lot more people are going to being saying things like, "The students made this? Really? Hmm. This is good wine."
That's been the reaction pretty much from the beginning, said Trent Ball, the YVC faculty member who's been in charge of the program since its first harvest in 2007. Students started selling wine from that harvest via the Yakima Valley Vintners Grandview tasting room during the Yakima Valley wine industry's annual Spring Barrel Tasting weekend in 2008. The reviews have been consistently positive ever since.
"If you walk in with an open mind, you're going to be pleasantly surprised by the quality of the wine that you'll taste and the diversity of wines, both red and white," Ball said. 
Perhaps you're inclined to think, "Well, he runs the program; of course he'll say it's good wine." Fair enough. But you need only look at the winery's resume to verify its bona fides. Yakima Valley Vintners wines have won 167 awards in the winery's first 13 vintages, including three platinum awards, two double-golds and a gold at this year's Wine Press Northwest Platinum Competition.
Those are the results of a passionate group of students and a very collaborative relationship with the local wine industry. Yakima Valley Vintners has its own small vineyard, but it also gets donated grapes from local winery partners.
"We got to sit down with Trent in class, and he said, 'What do you guys want to make this year?'" said YVC wine program star student Samantha Mallery. "And I said, 'Well this would be cool, this would be really neat to process, we'd really like to play with this.' And he went to these vineyards, and they donated what we wanted to do. People are eager to donate a couple of tons of grapes for the students."
Mallery, who scored a job with the prestigious Owen Roe Winery in Wapato before even finishing the program, is a good example of the symbiotic relationship between YVC and local wineries. Barbara Glover, executive director of the industry group Wine Yakima Valley, described how that relationship worked in a guest column for this paper earlier this year.
"Having observed her work as a harvest intern, Owen Roe was not about to let her slip through its fingers," Glover wrote of Mallery. "The right hand to Jackie Evans and the fellas in the cellar, Sam has become their go-to Yakima-born enologist."
Mallery was prepared for that because of her work with Yakima Valley Vintners, where students do "everything you would do in a winery," she said.
"It's so hands-on," Mallery said. "There's classroom work, but it prepares you thoroughly for working in a winery — for working in the wine industry, whether that be marketing, tasting room, in production. Whatever you want to do, there is a program for it in the agriculture department at YVC."
The program, because its focus is on education rather than profit, also fosters experimentation that might not happen at a large, corporate winery. 
"Trent is really great at doing what people want to do," said Annette Wattenbarger, coordinator of the new Yakima tasting room. "Like we have a sweet malbec coming up. That's not heard of. And it's good."
That was one of Mallery's experiments.
"Trent had suggested, 'Hey, why don't we play around with some sweet wines,'" she said. "I was like, 'Eh, I don't know how I feel about sweet wines.' And he said, 'Challenge yourself.' I said, 'OK, sure, whatever. I don't think I'll like it.' But it's awesome. And it was really fun."
Ball trusts the students to take wild chances on wines like that — another recent mad-scientist wine that worked really well was a primitivo made with a carbonic maceration, for a slightly bubbly, very fruity, wholly unexpected flavor — because he knows they're invested in the results.
"By the time they get into the second year of the program, which is when they get into being the winemakers at Yakima Valley Vintners, they're deeply engaged and passionate about what they're doing," he said. "The vast majority of them graduate with full-time jobs."
As of July 2, with the tasting room at 1606 W. Nob Hill Blvd. open to the public from noon to 5 p.m. Fridays and Saturdays, the idea is to bring their wine to a wider audience.
"We feel like we're a hidden gem," Ball said. "A lot of people, even in Yakima County, still don't know we even have a grape and wine program. This is going to give us more visibility."
>>> Don't Miss Today's BEST Amazon Deals!
Originally Appeared Here