Yountville's Art, Sip & Stroll may become Napa Valley's first public event since start of pandemic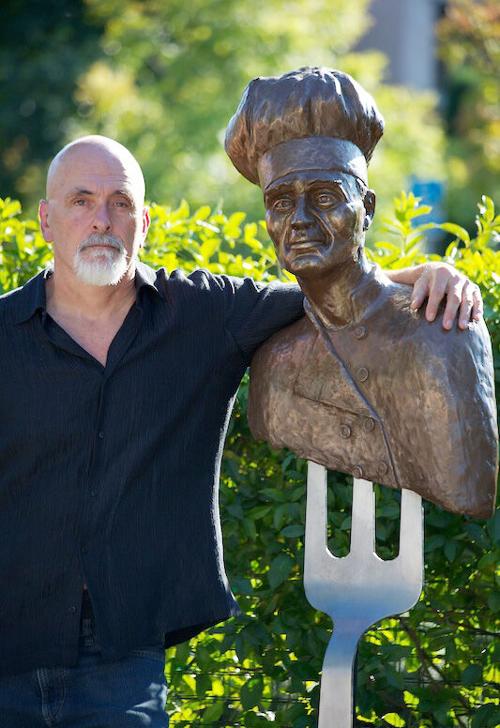 A celebration of fine art and wines could become the first public social event in the Napa Valley in 15 months — and possibly a turning of the page from the coronavirus pandemic that has brought much of community life to a halt.
Organizers of Yountville's annual Art, Sip & Stroll have announced the ninth edition of the outdoor event will take place June 12, from 11 a.m. to 5 p.m. More than 50 artists in disciplines from fine art to sculpture, jewelry, ceramics and photography will have their work showcased during the program, which will take place downtown and include tastings at various wine tasting rooms.
We're offering our best deal ever with this Editor's Special. Support local news coverage by subscribing to the Napa Valley Register.
If staged as scheduled, Art, Sip & Stroll would mark the sharpest break from the social distancing that has prevailed in Napa County and elsewhere since COVID-19's arrival triggered sweeping business and event shutdowns starting in March 2020. The announcement arrives amid a slowing in local infection rates that led California to ease Napa County safety rules starting Wednesday, allowing restaurants, gyms and other establishments to serve patrons indoors again.
Despite the rollback in coronavirus cases and the deployment of three vaccines in the U.S., the Yountville celebration's return remains far from a certainty, as a disclaimer on the event's website notes:
"Event plans and format may be changed to adhere to current COVID-19 guidelines."
In promoting the event, Art, Sip & Stroll's website nonetheless includes apparent hedges against a renewed outbreak that could force a return to an online-only format without in-person participation. The event page lists a $275 rental fee for artists' display tents, but assures participants that no fees will actually be charged until the live event is confirmed — and that artists need not pay to appear in a virtual event if the in-person festival is scrubbed.
The Yountville Arts Commission, which organizes the event, has moved the event back from its normal late-April date to give California more time to release safety guidance for group events, according to Samantha Holland, the town's parks and recreation director.
A decision to either go ahead with an in-person festival or revert to an online-only alternative — the path taken by Art, Sip & Stroll in 2020 — will likely be made six weeks before the scheduled date, Holland said Tuesday.
"We went to web-based event last year, built a website to help artists promote themselves," said Holland. "That's our fallback if we can't host an in-person event, but we really hope we can get there. … We would never move forward with an in-person event without (state) guidance or authorization."
Napa County will defer to "whatever state guidance is in place at the time" of Art, Sip & Stroll, county spokesperson Janet Upton said. "Locally, we wouldn't plan to implement additional, more restrictive measures on top of the state guidance."
Changes to the festival layout are likely to maintain physical spacing even as more people are expected to be immunized against COVID-19 during the spring, said Holland, the parks director. A larger area of downtown — possibly from Veterans Memorial Park up Washington Street to the North Block hotel — would be reserved for event use and artists' canopies would be placed farther apart, with fewer people allowed at each berth.
Holland hoped to draw on Yountville's experience organizing a limited number of group activities during the year-long pandemic shutdowns — especially a town summer camp program that continued, with children placed in small groups that did not mingle in order to minimize transmission risk.
"It's pretty nerve-wracking, but we mobilized to get summer camp open last year, so I feel we can adapt very easily to figure it out," she said.
As the coronavirus began to arrive in California early last year and led to bans on nearly all mass gatherings, the first in a torrent of cancellations played out last March in Yountville, where two food-themed festivals, Taste of Yountville and Yountville Live, were called off more than a week in advance.
The Bay Area's nine counties began issuing stay-at-home orders within days, with Napa County issuing its order on March 18, 2020. In the year since, events from the BottleRock music festival and the Napa Town & Country Fair to concerts and movie screenings have remained on hold, as COVID-19 has infected more than 9,000 county residents and killed 72, including three this week. 
For the present, the rate of COVID-19's spread has eased enough to bring more lenient sheltering rules in effect for Napa County. This week's move from the most restrictive purple tier to the red tier on California's four-level scale of viral spread opens the way to restaurant indoor table service, indoor gym use, and retailers boosting customer capacity from one-quarter to half the normal maximum.
Napa County progressed as high as the orange level in November, before a late-year surge of infections sent Napa and most of the state's 58 counties back to purple.
With coronavirus cases declining locally since the winter holidays, Holland held out hope for a return to a communal celebration — but a hope leavened with continued vigilance. "If we're not there yet as county or state or a society, we wait another year and we're prepared to do that as well," she said.
WATCH NOW: Take a Walk through the Rail Arts District in Napa
SEE PHOTOS OF A BABY GIRAFFE BORN AT SAFARI WEST IN SONOMA
A community of homeless Napans are living in RVs and other vehicles in a parking lot in North Napa. What's going on? 
As a federally qualified health center operating in Napa and Solano counties, OLE will vaccinate eligible patients it says may have otherwise …
Various possibilities for closing a middle school will be pondered in March and beyond, according to the head of the Napa school district.
The former Health and Human Services Agency campus on Old Sonoma Road has sat empty since 2016. Previous efforts to sell the 8.6 acres have no…
Napa County failed to secure a $10 million grant for a Yountville-to-St. Helena Vine Trail segment in round one, with round two to come.
When Bobby Solis opened Pancha's in 1982, the bar was one of many. It outlived its competition, survived fires, floods and earthquakes. Now it…
BottleRock's producer will extend nearly $200,000 in early payment to the Expo as COVID-19 continues to shut down large spectator gatherings.
When a young child ran toward Highway 29 traffic, an American Canyon city employee was the right person at the right place to prevent a tragedy.
The St. Helena-based wine producer confirmed it is "on a path" to becoming a public company. It will debut under the stock ticker NAPA.
A mountain lion was spotted in a central Napa neighborhood earlier this month. There are witnesses and a video to prove it.