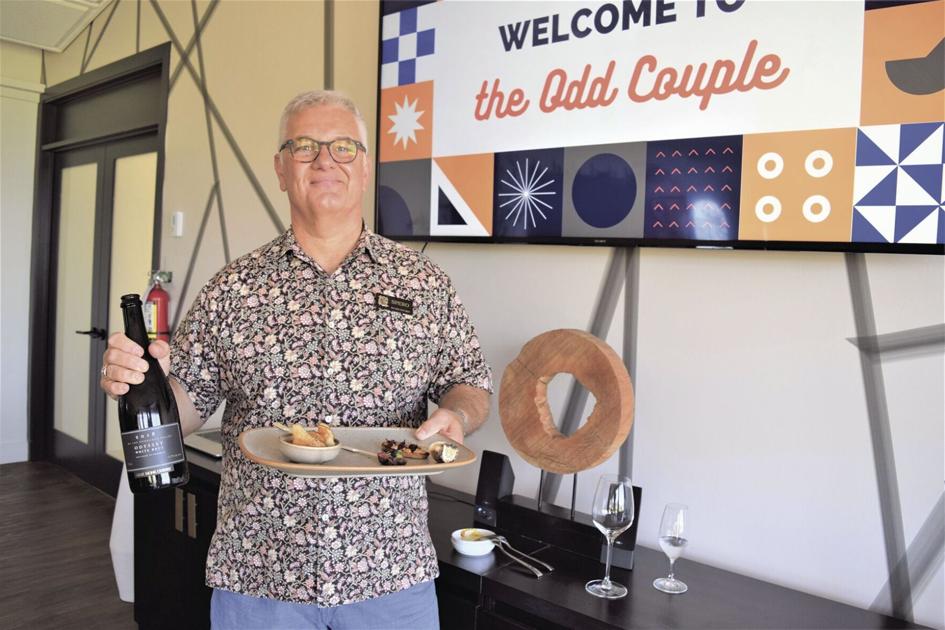 The easiest and most enjoyable way to celebrate the BC Day long weekend is with Okanagan wine.
Actually visit one of the Valley's almost 300 wineries for some sort of tasting experience or invite Okanagan wine along to any patio, beach, boat, picnic, barbecue, brunch, lunch or dinner table.
The Odd Couple
Right off the bat, Spero Ginis warns us this is "going to get kitschy."
The experience supervisor at Gray Monk Winery in Lake Country is leading my wife, Kerry, and I through The Odd Couple Food & Wine Experience ($45 per person).
As the name indicates, there's liberal use of the distinctive theme music from the 1968 movie The Odd Couple and the 1970-75 TV series of the same name featuring two guys, one a slob, the other fastidious, sharing an apartment.
The slide show accompanying the tasting pictures groovy wine-and-food party scenes from the era.
"The whole point here is to make 'odd' food and wine pairings," said Ginis. "We take the rules and knock them off balance."
As such the first match is 2018 Odyssey White Brut ($26) with potato chips.
"Sparking wine is not just for New Year's Eve and special occasions," said Ginis.
Proving that white wine can go with red meat, the next pairing is 2019 Pinot Gris ($17) with a bite of flank steak.
Vice versa, red white can pair with fish in the case of 2019 Pinot Noir ($23) and tuna with aioli.
The 'rose all day' adage is put to the test with 2020 Estate Rose ($18) paired with peanut butter and jelly on toast.
And to finish up, dessert with red wine sees the 2017 Odyssey Cabernet Franc ($35) served with a roasted marshmallow.
"Definitely, a campfire pairing," said Spero.
Not wanting our Gray Monk afternoon to end, we head up to the patio of The Lookout restaurant, which has the same spectacular 180-degree view of vineyard, lake and mountains, but has been newly renovated with a retractable roof to provide shade when
needed.
In keeping with our new mix-and-match credo, we ignore the suggested 2019 Unwooded Chardonnay pairing for the pan-seared chicken breast and continue with 2018 Odyssey White Brut.
Diverse trio
Noble Ridge Winery in Okanagan Falls proves it can do it all with a diverse trio of new-release wines.
Winemaker Benoit Gauthier only makes King's Ransom Red Meritage ($65) in years when the grape harvest in estate vineyards is exceptional.
2017 was one of those years, resulting in a big, bold Bordeaux-style red blend (Merlot and Cabernet Sauvignon) that you can simply sip on its own or drink with barbecued steak or strong cheeses.
The One Sparkling 2016 ($40) is a serious Champagne-style (second fermentation in the bottle) bubbly with aromas and flavours of apple and lemon.
Whereas, The Fizzy One Frizzante Rose ($22) is a less-serious, yet delicious, sparkling that earns its bubbles from a second fermentation in a big steel tank.
Steve MacNaull is an Okanagan wine lover and a Canadian Wine Scholar. Email: steve.macnaull@ok.bc.ca.
>>> Don't Miss Today's BEST Amazon Deals!
Originally Appeared Here