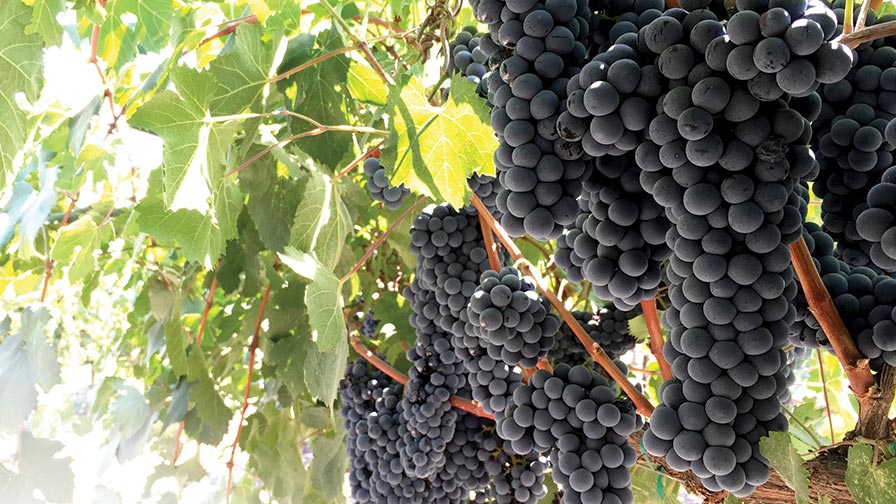 Within California, a select few grape varieties dominate the wine market. According to the California Department of Food and Agriculture's "2015 Grape Crush Report," only nine varieties accounted for almost 75% of all the grapes destined for wine production in California.
Just the top two varieties, 'Chardonnay' and 'Cabernet Sauvignon,' accounted for more than 28% of the total crush. While these top varieties may be widely planted throughout the state, their fruit and wine quality can vary dramatically by wine growing region.
About 50% of the winegrape acreage in California is found in the San Joaquin Valley (SJV), an important agricultural region with a long and rich viticultural history.
Using a technique developed by A.J. Winkler and Maynard Amerine at University of California, Davis, wine-growing regions can be categorized by their heat summation units over the growing season. The SJV is undeniably categorized as a Region V, the warmest of the wine-growing region classifications and warmer than the other wine regions within California.
High Number of Degree Days

The central SJV has accumulated greater than 4,500 degree days in each of the last four years, well exceeding the minimum threshold of 4,001 degree days for a Region V classification.
Region V climates can create challenges to quality wine production goals. High temperatures hasten the metabolism of organic acids, which can result in fruit with undesirably low acidity. High temperatures can also suppress anthocyanin biosynthesis and promote anthocyanin degradation in the berries of many traditional red wine varieties, thus resulting in suboptimal wine color.
For economic viability in the SJV, grape growers must aim to maximize production while reaching certain ripeness parameters. Yet when meeting high tonnage demands, some fruit quality issues may be exacerbated by the fact that the most popular and widely grown wine varieties were selected to ripen under much dramatically cooler climatic conditions.
By selecting grape varieties that can innately produce superior fruit in the heat of the SJV, some of the wine quality issues associated with warm climate wine production may be alleviated. With more consumers seeking out distinctive wines and with the dramatic rise in the popularity of blended wines, winemakers have more opportunities to use fruit from unfamiliar grape varieties to improve wine color, aroma, and flavor when crafting their products.
The number of certified grape varieties from Foundation Plant Services (FPS) at UC-Davis gathered from international collections only continues to grow, including an ever-increasing number of grape varieties that originate from warm climates, like Spain, Portugal, Italy, southern France, and Greece. Grape varieties from regions like these may be better adapted for grape production in the SJV.
Potential Of Other Varieties

Recognizing the need to evaluate the performance of alternative varietals in the SJV, the now retired University of California Cooperative Extension (UCCE) Viticulture Specialist, Dr. Jim Wolpert, tested 20 of these red winegrape varieties originating in warm climates at the UC-Kearney Agricultural Research and Extension Center in Parlier, CA. Factoring in yield and fruit quality parameters, some of the best performing varieties in this initial study were 'Petite Sirah,' 'Petit Verdot,' and 'Tannat.'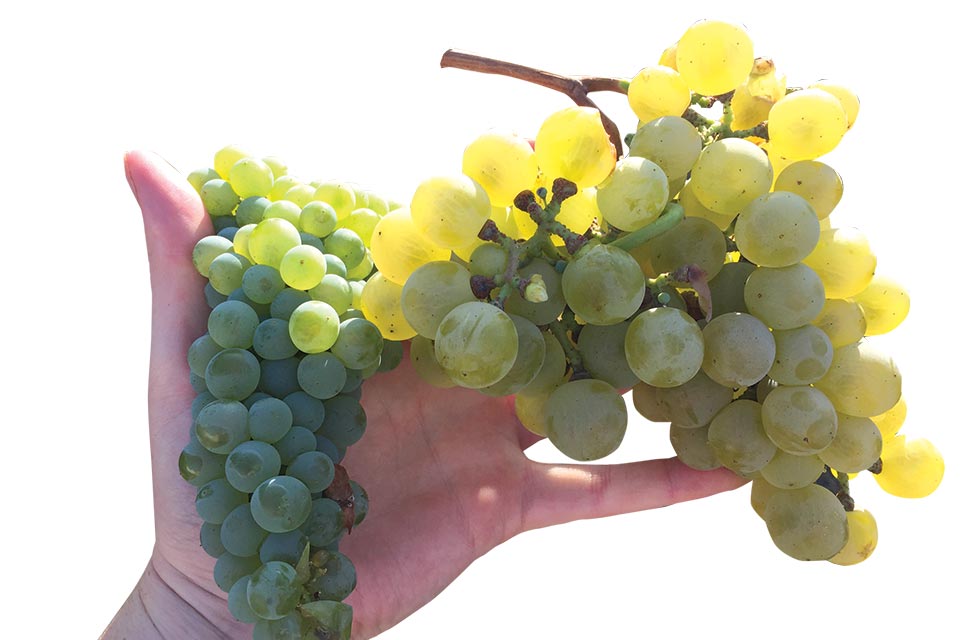 In the next phase, a much larger variety trial was developed in 2009, where 29 red and 26 white varieties which originated in warm climates were established. These selections were planted in 20-vine sections for evaluation at the UC-Kearney Research and Extension Center.
Partnering with Constellation Brands, fruit quality has been assessed and the top-performing varieties made into wine, to fully understand the commercial wine- making potential of the selections. Even when uniformly irrigated and harvested at the same target ripeness (22 Brix for whites and 25 Brix for reds), the 55 selections have varied dramatically in their phenology, growth habits, yield, rot incidence, and fruit quality. The SJV growing conditions may be the warmest of the California wine regions, but this does not limit the potential to grow a diverse range of winegrapes.
In warm climates, titratable acidity levels can be too low and result in "flabby" wines. In this trial for example, many varieties had very low (less than 4 g/L) titratable acidity (TA) at harvest in 2015. However, the early ripening Petit Manseng stood out for its acidity. In 2015, Petit Manseng came in with a TA of 12.7 g/L at 24 Brix in late July.
A naturally high acid white selection could be incredibly valuable to use as a blending grape in the SJV, to help ameliorate any suboptimal TA levels in other lots of incoming juice. Selecting varieties with specific juice characteristics may allow grape growers to address some warm climate wine production challenges directly in the vineyard.
The Challenge Of Red Colors

In warm climates, it can also be a struggle to achieve deep color in red wine grapes. This makes color one of the most important red wine grape attributes to assess. Cabernet Sauvignon was grafted into the trial block, so this conventional choice could be readily compared against the other varieties. In 2015, of the anthocyanin content of many of the other selections, including 'Segalin,' 'Morrastel,' 'Bonarda,' and clones of 'Charbono' and 'Teroldego', was approximately four times greater than seen in the 'Cabernet Sauvignon.'
It is important to note that by planting different varieties, the color intensity sought by winemakers can be achieved in SJV fruit. Traditionally the fruit from the SJV and other warm climate wine growing regions have been destined to only the bulk or "low quality" wine market. Although grape growers may utilize high- yielding production systems in the SJV in order to remain profitable, by selecting varieties suited to a warm climate and these production demands, they can still achieve a high level of fruit and wine quality.
Yield and rot incidence at harvest have been parameters that quickly identified some varieties that are not well- suited for wine grape production in the SJV. There were some varieties that were incredibly prone to developing summer bunch rot under SJV conditions. White varieties that were especially prone to rot and exceeded a 50% incidence of rot at harvest included 'Albillo Real,' 'Arneis,' 'Roussanne,' and 'Tocai Friulano.'
Other varieties did not produce sufficient yields to be economically viable for any grower in the SJV. 'Prieto Picudo,' which only reached a calculated yield of less than 7 tons/ per acre, and 'Erbaluce' yielded less than 6 tons/ per acre in 2015, well below the yields needed for economic viability in SJV production. Consistently poor performing varieties have already been identified and grafted over with new, more promising selections.
Promise Of 'New' Varieties

Originally grafted into the trial in 2013, clones of 'Charbono' and 'Teroldego' are looking incredibly promising. At the start of the 2016 season, 'Nero d'Avola,' 'Grand Noir,' 'Petit Bouschet,' and 'Assyrrytiko' were grafted into the collection. By continuing to identify and evaluate varieties that can flourish in the SJV, variety trials help to contribute to the every-increasing quality wine production within the SJV.
Instead of trying to conform to cooler climate grape selections, the SJV can instead embrace new grape varieties that can ensure its continued role as an important California wine grape production region.
A special thanks to the people that have made this possible: Dr. Jim Wolpert for the initiation of these trials, UCCE Viticulture Specialist Dr. Matthew Fidelibus for the continued support of this work, Oren Kaye with Constellation Brands for his collaboration, Dr. Deborah Golino at FPS for providing the budwood, and the American Vineyard Foundation for its funding support.


0
1
5

Winegrape Varieties That Can Beat The Heat


Lindsay Jordan is an Area Viticulture Advisor with University of California Cooperative Extension, serving Madera, Merced, and Mariposa counties. See all author stories here.