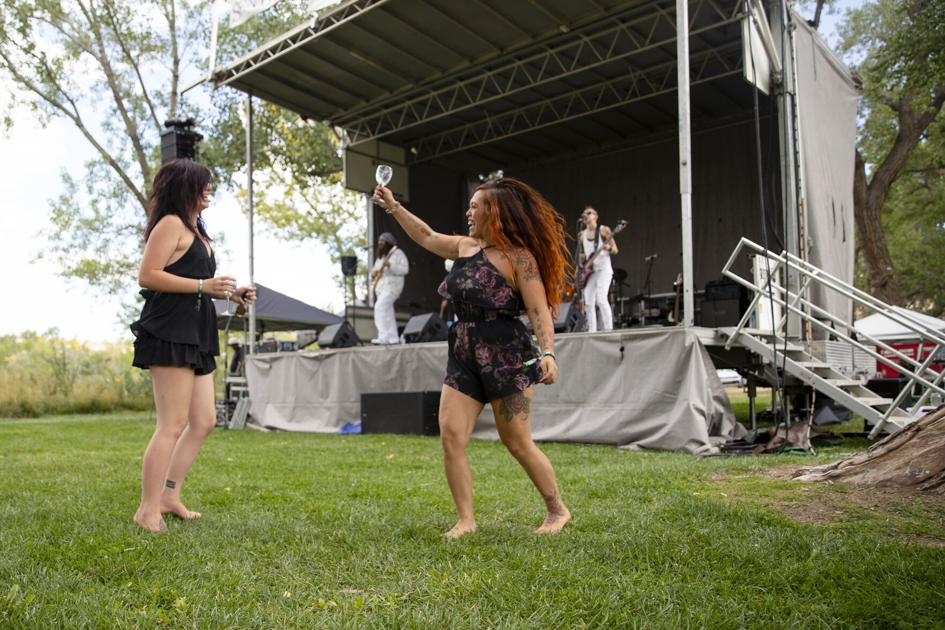 Colorado Mountain Winefest returned to Riverbend Park in Palisade over the weekend.
Winefest, voted the best wine festival in the U.S. by USA Today in 2017, stretched across Saturday and Sunday. The event was organized by the Colorado Association of Viticulture and Enology (CAVE) and featured 35 wineries and vineyards, 24 vendors and live music. Capacity was capped at about 2,500 guests, and both days sold out by August.
The new format, which was announced last year, was meant to accommodate social distancing and limit potential spread of COVID-19.
Previously, the event was only on Saturdays.
"We don't know if this format is going to stay or not," said Cassidee Shull, executive director of CAVE. "Once we're done, we're going to survey guests and winemakers to see what worked and what didn't."
Last year's Winefest was canceled because of COVID-19, which dealt another blow to wineries desperate for revenue. CAVE substituted the celebration of wine with a scaled-back week of events and specials, but it couldn't fill the hole.
Though the format changed, Winefest was much the same.
Friends clinked glasses of wine together for Instagram-worthy photos and walked through the crowd to try wines from across the country.
John Cowperthwaite has been to seven Winefests. The owner and winemaker of Black Arts Cellars in the Ken Caryl neighborhood of Littleton said the event is part of a festival circuit that gets his brand out there and his bottles in new customers' hands.
He began making wine for fun in 2004, and the hobby evolved into a calling. He's a wine devotee and falls for just about every blend he makes. His latest favorite was a syrah that just about sold out by 1:30 p.m. Saturday.
While any business is good business, the new format was a mixed bag.
Because there were fewer guests and wineries stretched over a two-day period, Cow- perthwaite said they were still seeing about the same number of guests as they normally would. The new format also gave them more space and shorter lines.
On the other hand, it brought uncertainty.
"It's hard to gauge how much product we need to bring from the Front Range. This weekend is hit or miss for weather. It could be a 74-degree day or a 95-degree day. If it gets too hot, then we have to be careful about how we're storing the wine," he said. "If it gets too hot, then the wine's taste isn't nearly as good. And this is all we have. If the wine goes bad, then we're done for the weekend — that's it."
Some guests, however, were digging the format.
Isabelle Liuzza won Saturday tickets through work and had her mom fly out from St. Louis for the weekend.
Liuzza had heard of Winefest before, but this was her first experience. She thought there was ample space and plenty of options.
"I think it's a great idea because it isn't as crowded. People can decide which day they want to go on and can have flexible travel plans," Liuzza said. "Not to mention, it also gives you an extra day of recovery after drinking lots of wine."
>>> Don't Miss Today's BEST Amazon Deals!
Originally Appeared Here