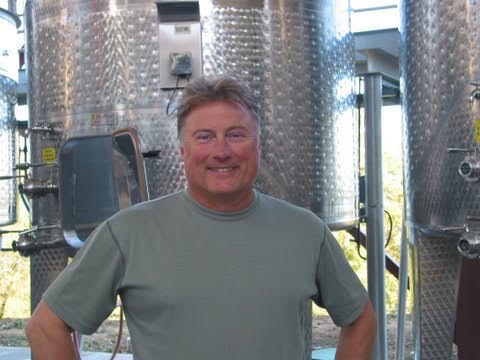 (March 3, 2021 – Santa Rosa, CA) — After helping launch the 2009 vintage Yao Ming Wines in the U.S. Market 10 years ago, Tom Hinde has decided to step away as Founding Winemaker, to devote his full time and energy into other projects, such as Calina, Kintera Wines, Cru 9, Napa Bench, House of Cards, Taub Family Vineyards, Au Contraire, and Mon Frere.
With over 30 years in the wine industry, Tom Hinde was an ideal match for the Yao Family Wines project. Tom led all aspects of winemaking for the Yao Ming brand, which sourced grapes for its California Cabernet Sauvignons, such as the Napa Valley Cabernet Sauvignon and the Family Reserve Cabernet Sauvignon, from prestigious Napa Valley vineyards with a reputation for excellence. These highly sought-after selections garnered a string of 90+ scores and are still in great demand.
"I am very proud of founding this great brand with our first vintage of wines, developing their wine program, establishing them in the U.S. market and solidifying their place of exceptional wine quality among their Napa Valley counterparts," says Hinde. "The timing is perfect to pass the torch to the next caretakers of this amazing project. I am excited to give my time, energy and sole focus into helping my current roster of clients." 
Tom previously spent 16 years, from 1989 to 2005 as Vice President / General Manager for Kendall-Jackson Wine Estates. Tom managed day to day farming and winery operations in Sonoma and Mendocino County, where he was General Manager for The La Crema Winery and Hartford Family Winery and helped build La Crema into one of Sonoma County's most prominent Pinot Noir producers. Tom worked on the winemaking team for Cabernet Producers; Lakoya, Cardinale, Stonestreet, and Verite. Tom brings with him knowledge of the industry from consumer to winery with a strong market perspective. 
Working with the Taub family, Tom is chief winemaker for Taub Family Vineyards, Napa, representing some of the best sites in St. Helena, Rutherford, Oakville, Yountville, Mount Veeder, and Howell Mountain. He also leads winemaking for the family's Au Contraire wines from Sonoma, and Mon Frere range from California.
"I am happiest when working with entrepreneurs to create wine brands and their delicious wines," says Hinde. "Throughout my years I have learned that crafting beautiful wines starts with the very best fruit source. I have always applied meticulous attention to detail in realizing the greatest potential out of each grower family and their unique vineyards."
Prestige Wine Company:
About Tom Hinde
Tom is an independent winemaker working in California's famed Sonoma and Napa wine regions, where he is Winemaker for Prospect Brands in Healdsburg, and Prestige Wine Co. in Santa Rosa, CA. From 2005 to 2010 Tom was President / CEO and Director of Winemaking for Flowers Vineyard and Winery, a specialty Pinot Noir and Chardonnay producer located on the Sonoma Coast. In 2008 Tom successfully transitioned Flowers to the Huneeus Vintner's group and stayed on to oversee the integration of a new wine making team. Tom was Director of Winemaking for Yao Family Wines from 2009 to 2020.
Tom was born and raised in Ohio, attended the University of Toledo and holds a Bachelor of Science in Business Administration. Tom attended the University of California, Davis where he earned his Winemaking credentials. When not making delicious wines, Tom makes his home in Santa Rosa and Truckee, CA, with his wife Kim and three children.