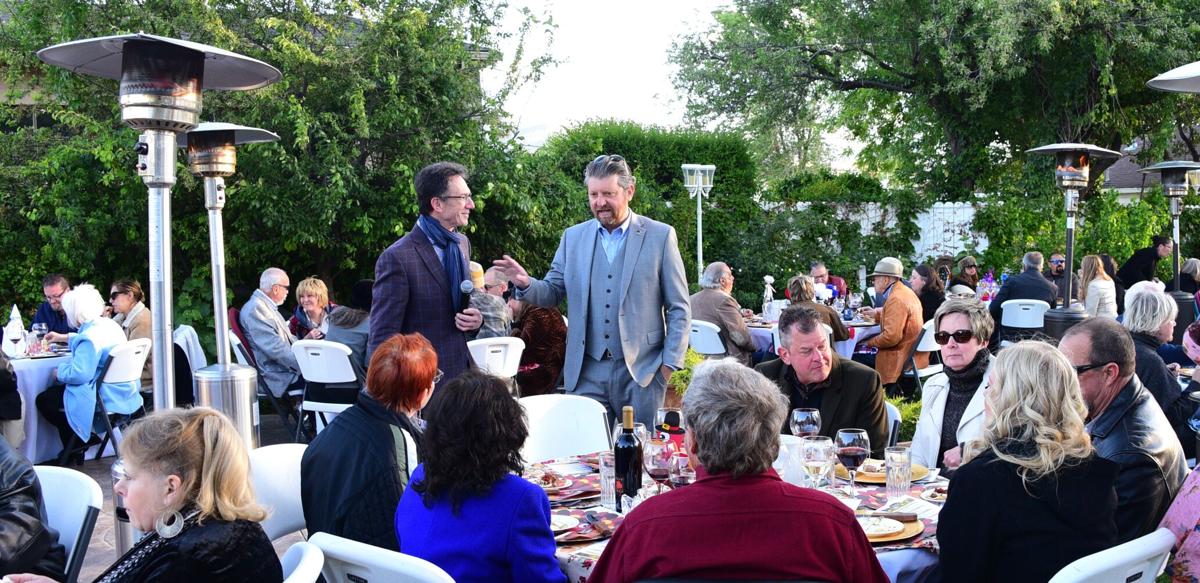 Tehachapi Rotary Club held its annual Wine Pairing Dinner Saturday night on the patio of Jennifer's Terrace. Despite cool weather and a persistent breeze, spirits were high and the approximately 80 guests enjoyed an evening of fine wines paired with an outstanding multicourse dinner menu.
Tehachapi Master Chef Mano Lujan prepared the menu to pair with a selected California wine. Before each course was served, wine representatives Loren and Pam Hoffman explained the origin of the wine being served and Lujan explained to the guests the menu he was presenting to pair with the wine chosen.
The welcoming wine was DeLoach Vineyards Mendocino County 2019 Chardonnay. The wine was enjoyed during the social hour before dinner.
The appetizer wine was Wattle Creek Winery Sonoma Coast 2018 Pinot Noir. The appetizers were fresh mozzarella wrapped in prosciutto with cracked pepper and olive oil. Also, there was a goat cheese rustic cracker with cranberries and orange peels. Japanese black pepper beef with Korean pear was offered on a skewer.
The soup and salad course consisted of plantain soup in beef bone broth followed by what Lujan labeled as a cleansing of the palate salad, of Korean Daikon with chives and Hawaiian papaya. it was topped with lemongrass butter and poached Norwegian lobster. The wine was Buena Vista 2019, The Deputy Petite Sirah.
The evening's main course was double smoked pork chop with a honey sage glaze. it was topped with grilled nectarines, gorgonzola cheese and a balsamic reduction. Sides were butter sautéed garlic greens and chive buds. Creamy Kohlrabi and garlic mashed potatoes completed the main course.
The paired wine for this course was Frenchie Winery North Coast 2018 Collage Red Wine.
Dessert was chocolate or blueberry mochi and fresh sliced strawberries. The wine was Buena Vista Sonoma County 2019 Countess Red Blend.
The evening's affair concluded with the awarding of silent auction items.
The event is a fundraiser for the Tehachapi Rotary Club and helps fund its many community service activities.
>>> Don't Miss Today's BEST Amazon Deals!
Originally Appeared Here