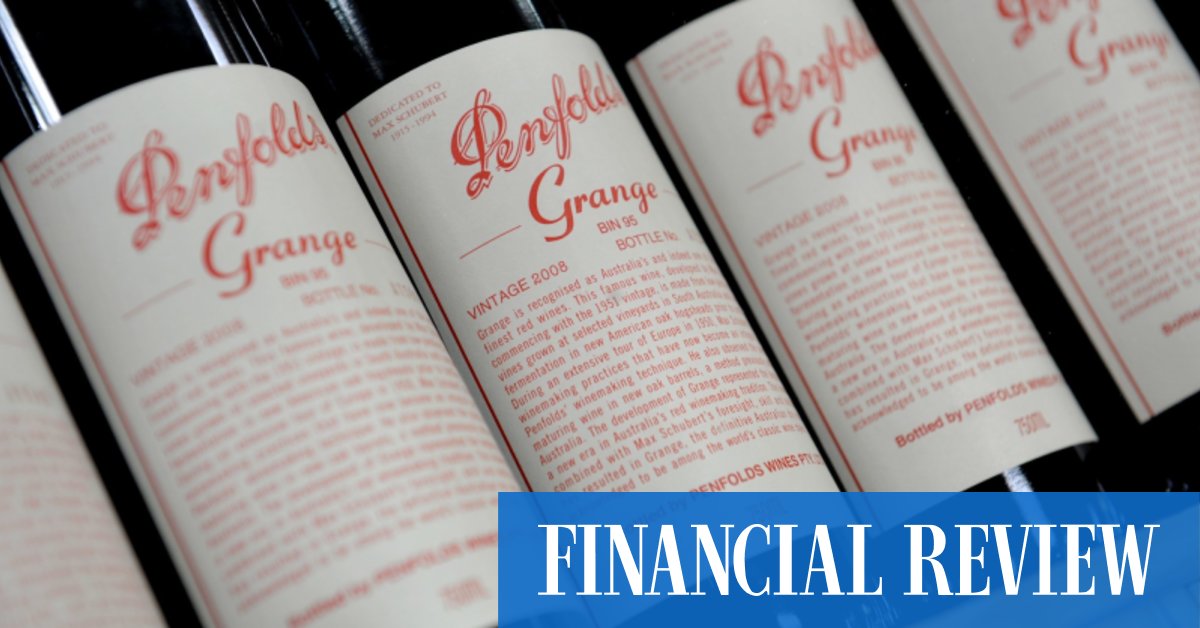 Tony Battaglene, chief executive of Australian Grape and Wine, the national body of grape growers and wine producers, says it will take time for the diversification to happen across the industry into other export destinations. But the demand is there.
"There are a lot of markets in south-east Asia where we've not been into because we've been concentrating on China," Battaglene says.
Penfolds owner Treasury Wine Estates has been hit hard by the Chinese tariffs. Justin McManus
He also believes it will take time for the blowback further down the chain to happen. Grape growers with red wine varieties will be under severe pressure with a larger grape harvest in 2021 of 1.8 million to 1.85 million tonnes, slightly above average. But the prices wineries are willing to pay will drop even further in 2022, he predicts, because of the absence of the Chinese export destination.
The wine industry has borne the brunt of the China backlash designed to hurt a range of industries, research by the Lowy Institute has found. Lowy Institute chief economist Roland Rajah says that besides wine, other Australian exports hit by sanctions "show even clearer signs of substantial trade diversion".
"Looking at exports of barley, copper, cotton, seafood and timber, sales of these products to other markets rose sharply, but only after China's sanctions intensified in late 2020," Rajah says in his analysis.
Overall, the trade sanctions and tariffs meant a $20-billion-a-year reduction in Australian exports to China. However, diversions to other markets meant the net loss was less than $1 billion. "The total economic impact of China's trade coercion against Australia seems to have been quite limited thus far," Rajah says.
In the agricultural crops sector, wheat sales to other countries such as Indonesia, the Philippines, Vietnam, Japan and South Korea are strong.
The Middle East has emerged as the biggest buyer of barley in the absence of China. Australia exported about 6.5 million tonnes of barley to China in 2017, but Beijing in practical terms shut down the multibillion-dollar trade in May 2020 by imposing import tariffs of more than 80 per cent.
GrainCorp was another company people were worried about when the
China tariffs first emerged. But it has pulled off a textbook diversification strategy thus far. It has expanded the number of countries it trades with from about 30 to 50 following China's trade sanctions. The giant east coast grain handler and marketer, which is listed on the ASX, demerged a global malting business in March last year.
Managing director Robert Spurway signalled in February that welcome rainfall had triggered a break in the drought. This in turn was delivering one of Australia's biggest-ever crops.
GrainCorp is well into its first major export program since the 2016-17 crop and its ports are booked to near capacity until September. GrainCorp had been expanding its markets consistently even before the China tariffs. A big plus had been already having a presence in Ukraine and in Canada, where the company has a joint venture with Japanese farming co-operative Zen-Noh.
The Middle East and North Africa are also being closely targeted for a ramped-up export presence. Barley growers have also been on the front foot in heading to Mexico, the world's fourth-biggest beer producer. Mexico received its first shipment of Australian malt barley in January in a deal brokered by Australia's largest co-operative, CBH. CBH is controlled by thousands of farmers in Western Australia.
More feed barley is also going to Saudi Arabia which, similar to the wine industry, Australia has largely neglected because of the robust trade it had built up with China. Exports to Saudi Arabia are projected to rise to 2 million tonnes in 2020-21, from a previously minimal amount.
This article appears in the Financial Review's Agribusiness magazine out on Monday, June 7. Read more here.
>>> Don't Miss Today's BEST Amazon Deals!
Originally Appeared Here