Penfolds brand ambassador Sam Stephens discusses their new white wine campaign, Experience Extraordinary In a New Light, over a decanted glass of Yattarna Chardonnay
Would it surprise you to know there are many misconceptions about white wine? The folks at Penfolds, which has been making wine since 1844, have probably heard them all. Some are perplexing, such as thinking that white wine contains less alcohol than red, or that screwtop closures mean that the wine is cheap. Others are perhaps more ingrained in habit, such as pairing white wine only with seafood, or drinking whites earlier than reds.
Sam Stephens, Penfolds' brand ambassador and education lead for Asia is based in Singapore, and is part of the team spearheading a new campaign, Experience Extraordinary In A New Light. We caught up with Sam over a glass of the Yattarna Chardonnay 2018 while discussing white wines and the hidden luxury behind it over the event launch at CÉ LA VI.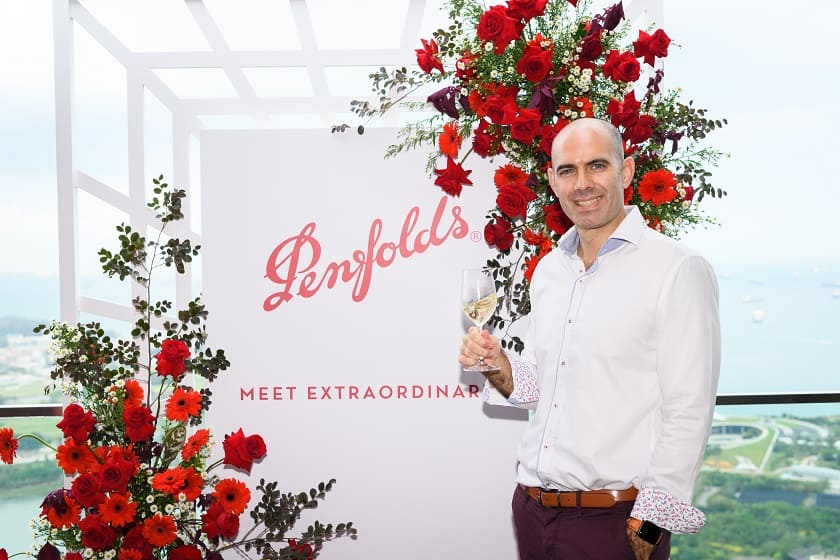 If you're looking for someone to demystify wines for you, this affable and very reassuring Aussie wine expert has all the right information at his fingertips. Stephens hails from Adelaide, with over 20 years' experience in the wine trade, including hands on vintage experience, wine education and training, and sales programmes. He holds a WSET Diploma and is currently in the second stage of the Masters of Wine programme.
At the event, guests received a flight of Penfolds white wines and several ways to experience them differently, such as different glassware and a range of temperatures, to discover the best ways to enjoy their whites. Stephens goes even more in-depth in this interview.
Tell us more about Penfolds' white wine story.
Penfolds was established in 1844, by Dr Christopher and Mary Penfold, and it always had a visionary spirit from the beginning. We know that as far back as 1890, Mary Penfold was awarded a trophy in recognition of her pioneering white wines. Today, Penfolds has a few Chardonnay flagships, including Yattarna, Bin 311 and Max's Chardonnay, as well as Rieslings like the Bin 51 Eden Valley.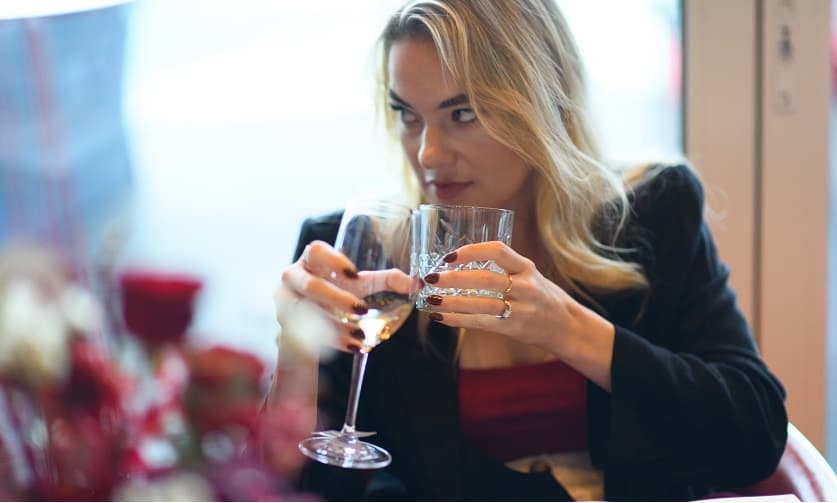 Why has Penfolds launched this campaign to explore white wines in Singapore?
There definitely has been an increase in the popularity of white wines, as seen in the recent Penfolds-Nielson white wine survey, perhaps partially because consumers were drinking more at home and wanting new experiences. Flavours (30%), value (28%) and country of origin (21%) are key considerations when buying white wine.
And when you think of flavour, you will think of Chardonnay. It's capable of producing dry wines in a variety of enticing styles, whether the high acid cool climate style or fruity tropical warm climate ones. For Penfolds, we source across cool climate regions as we like our Chardonnays to be refined, elegant, light to medium bodied, with increasing levels of complexity as you go up the quality ladder.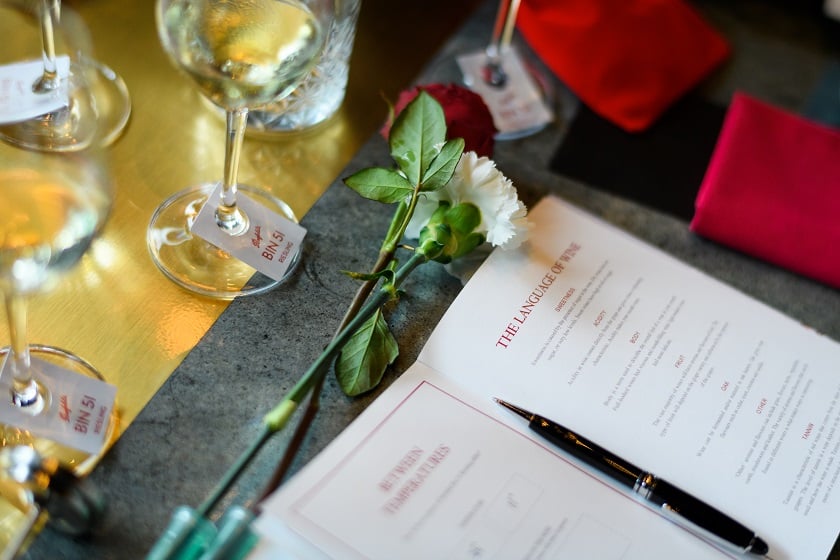 Is it true that you should keep your Chardonnay longer before drinking it?
Most people do purchase white wine for immediate consumption, whether that means they are buying it to bring to a dinner party or as a gift. However, just as in red wine, there is a wide drinking window depending on which label you're going for. We have Chardonnays that are made for approachability and immediate drinking, such as Max's Adelaide Hills Chardonnay which is a light to medium bodied crowd-pleaser that ticks all the boxes for the Adelaide Hills citrus and grapefruit character.
Our Bin 311 Chardonnay is a true winemaker's wine, which is made "where the fruit grows best and where it best suits the style". As a result, you get a blend of grapes from some of our best regions – Tasmania, Tumbarumba and Adelaide Hills – and you can make a really fine wine with this palate. We're talking about notes of citrus framed by white stone fruit, balanced by mouthwatering acidity and a subtle, nutty mealiness. It drinks fresh and charming now, but a few years in the bottle will bring about secondary and tertiary developments supported by the structure of the winemaking, so you enjoy more intricate notes – think spices, herbs, earthiness and toastiness. So if you like the fresh style, you can drink the current 2019 vintage in the next few months, but if you are curious about the latter notes, you can keep this bottle in a wine fridge till 2027 to see what I'm talking about.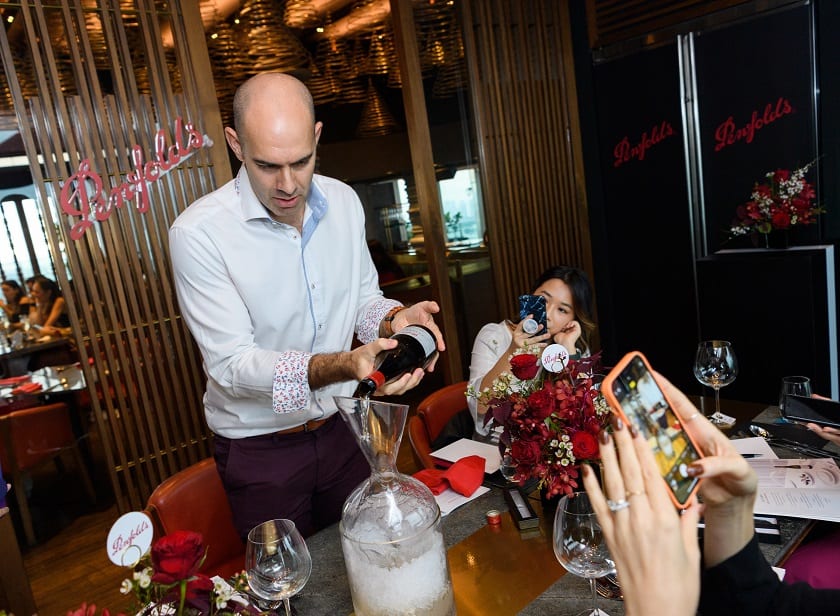 What about the Yattarna 2018 that you've just decanted?
Launched in 1998 with the 1995 vintage, Yattarna is the result of one of the most comprehensive, focused and highly publicised wine development projects ever conducted in Australia. Penfolds wanted to set the standard for ultra-fine Australian Chardonnay, making 144 trials before getting it right – that's why it takes its name from the indigenous word for 'gradually', or little by little. Our drive for quality brought us to Tasmania, Tumbarumba and Adelaide Hills, where the cool climate grapes exhibit the bracing natural acidity that augurs well for long age-ability.
With such a bold, texturally dynamic wine, you'll find that it benefits from airing out – which is what happens in the decanter. The 2018 Yattarna's tightly wound fruits, mainly fresh stone fruit like peach and nectarine which is wrapped in a whisper of oak, are more amplified and poised to exhibit their layers. Decanting also brings a touch of excitement at the table, adding a visual flourish but also the opportunity to share and talk more about the flavours in your glass. That's for the young vintages. The Yattarna is the most age-able of our wines, and is recommended to drink in about 10+ years at its peak. Astute collectors with the 2010, 2011 in their cellars are discovering just how complex it is drinking today.
Shop Max's Chardonnay ($43), Bin 311 ($68) and Yattarna 2018 ($228) from Lazada.sg (The Cellar, Penfolds Official Store)