Q: Are wines from grapes grown on old vines better than young? And what is "old", anyway?
A.B., Lismore, NSW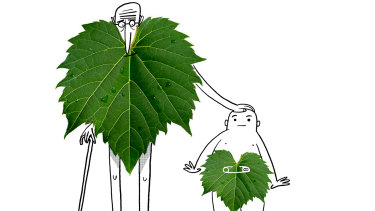 I have in my hand a bottle of Langmeil The Freedom Shiraz 2017, which the label tells me was grown on vines planted in 1843 by Christian Auricht, one of the earliest Silesian migrants who settled in the Barossa Valley and made it what it is today.
It costs $145. And it is stupendous, because of the concentration of flavour, the intensity of fruit, the power and density. But also, the softness, the silky tannins, the succulent deliciousness that seems to last forever in your mouth. This is a special wine. Is it that way simply because the vines are so old – 174 years? Or is there another reason?
The Barossa Valley has a wealth of old vineyards planted in the 19th century. Most are tiny, because that's how they farmed in those days, so the total area is a small fraction of the entire Barossa region.
Today, much is made by wine marketers of the age of their vines. But the truth is that old vines don't by themselves guarantee great – or even good – wine. It's actually the reverse: great vineyards result in old vines.
In other words, if the quality of the grapes is consistently high, the vineyard will survive long enough to become old. If not, the vines would have been pulled up and something else planted instead.
Loading
Quite a few wines from the Barossa, Eden and Hunter valleys and from central Victoria (think Tahbilk and Best's) are made from centenarian vines, and they're almost always outstanding, for the reasons above. They are some of the oldest producing grapevines in the world (in the 19th century, the phylloxera parasite devastated most of Europe's vineyards.).
How old is old? Unhappily, there are no rules. In some French regions, vines older than 20 years are labelled as vieilles vignes ("old vines"), which is hardly credible.
In my opinion, the Barossa has the best system. Barossa Ancestor Vines are 125 years or older; Centenarian Vines are 100 years or older; Survivor Vines are 70 years or older; and Barossa Old Vines are 35 years or older.
Got a drinks question for Huon Hooke? thefullbottle@goodweekend.com.au
To read more from Good Weekend magazine, visit our page at The Sydney Morning Herald, The Age and Brisbane Times.