Westhaven Wines is a fresh new addition to the Westport Marina district. The cozy coastal interior, designed and hand-crafted by owners Casey Watkins and Jessica Baldridge, features cut wine bottle chandeliers, a live edge wine rack, tumbled glass candles, and an impressive collection of whites and reds. The casual vibe spills onto the sidewalk with ocean inspired outdoor tables, nautical rope and planters full of succulents. When weather permits, this is the best place to sit and sip while watching people, boats in the marina, the sunset, or the rise of the moon. Westhaven Wines has barely been open a year, but is quickly becoming a favorite stop for locals and visitors alike.

"We love our community," says Casey. "We offer a relaxed feel with a great view. We stay busy with the locals, but also get weekend travelers that come in every day they are here."
Casey and Jessica didn't know when they first partnered to open a wine bar in 2019 that a pandemic would set them back. They just knew they had a shared dream and similar backgrounds. Jessica moved to Westport in 1999 after falling in love with surfing. After working at several different restaurants, she decided to go to nursing school at Grays Harbor College (GHC). She and partner Jeremy have three boys and they spend their free time on the beach and in the waves.
Casey, born and raised in Hoquiam, also went to nursing school at GHC and after spending countless weekends in Westport, she and husband Jason (who also have three boys), moved here full time in 2016. Maybe it's their background as career nurses, Casey as an OB nurse and Jessica as an ER and med-surg nurse, that gave them the fortitude and ability to quickly pivot and change as each new rule or phase re-scheduled their opening.
"We literally were given our liquor license on March 13, 2020, which is basically the same day everything started shutting down," recalls Casey. "We had to put off our opening until June, but in the end, it gave us time to really make our space special."
Westhaven Wines offers wine by the glass or the bottle and bottles can also be purchased to take home for any occasion. They also feature local rotating brews on tap from Mount Olympus and Blackbeard's. You can pair your drink of choice with a cheese or charcuterie board or try a Sassy Seafood tuna melt. Coming later this spring, Westhaven Wines will introduce wine flights and a burrata board. Burrata is a hunk of creamy cheese similar to mozzarella, but soft on the inside, sort of like the hot lava cake of cheese. It will be served with a bruschetta mix of crusty bread, tomatoes, olive oil, and balsamic.
"The wine flight menu will rotate, but will feature three glasses of either a white or red," says Jessica. "We also hope to host more tasting events and specialty nights as COVID restrictions ease."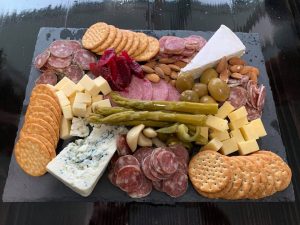 Casey and Jessica have enjoyed the creativity of being entrepreneurs and engaging in the research to bring great wines to Westport. Favorite reds of Jessica's include Gunpowder Creek Cabernet and VA Piano Cabernet. For white, Casey recommends the Vinho Verde, a dry, slightly fizzy wine she fell in love with on a trip Portugal a few years back. More recently, the two went to Walla Walla and surrounding areas to meet wine makers and visit some of the smaller wineries.
"We met Caleb Foster, possibly they most famous winemaker in our state," says Jessica. "We also met the Frichettes a fairly new winemaker out of Red Mountain. We loved their wine and brought bottles back for our customers to try."
It has been an exciting and admittedly scary process to switch careers, but becoming partners has helped ease the transition to fulfill a shared dream of owning a wine bar. "I had quit my nursing job and was taking a month to just think about what I wanted to do next, says Casey. "I was tired of planning and not doing. I decided it was time to go for it. You just don't know what will happen tomorrow. I ran into Jessica shortly after making the decision and when I told her I was going to open a wine bar she asked if I wanted a partner and I said emphatically, 'Yes!'"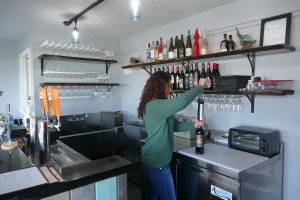 Jessica had also been in the mindset that you only live once and you have to be happy with what you are doing. Both had grown tired of the long hours and shift work of nursing. Between the two of them they have over 40 years of nursing experience.
"My sister lives in Enumclaw and there is a cute wine bar there and I had dreams to do something similar in Westport." says Jessica. "A few weeks after telling Casey I'd be her business partner, I was on a trip with my sister in Woodinville. We were walking down the road wine tasting and someone taps me on the shoulder.  It was Casey and her husband Jason. In that one moment, we knew it was meant to be."
Westhaven Wines is located across from the marina in Westport at 2521 Westhaven Drive. Just look for the outdoor wine tree that holds over 12 dozen bottles and lights. The piece, originally commissioned as a Christmas decoration, has become so popular Casey and Jessica are debating keeping it on display year-round. "I have had people tell me this tree is becoming the newest Westport Landmark," says Casey. "People stop and take photos of it all the time."