In the beginning of 2002, a small group of vintners and winemakers got together for a meeting. That was the first gathering of the Ramona Valley Vineyard Association.
Since that first meeting, the RVVA has made large strides toward putting Ramona wine on the map. In 2006, Ramona was designated as an official American Viticultural Area (AVA), and in 2010, after a lot of determined efforts by association members, the San Diego County zoning ordinance was amended to create a four-tier winery structure, commonly referred to as the Boutique Winery Ordinance.
This ordinance allows wineries to serve wine to the public without financial regulations. Since the passing of the ordinance, the RVVA has grown to over 30 wineries and 80 vineyards. They have also expanded membership to businesses and friends of the association.
Together, members of the RVVA have supported one another, mentored new winemakers and winery owners, and most of all created a community of wine lovers. The Ramona Valley Vineyard Association's mission is: "To educate wine grape growers and winemakers for successful, sustainable and profitable production of grapes and wine; and to promote and market quality wine to our growing community of wine lovers."
Andrew Lathom, of Lathom Farm and Vineyards, joined the RVVA in 2017.
"I joined to get an idea of what was going on in the Ramona AVA, and absorb all the information that I could, start networking and hearing people's stories and tales," Lathom said.
Lathom originally joined as a friend, but eventually switched over to a vineyard membership after planting his Grenache vineyard.
"The main benefit is being able to listen to others' questions, comments, and trials as well as being able to ask questions along those lines," he said.
Lathom said he enjoys the email conversations throughout the year about harvest and different practices being used in other vineyards.
"The greatest benefit is sharing information and experiences," he said.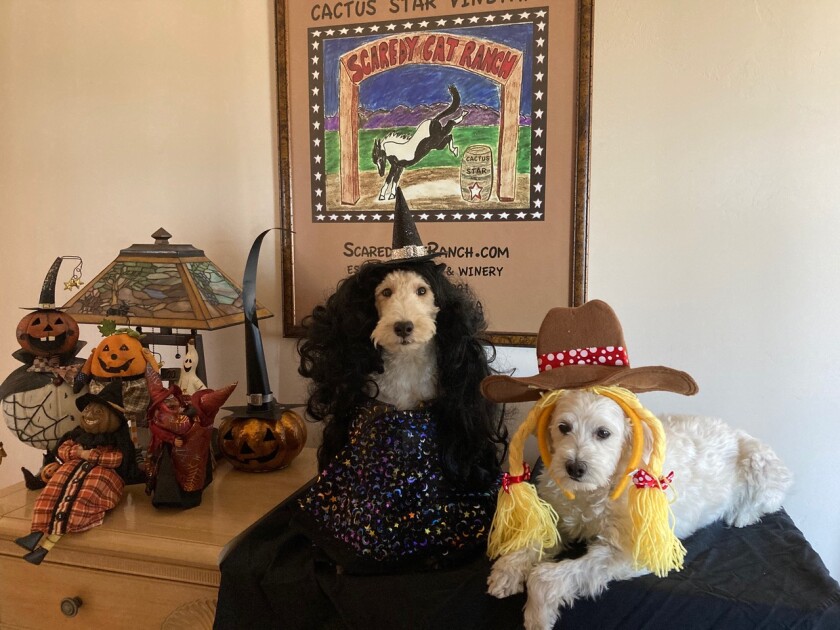 Becky and Joey Cullen planted grapes in 2001, and bonded their winery in 2006. Cactus Star Vineyard at Scaredy Cat Ranch is located on the west end of Ramona off Highland Valley Road.
"We became members in April of 2002, right after the start of the RVVA," Joey Cullen said. "At the time, there were only vineyards and two wineries in the area. We all decided to grow grapes, and most of us did not think we would become professional winemakers. As time went on, we adapted and grew as a region."
Scaredy Cat Ranch continued to grow grapes, and opened their tasting room in 2011. They currently make Tempranillo, Petit Verdot, and Cabernet Sauvignon.
"It has been so good to have a group of people that have the same goals in mind that you do. It is always good to have a group of people that you can learn off each other, promote each other, it is just good community. It is also a good synergy from not only making the wine, marketing and selling it," Cullen said.
The Cullens have participated in the Ramona Art & Wine Festival and both enjoy sharing their wines with the community, and being able to come together as Ramona winemakers sharing their craft. They also love the members-only summer social every year at Hellanback Ranch Vineyards!
Scaredy Cat Ranch is open every 2nd and 4th weekend from Halloween until they sell out of their small production of estate wines. Make sure to visit before it's all gone!
Mindy Waldhauser just joined as a friend of the RVVA at the beginning of this year. Yes! You can be a member if you are not a winery, vineyard, or business!
"I joined the RVVA for the camaraderie and to learn more about the local wines that are made here," Waldhauser said. "There are so many wonderful wineries here in Ramona. I want to expand on my knowledge of the varietals that we have up here."
Waldhauser loves to try different wines and go wine tasting with her friends, but also has wine deep in her background.
"My dad owned a wine shop, and loved wine," she said. "He taught me to appreciate good wine, but I did not know a lot of them at the time. He passed away about four years ago, and to me this is a way to honor him and the times we shared together."
Being a friend of the RVVA includes access to membership meetings, email forums with members, and resources about grape growing, wine making, and wine business.
"What I really love is the newsletter that came out," Waldhauser said. "I found that the resources and articles were extremely informative, especially the listings for online courses about wine tasting, sensory techniques, industry jargon and I just thought there was so much great information.
"They also highlighted Bearing Fruit Vineyard, and it was great to learn more about them since I have not been able to visit due to COVID."
Waldhauser attended her first RVVA member meeting this past month. Meetings are currently being held on Zoom due to COVID-19 protocols.
"I loved it. It was fun having wine to share with everyone, hear all the cool updates, and I learned!" she said.
The RVVA puts on multiple events every year to help promote the wine region in Ramona and surrounding areas. Mindy has volunteered to help at both the Grape Stomp and the Art & Wine Festival. She also enjoys the Holiday Wine Trail.
"I love the wine trail because I like to get out and go to some of the other wineries with friends and branch out to others I do not frequent as often," she said.
Interested in joining the RVVA? You can! Whether you have a vineyard, are thinking about planting a vineyard or starting a winery, have a hospitality business that would like to work with wineries, or you just love wine and want to learn more about our growing region, go to RVVA.org to learn more and sign up!