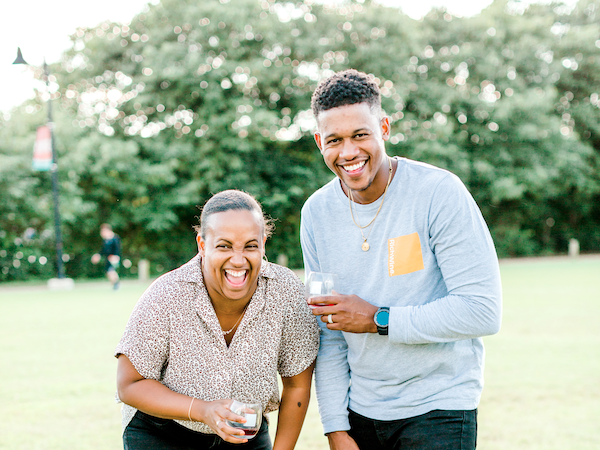 The wine delivery industry continues to bear fruit in Richmond, with yet another startup working to make its name known.
RichWine, a direct-to-consumers service based out of Hatch Kitchen on the Southside, launched in Richmond in September selling an international array of wines focused on those organic and sustainably made.
RichWine is a strictly e-commerce operation, selling its wine via its website and shipping wine to every corner of the state via FedEx. The company also offers local delivery and pickup options for customers in Richmond, Henrico, Hanover and Chesterfield.
"Our priority is to get wine delivered direct to consumers," co-founder Kristen Gardner Beal said.
Since RichWine's launch in the fall, the company has tripled its inventory from 60 labels to 180 labels. Wines range from about $12 to $75 a bottle. The company has also since rolled out virtual wine tasting for customers, and plans to introduce a monthly series open to the public next month.
The company has focused its marketing efforts on social media, particularly Instagram. Instagram posts, along with Google reviews and word of mouth, has helped elevate customers' awareness of the company, Beal said.
"Instagram is our primary means (of marketing the business). We have a very loyal following," she said. "It's grown organically and by word of mouth."
Beal and co-founder Lance Lemon already had experience in the industry prior to the launch of RichWine. Beal is the founder of VinGo Tours, a Hanover County-based company that's on a pandemic hiatus. Lemon, who's an actor, opened and managed two wine shops in New York City.
The two grew up together in Hanover, and both graduated from UVA in the early 2010s. The pair ran into each other in New York City, where Beal worked as an investment banker. Their shared passion for wine led to conversations about a venture of their own.
"I lived a few blocks away from Lance and his wife in Brooklyn. We'd gather on the weekends and the business idea started to come together over many wine nights at their apartment," she said.
The initial plan was to open a brick-and-mortar store, but the pandemic put that idea on hold. Beal said RichWine is still interested in a physical location in the future, and it would probably be opened in the Richmond area. RichWine is a part-time gig for the co-founders.
"We wanted to do something special," Beal said. "It was always a goal of ours to go out on our own."
RichWine launched shortly before Wine Stork, another online wine retailer that similarly offers local deliveries and ships statewide. Three Leg Run, which is a winery as well as a meadery and brewery, plans to open in Chester in the near future.