July 22: Italian born wine appassionato Valentino Monticello, not only honed his wine skills to become Head Sommelier at the legendary Harry's Bar in London, but was an awarded and much sought-out artist who designed several unique works based on wine labels till he died in 2014, writes Subhash Arora who shares the background of the artist and his works, courtesy Valentino's friend, Stuart George, Director of Arden Fine Wines, London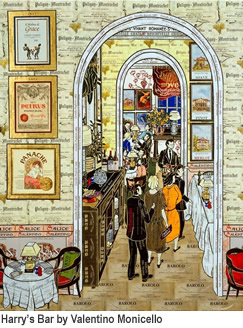 Valentino Monticello was an Italian whose passion had been music, opera, painting, wine and food. He developed his signature style of art based on wine labels in London. All his pictures were composed of shapes carefully cut from wine labels- the people, the flowers, even the lines-all carefully cut from different labels. There was no drawing or painting involved in his Art but the end result was unique.
Raised in a world of food, wine, art and music from an early age, the Vicenza-born artist had passion for opera as a child and at the tender age of 6 played the character of Trouble in a local production of Madame Butterfly and soon started attending opera recitals at the open-air theatre in Verona, making the 90km journey on a bicycle.
Sommelier in London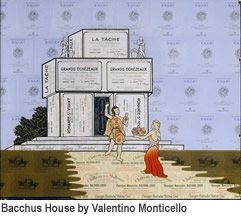 Valentino's family ran a hotel in London and by the time he moved to London in his twenties, he knew enough about wine to find a job as sommelier at Club 21. There, he was exposed to the world's finest wines, becoming an expert in Bordeaux and Burgundy and cultivating a lifelong passion for Chateau d'Yquem. In the mid-1980s he rose to become Head Sommelier at the Harry's Bar, the elegant and sophisticated private members' club in London.
Incorporating wine labels into art
Immersed in the world of wine, Valentino never stopped his passion for making art. He had built a studio where he would retreat after leaving the restaurant and retreat, often working through the night. He worked in oils; he completed a large-scale rendition of Dante's Inferno and designed the scenery for two musicals before starting to paint symphonies, and arias in opera which related to wine. Thus he began to incorporate wine labels, the tools of his trade into his art.
In 1986, a commission to create a mural prompted Valentino to experiment with collages composed of wine labels. Cutting out and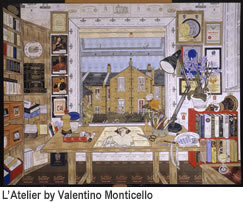 arranging the figures in incredible detail, he thus established his signature method and style.
His work began to win the support of prominent artists of his time.  Two of his wine label collages were shortlisted for the Royal Academy of Art's summer exhibition. Several others were displayed annually at Christie's, and five were commissioned by Averys of Bristol-the 4th generation of well- known wine merchants. In 1990, Valentino had his maiden exhibition at the Ergon Gallery, an event inaugurated by the former Arts minister David Mellor. 
In 2002, the National Gallery held an exhibition of Valentino's work to mark the launch of his epic book project Opera and Wine-Wine in Opera, the result of 20 years of work in collaboration with Luciano Citeroni. On display were 31 of his 70 original collages printed in the book, for which Citeroni produced the text. It was a unique visualization of operatic subjects through the medium of wine labels, combining his love of art, opera, and wine in a beautiful and lavishly presented package. The first part gave synopses of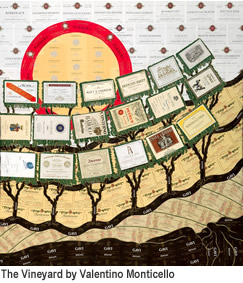 over 60 operas-each depicting collage artworks crafted by Valentino from wine labels from the countries where the opera was set, created, or first performed. The second section covered the history and wines of all the key wine-producing countries or regions.
In 2009, a conference was held at the Uffizi Gallery, Florence where experts in the field of art wine and music held a discussion on Valentino's work. Two years later, he was awarded a prize for Excellence at the Lyric Theatre in Thiene, Italy where he had grown up.
One person who professionally knew Valentino well and became quite friendly with him was Stuart George, Director of Arden Fine Wines, in London. 'Valentino became my friend when I was working as the Tastings Editor at The World of Fine Wine magazine. I always requested labels from wine estates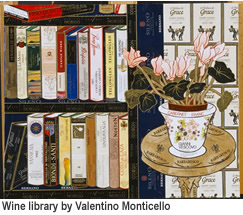 so that they could be scanned and reproduced in the magazine. When I was finished with the labels I sent them to Valentino. I was honoured that the family of the late Valentino Monticello allowed me to use his unique artworks,' he tells delWine as he sent some of the labels.
'One of the challenges that Valentino always had was obtaining the labels from the producers who feared that he was trying to produce counterfeit bottles', says Stuart.

Valentino worked on his art until 12th June 2014 when he passed away at the age of 81. His work lives on through many of his collectors and is also displayed at several prestigious private collections around the world. For any details, contact stuart@ardenfinewines.com. Stuart is a Rare and Fine Wine Expert, who is Founder and Managing Director of Arden Fine Wines in Mayfair, London.  He is a WSET Diploma holder and has tasted vintages back to 1780. The UK Young Wine Writer of the Year 2003 also won the Scuderia Ferrari Wine Award last year. All the works of art in this article are courtesy of the family of Valentino Monticello known to Stuart George
Subhash Arora