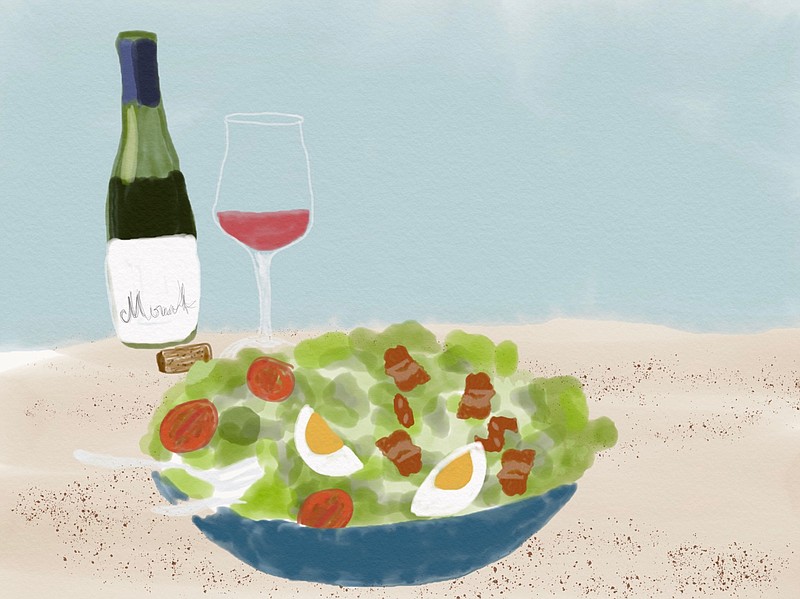 Illustration by Kelly Brant
Salads are not just for light lunches anymore but are a staple on most menus and dinner tables. We have a tendency to default to a white wine as our only pairing option — which is understandable if you think of salads as only raw vegetables. But today's salad bowl is filled with contrasting flavors, colors, textures and temperatures, and it's an ideal place to explore wine pairing.
Most salads have one problematic issue in common: the dressing.
Vinaigrette-based dressing makes most salads notoriously difficult to pair with wine because it causes a wine to taste sour. The key to a successful pairing is simple: keep the acidity of the wine high enough to compete with the acidity in the dressing.
Non-vinaigrette dressings (such as Thousand Island, ranch, Catalina) are sometimes high in sugar adding a touch of sweetness. This can be tricky because wines do not pair well into "sweet" unless the wine is as sweet or sweeter than the food. Instead of attempting to pair with the sweet component focus on a wine with a refreshing high acidity like sparkling wine, Champagne, sauvignon blanc, Vinho Verde.
Once you understand your dressing consider the protein and key ingredients. An example is "the Cobb salad" with its additions of roast chicken, bacon, blue cheese and eggs. These ingredients make this salad a meal in itself and easily pair into a fuller-bodied wine just as you were pairing any main dish.
I've put together some common salads and dressings to make your buying easy and your exploring just a matter of a value or splurge.
Caesar salad
The creamy dressing of a Caesar along with the salty anchovies and grilled chicken can easily stand up to either a full-bodied white wine or light-bodied red (chardonnay, pinot noir, sauvignon blanc, gamay, pinot grigio, Champagne or other sparkling wines).
THE VALUE
2018 Hess Collection Chardonnay, California (about $13)
THE SPLURGE
2018 Presqu'ile Santa Barbara Pinot Noir, California (about $17)
Asian-inspired crunchy noodle salad
The key flavors in most Asian-inspired salads will be sesame, ginger and honey. This is the example of a dressing offering a touch of sweetness so pairing with a wine showing a touch of residual sugar easily complements the sweet tangy flavors (Riesling, gewurztraminer).
THE VALUE
2018 Hogue Riesling, Washington (about $11)
THE SPLURGE
2018 Chateau Ste. Michelle Eroica Riesling, Washington (about $26)
The Cobb salad
This salad packs on enough protein and fat to easily stand up to a red wine. Consider lighter-bodied fruity reds rather than big bold tannic reds (gamay, pinot noir, merlot).
THE VALUE
2018 Georges Duboeuf Beaujolais, France (about $12)
THE SPLURGE
2018 Anne Amie Cuvee A Pinot Noir, Oregon (about $22)
Waldorf salad
An array of ingredients in this dish make for an ideal pairing. When you take the sweetness of grapes and apples, fattiness of mayo and the earthy edge of walnuts a wine pairing perfection is coming. Any high acidity, light-bodied red or white wine (Riesling, sparkling, chardonnay, sauvignon blanc, pinot grigio) will pair but for an outstanding gastronomic exploration try gewurztraminer with this salad.
THE VALUE
2018 Pacific Rim Gewurztraminer, Washington (about $12)
THE SPLURGE
2018 Trimbach Gewurztraminer, France (about $29)
Lorri Hambuchen is a member of London's Institute of Wines and Spirits. Email:
Sponsor Content
Comments