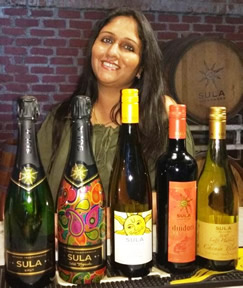 July 18: After a successful 3-part series of Top Ten Winemakers in India that was commended, delWine brings out a List of Top Ten Women winemakers in a 2-part series and includes Rupali Bhatnagar, (Sula Vineyards), Saritha Mishra (Grover Vineyards), Priyanka Save (Fruzzante), Vrushali Gorade (KLC Wines) and Yoginee Budhkar (Cerana Meads) in Part-1, compiled by Subhash Arora who encourages women to enter the industry to promote gender equality and wine culture in India; names are not ranked as before
Globally, women winemakers have had a chequered history in terms of presence and acceptance (with exceptional entrepreneurs likeBarbe-Nicole Ponsardin, the famous Clicquot widow who brought name and fame to Veuve Clicquot Ponsardin). We have winemakers like Gina Gallo who reigns supreme because of inheritance from her late billionaire grandfather Julio Gallo who guided her to become a winemaker. There are several impressive names like Vanya Cullen in Australia who is a world-renowned winemaker-entrepreneur.
But when it comes to the overall wine world, women were not taken seriously as winemakers in the previous century. This has changed significantly during the last 3-4 decades and women have shown their grit and passion to be accepted and become well-known winemakers in their countries.
In India where the industry is still nascent, women slowly started making inroads during the last 10 years. Most of them insist they are not discriminated against, are well-educated, well- travelled and even have a few overseas vintages under their belt. Some started in the backroom as lab assistants or assistant winemakers but with their determined approach, the serious ones are climbing fast. Many already own small wineries while others have their eyes open, looking for opportunities to become entrepreneurs or take over the role as Chief Winemaker.
Also Read : Wine Feature: Top Ten Winemakers of India under 40 (Part-3)
Fruit wines included  
Since the fruit wine industry is almost as new / old as the (grape) wine industry, some women have turned to these wineries where the opportunities of working with new commercial projects with different fruits are endless.
Many women have now started venturing out as winemakers and are dirtying their hands.  So, here it is- the first list of 5 women winemakers in this part, the balance 5 will be included in Part-2:
Rupali Bhatnagar Raghorte (Sula Vineyards)
Although we have stayed away from ranking the winemakers this year, Rupali is clearly on the Top of the Chart. She was the only woman winemaker selected in the list of Top Ten Winemakers in India published earlier.
Rupali Bhatnagar is the Associate Vice President and Senior winemaker – sparkling and white wines at Sula Vineyards. A microbiologist by qualification with no formal degree in winemaking or internships abroad, Rupali's journey has been phenomenal. She has proven that one can rise to the ranks of a good winemaker even without a formal training in enology- only through sheer hard work, grit and setting goals. She joined Sula Vineyards in 2006 as a lab technician and progressed within the organisation by changing roles over the years.
She has held diverse roles in winemaking under the guidance of Ajoy Shaw DipWSET. During her 15 harvests at Sula, she managed every aspect of winemaking, bottling, grape selection, winemaking strategy, etc.  Initially, she was responsible only for the sparkling wine programme but eventually, the entire white winemaking was under her. She has handled different varietals- red or white, and crafted diverse wines like Sula Brut, Brut Tropicale, Chardonnay and Sparkling shiraz. Rupali has also been actively involved in the winemaking for Viognier and Riesling. She also led the switch from the Traditional to Charmat method for Il Tropicale sparkling wines a couple of years ago.  
She does not believe in making parametrically correct wines but aims at making delicious, palatable wines with the perfect balance of flavours. Winemaking for her is a skill that takes a lot of practice to convert a good fruit into a great wine.
An experimental and inquisitive winemaker, she loves trying out new techniques, winemaking styles, varietals, and even yeasts, etc. Rupali has travelled the world and explored many wine styles and regions. She enjoys learning tips and tricks from Master winemaker – Kerry Damskey and has created her own style over the years.
Coincidentally, Rupali also won the Recognition as one of the 'Top Ten Women of Wine in India (WOW)' in its 4th edition held concurrently with the delWine Excellence Awards in 2019. 
Saritha Kumari Mishra – Grover Vineyards (GZVL)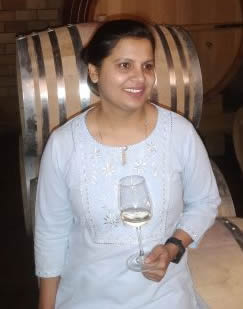 Born in and raised in the ancient city of Banaras and brought up in Bangalore, Saritha Mishra is the Bangalore-based Winemaker of Grover Zampa Vineyards.  She completed her Master's degree in Biotechnology from Bangalore University in 2011. She had undertaken a special project on fermentation technology which landed her the job with Grover Zampa.
Her hard work in the early days at Grover was recognized by former winemaker Karishma Grover (granddaughter of the founder Late Kanwal Grover and daughter of former Chairman, Kapil Grover, who has gone to her Alma Mater UC Davies for further studies). Saritha worked with Karishma for several years to learn the art of winemaking.
'My passion, skills and eagerness at work impressed the French wine consultant Mr Mathias Pellissard. During my time at Grover my dedication and work ethics were noticed by the management and helped me achieve a position as an oenologist today,' she says proudly.
Having a rich experience of 11 vintages and exposure she received over the years, Saritha is now handling the cellar with over 1.5 million litres of wine at the Bangalore winery with a stellar cellar team. She independently crafted the mulled wine, which was a great hit during the pandemic. 
Her expertise in using the advanced technology like Foudres, Concrete tanks, Clay tanks and HD Optical sorting machine, has further enhanced her capabilities and skills in handling grapes and wine in the best possible manner to craft the bottles of liquid gold with the team.
Also Read : Wine Feature: Top Ten Winemakers of India under 40 (Part-2)
Her interest and hands-on experience in pruning and harvesting grapes makes her a jack of viticulture too. 
Priyanka Save (Fruzzante)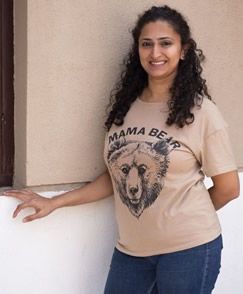 The co-owner of Fruzzante, Priyanka Save is a small town girl from Bordi, who did schooling there but graduated in Mechanical Engineering from D.Y. Patil College of Engineering, Pune. She finished her Masters in Mechanical Engineering from New Jersey Institute of Technology in Newark, USA and came back to her roots where she grew up and where her father runs a successful Hill Zill Resort. With a Certificate from Wines and Spirits Trust (WSET), she decided to become an entrepreneur where she looks after a big part of winemaking.
She noticed that 40% of the chikoo fruit her family cultivated for generations would go waste as it was oxidised and rot due to the marketing and infrastructure constraints.   She decided to use this 40% production and save it from wastage so the farmers could improve their earnings.
She started doing R&D to find the best alternative use of the fruit; making Chikoo wine emerged from her idea which was interesting but challenging to make a commercially viable project. She contacted Dominic Rivard in Canada, who had been the only fruit wine expert who had even written a book on fruit wines. With his help the first-of-its-kind homegrown range of 100% sparkling fruit alcoholic beverage Fruzzante was born, with the seed capital coming from her father who had also been a farmer earlier.
Making wine from chikoo with a perfect taste took a lot of time and was overwhelming. The process and tasting sessions became exhausting. This struggle taught her to be patient.  Once the product was in hand, she had to get it approved as a classified wine and the necessary excise exemption that took another year.
Today, Fruzzante is available in all the major cities in Maharashtra including Mumbai, Pune, Nagpur and Goa as well. She aims to launch the complete range that now includes Mango, Pineapple, starfruit and excellent mead (Honey wine) in West Bengal, Karnataka, Punjab, Telangana and Delhi. She credits a lot of her success to her husband Nagesh Pai who is also a mechanical engineer from the same college.
Her Mantra for success for the young women winemakers- Follow your dreams and don't be intimidated by fear of failure. 
Vrushali Gorade (KLC Wines)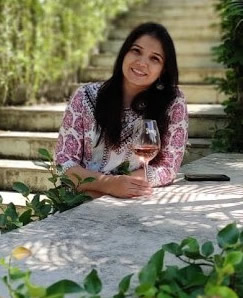 Vrushali Gorade's wine journey started with Sula Vineyards as a Harvest intern (Vintage 2011) which formed part of her PG Diploma in Microbial Biotechnology at R.Y.K. College, Nasik, Pune University. During the tenure, she learnt different aspects of winemaking beginning with Vineyard sampling followed by wine analysis. It was, however, the internal tastings with Sula's Winemaking team that allowed her to taste and differentiate between the various Red and White grape varieties. It also helped her understand how slight variations in the soil type/climate/winemaking process resulted in a wide range of flavours from the same grape varietal.
She later joined Renaissance Winery for a short stint as a lab chemist and a few months later, when she got a call from Sula for the post of Lab Chemist in July 2012. She ended up as Assistant Winemaker-White Wines and finally Cellar Master; possibly Sula's first female cellar master (for 4 months) in 2017, she claims.
Vrushali experienced five harvests at Sula where she learned making different styles of wines and handled varieties like Sauvignon Blanc, Chenin Blanc, Riesling, Viognier under the guidance of Neil Fernandes. Sula-sponsored WSET level-1 and 2 courses were also valuable additions to her knowledge.
After spending five years in the industry, she felt she needed a break and after saying GoodBye after the 2017 harvest and moved to Stuttgart, Germany with her family. She explored various wine regions and worked in areas like Neustadt-Duttweiler in Palatinate where she did a harvest in Weingut Geissler in 2018. She handled varieties like Pinot Blanc, Pinot Grigio, and Riesling. She also worked in Korb (Öko-Weingut Schmalzried) for a short period of time where she helped them in the pruning of vineyards.
Eager to learn more about New World wine styles, she did a harvest in Napa Valley, California in 2019 with Faust (Huneeus Vintners) where she worked with the winemaker David Jelinek who appreciated her tasting skills.
In December 2019, she was hired by Grover Zampa Vineyards as Assistant Winemaker. She was always curious about Grover's style of winemaking since she had already worked with Sula. She got to learn about different winemaking styles and handle new varieties like Tempranillo, Grenache, etc. It was a good learning experience working with their consultant winemaker Matthias Pellissard and Winemaker Abhijit Shendage.
Vrushali has been working with the new kid on the block, KLC Wines since November 2020 as a Winemaker. She handles operations independently here. She gets to choose vineyards, experiment with yeasts and different winemaking styles and a lot more under the guidance of their Consultant Winemaker Ajoy Shaw.
Yoginee Budhkar (Cerana Meads)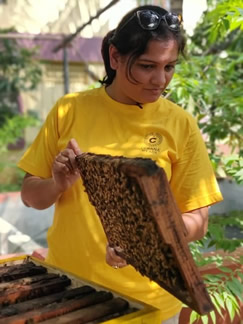 Always interested in honeybees, an environmentalist with a keen interest in fermentation using local ingredients, Dr. Yoginee Budhkar knew that mead (honey wine) making was a marriage of all her passions. When she found out that mead is an alcoholic beverage made by fermenting honey, the intrigue grew. Introduced to this beverage during her doctorate in Food Engineering and Technology Department at Institute of Chemical Technology, Mumbai, she went on to find out that India had a rich history of alcoholic beverages and mead had an important place in social and celebratory drinking in ancient times. Our Vedas and Mahakavyas mention mead and so do Charaka Samhita and Ayurveda.
Yoginee's drive to learn more about meads led her to study varietal honeys in India. She learnt commercial beekeeping herself and studied advanced mead making at UC Davis, California. Her passion and knowledge contributed to her partner Dr. Ashwini Deore's natural flair for mixing various flavours and that is how Cerana meads was born.
Also Read : Wine Feature: Top Ten Winemakers of India under 40 (Part-1)
Yoginee claims she has been instrumental in the policy amendment that introduced mead as a recognised alcoholic beverage in Maharashtra state excise, which was the first in India to include mead in its repertoire of alcoholic beverages. Her efforts have led to a start of this industry not only in Maharashtra, but the entire country, she claims.
Yoginee finished her graduation in Botany-Biotechnology and her post-graduation in Zoology. She was a CSIR fellow during her doctorate in Biotechnology. Right out of her doctoral work, she started building Cerana meads with her partner. Her insights and technical know-how have led to bringing flawless, all natural, craft meads to the Indian market.
Subhash Arora
>>> Don't Miss Today's BEST Amazon Deals!
Originally Appeared Here