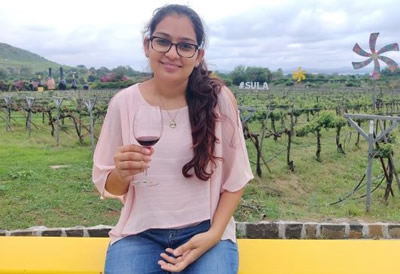 July 23: After a successful series of Top Ten Indian Winemakers under 40, delWine showcased 5 out of the 10 Top Ten Women Indian winemakers in Part-1. This concluding part recognised Ashmita Uday Pol (Sula Vineyards), Tamanna Agarwal (KRSMA), Priyanka Gupta (Zorba), Dr. Ashwini Deore (Cerana Mead) Tage Rita (Naara Aaba) and as compiled by Subhash Arora who encourages women to enter the industry to promote gender equality and wine culture in India; names are not ranked as before and include fruit and mead makers too
Ashmita Uday Pol (Sula Vineyards)
Ashmita Pol's journey as a winemaker started at Sula Vineyards in 2012 when she did a harvest for 3 months on the recommendations of a friend. She had just completed her Masters in Life Sciences (Biotechnology) from University of Mumbai and the topics related to fermentation technology really intrigued her. By the end of the harvest she had decided to become a winemaker.
She started working as a Lab assistant at Vallonne Vineyards under the guidance of Marie Barbé and Sanket Gawand. Her main responsibility was working in the lab but being a boutique winery, she got hands-on- experience in every aspect.
In 2015, she took a break and decided to do a couple of harvests overseas- a vintage at Seifried Estate in Nelson, New Zealand, followed by another with Flowers Winery, one of the top-rated boutique wineries in California, specializing in organic and biodynamic farming. She did another harvest in Bangalore at Grover Zampa Winery.
 In 2017, she joined SULA Vineyards as Assistant Winemaker, under Neil Fernandes and also worked with Rupali Bhatnagar.  Today, she is in the Red wine making team, working mostly with rosé and reds- her primary focus being on the barrel processes and barrel aged wines.
In SULA there is a culture of equality, and women are considered on par with no gender discrimination. The cellar team is also very supportive. There are several women in the winemaking team, and every woman is treated with respect and equality, she says.
Ashmita has completed 10 harvests this year. 'Winemaking is an addiction; you keep wanting to explore more. The journey from grape to wine is laborious and dynamic. It changes each vintage according to the climatic conditions and that is the most exciting part. The effort and patience of the transformation process is what you look out for each year, and want to make the best wine,' she says.
Tamanna Agarwal (KRSMA)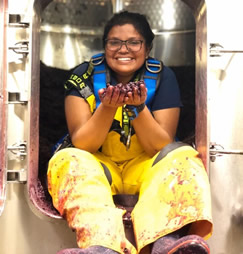 The 27-year old Tamanna Agarwal grew up in Coimbatore. She is a B. Tech Gold medallist in Food and Process Engineering from SRM University in Chennai. In her final year, she pursued a harvest internship with Sula Vineyards in 2015. This was her big eureka moment, as she had grown up watching TV shows on wines and reading various wine books, and the reality turned out to be even better than what she had dreamt of.
After graduation she joined Sula Vineyards for a brief stint in Tastings and Marketing, based out of Goa. It was a relatively easy market, and most of the people she met were extremely knowledgeable about wines. This was an exciting phase of her life, but she knew winemaking was her calling. So she moved to Nasik the following year to start making wines.
She worked under the guidance of the Chief Winemaker Karan Vasani, and was quickly moved up to Associate Winemaker in 2018. She was predominantly focused in the red and rosé program – right from deciding when to harvest, up to making the wines, and she enjoyed every bit of the rush.
She has had the opportunity to make The Source Grenache Rosé and Rasa Zinfandel among others.  In her final year at Sula, she was given the freedom to independently manage a vintage involving both red and white grapes at an off-site winery. That experience greatly enhanced her confidence as a winemaker.
She then moved to California to do a harvest in 2019 with Opus One, the iconic winery in Oakville, Napa Valley.
She started working at KRSMA Estate from this year's vintage. This assignment has given her a terrific platform to hone her skills in viticulture and estate management. The quality of Cabernets grown here is mind blowing. It is an absolute delight for her to wake up in the vineyards each morning, she says.
Tamanna does not have a formal degree in Oenology but she has completed her WSET level 2. The passion, hard work and her colleagues have taught her winemaking. She already has had six vintages under her belt. She wishes to study winemaking and travel more, exploring different winemaking regions, and tasting diversified wines.
Priyanka Gupta (Zorba Wines)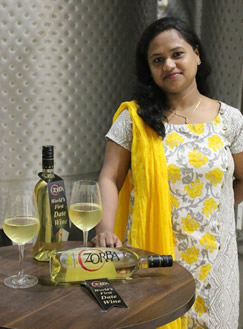 Priyanka Gupta is an Oenologist from Buxar, Bihar. She gives credit to her mother who has been her pillar of support and took the initiative standing firmly to educate her at a time when the education of girl child was not given importance in the traditional orthodox families in India.
When she was 10 she was sent to Nashik to study as there were no good schools where she was growing up. She ended up doing her post- graduation in wine technology after which she interned at the Deccan Plateau Winery, Pune where she was given a free hand by Nitin Shinde to work independently. This prepared her well for the first job at a Bijapur winery where she handled the 5- lakh liter capacity winery independently, she says. During this period, she made bulk wines for Alpine Winery, Heritage Wines, Bangalore Soma Wines and made wines for brands like Surya, Myra and Le Ambrose wines.
She was fortunate to work under Dr. Rajesh Rasal and handle the responsibility of producing Myra Brand in the Nisarga winery in 2012. There she also made low- cost wines using grappa technique by making pressed white grapes. She also had an opportunity to work with Neil Fernandes, the winemaker at Sula, when he used to visit Elite Vintage winery where Sula used to make wines for Karnataka. She worked at Soma Bangalore Vineyards with Darby Raju where she made Sauvignon Blanc 2012 vintage.
She then moved to Rajasthan where there was no wine making policy in 2016-17 and joined Zorba, the first winery where she made Date Wine in 2016-perhaps for the first time in the world, followed by India's first Pomegranate wine in 2017.
At present she is working as a freelancer and working on various fruit wines coming up in the near future and is currently busy experimenting making wine out of areca nut (Suparee) in Sirsi.
Dr. Ashwini Deore (Cerana Mead)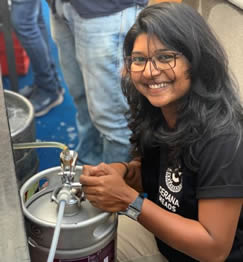 Ashwini (Tilay) Deore also finished her doctorate from the Food Engineering & Technology Department at The Institute of Chemical Technology, Mumbai where her partner and co-founder Yoginee, had done her PhD.  
When her partner at Cerana Meads, Yogini, who loved mead but was unable to find the drink locally and so experimented with making some herself. After her initial experiments were appreciated by friends and family she toyed with the idea of setting up a meadery. She knew just who she needed to help her achieve this and reached out to her friend and fellow Ph.D. scholar, Ashwini who was finishing her post doctorate in Canada at that time.
She has expertise in upstream and downstream processing of biologically produced substances. In addition to this, she has the basic WSET 1. She has always been enthusiastic about creating an innovative, value added product from agricultural resources. She had jumped at the idea of this exciting venture and changed maple syrup for honey and Mead.
With her love for cooking and knowledge of food science she specialised in perfecting recipes for the various meads they produce. On the rare occasions she is not working Ashwini enjoys long drives, painting and music. She is also a nature enthusiast and ensures that Cerana's procurement and manufacturing practices are highly eco-friendly.
At Cerana Meads she has developed Jamun Melomel, Pomegranate Melomel and Chenin Blanc Pyment. All meads are essentially fermented honey and Melomels are fermented honey with fermented fruits. Many different styles are possible based on the honey or fruit used. When the infusion is of grapes, it is known as Pyment. Although comparisons are natural with similar processes in beer, if the mead has fermented fruit it falls into the category of a Melomel mead. Thus, her meadery in the Sinnar region of Nashik, Maharashtra, produces authentic meads with an emphasis on Indian flavours.  
The versatility of meads is almost infinite because several varieties of honey can be combined with various fruits, spices or grains and presented to tickle your taste buds in still, carbonated or naturally sparkling form. There are several factors that are important for the meadmaker to consider- like species of the honey bee, type of flower, flowering season etc and Ashwini is deeply immersed into many of them.
Tage Rita (Naara Aaba)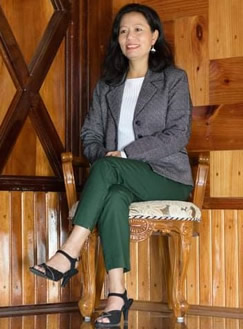 If you imagined Tage (pronounced Ta-gay) as the North- Eastern name for Queen, you would be metaphorically right as Rita Tage (her family name) is really the Wine Queen of North East. She has altered the wine map of Arunachal Pradesh by making kiwi wines and changing the way one looks at the exotic fruit once cultivated only in New Zealand. Today, it grows in such abundance that it needed someone like Rita to exploit it properly by starting Naara Aaba, an Organic Kiwi fruit winery in Ziro Valley where she comes from.
The beautiful, lush green Ziro Valley has been named in the Tentative List of UNESCO World Heritage Sites.  Ziro is around 115 km from the state capital Itanagar but takes 3.5 hours by road. It is also accessible via Assam, with a distance of 150 km.
Kiwi is a nutritional fruit, full of Vitamin C. It grows in such abundance that it used to rot on the ground and was fed to the cattle, with mountains of fruit dumped in streams in Ziro as there were no buyers.
This gave Rita and her husband an idea to start a winery where the fruit could be converted in bulk. Their love for wines gave them the energy to make wine on their own. She looks after the operations in the winery- from purchasing fresh fruits from Kiwi growers of Ziro valley till the wine bottling.  A professional wine master has been employed for quality winemaking.
Rita graduated in B. Tech Agricultural Engineering from the North Eastern Regional Institute of Science and Technology, Arunachal Pradesh. During her 2nd year in college she opted for food Processing Technology as her specialised trade, where winemaking was taught as a method of food preservation and value addition.
Rita's journey in wine making started in 2017 but planning goes back to 2013-2014 with socio-economic research about its possible impact for kiwi growers. She acquired hands-on training about handling the fruit from her own orchards. The wine was showcased at a couple of International exhibitions where it was much appreciated.
Congratulations to all the 10 women winemakers selected by delWine- 5 from Part-1 and 5 from this Article. This has been based on the information taken from them and telephonic conferences. The information given by them was presumed to be authentic-this was one factor why the ranking has not been done in the first such edition, which has been primarily to share with the readers the work being done by them. Hopefully, some of them will be a big name one day like Andrea Mullineux of South Africa, Vanya Cullen of Australia and Gina Gallo of California.  
Please read the Article in conjunction with Part-1.
Top Ten WOMEN Indian Winemakers in India (Part-1)
Subhash Arora
>>> Don't Miss Today's BEST Amazon Deals!
Originally Appeared Here