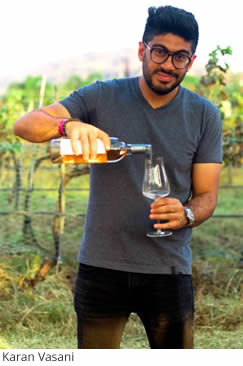 June 12: After initiatives like Top Ten Importers, Top Ten Producers, Top Ten Indian Women of Wine (WOW) and delWine Excellence Awards, Indian Wine Academy is proud to take lead in recognising India's young winemakers, the backbone of quality winemaking, and introduces the biennial 'Top Ten Winemakers of India under 40', with this Article featuring the next 4 winemakers in the List in no particular order, says Subhash Arora who feels that the 3-Part series was needed to do full justice- featuring Karna Vasani, Mahesh Awate, Sanket Gawand and Chetan Arekar in Part-2
Karan Vasani (Sula Vineyards)
The Senior Vice President & Chief Winemaker, Sula Vineyards, Karan Vasani had no idea when he was recognised as the 'Most Promising Associate' at the prestigious CRISIL Awards that barely two years later he would be changing course and would become the 'Grape Gatsby' of the Indian wine industry.
Born in a business family, Karan did his B.Com. and worked with CRISIL for 4 years before changing the track and went to New Zealand where he graduated in Viticulture and Oenology from Lincoln University. He then travelled across the globe from one terrain to another to learn more about the wine world. He has completed three levels of the WSET (Wine & Spirit Education Trust) program and is also a qualified WSET Educator. He also won the prestigious 'Champagne India Scholarship' in 2014 by the Bureau du Champagne in India.
He worked as a harvest intern at vineyards including Bird in Hand Winery at Adelaide, Australia, Pask Winery in Hawke's Bay New Zealand, and the historic Cuvaison Estate Wines in the Los Carneros wine region of Napa Valley, one of the world's great wine destinations.  
"Wine is so much more than just an alcoholic beverage. It captures and reflects not only an entire growing season but also the personality of the people who make it". And that is the thought behind which he invests all of his local and global wine experience to create some of the best quality wines at Sula vineyards.
He has been working for Sula for the last 8 years, 4 of which have been as the Chief winemaker. He was responsible for developing the popular Premium label 'The Source'. India's first red sparkling- Sula Shiraz Sparkling had his hand in it. He was also involved from scratch in introducing the first WIC (Wine-in-Can) in India with two variants of Dia sparkler. He also added Chardonnay to the Dindori Red.
As the Chief Winemaker, Karan supervises all the winemaking processes right from grape harvesting to wine bottling at Sula Vineyards.  His first love is wine, but he is also an ardent fan of football. He loves to read whenever time permits. His ultimate 'unwind tip' is a glass of Rasa Cabernet Sauvignon with a hearty meal.
Mahesh Awate (Big Banyan Wines)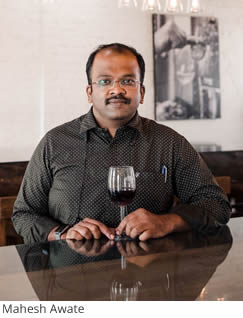 After finishing his M.Sc. Chemistry and Post-Graduation course in Fermentation Science and Alcohol technology, and an MBA from Symbiosis Pune, Mahesh worked as a visiting Lecturer in Enology at VSI Pune for 3 years.
Starting his career with Chateau Indage in 2005 as a Trainee, he worked for two vintages as a lab chemist. Mahesh got an opportunity to work with Grover Vineyards in 2007 at their Sangli Winery, overseeing all aspects of   wine and fruit wines production- from Vineyards development to wine bottling. He worked with Team Michel Rolland at the Bangalore and Maharashtra Winery. He also worked for two vintages at Chateau Le Bon Pasteur in Pomerol, then owned by Michel and his wife Dany Rolland and sold after to a Chinese investor.
He had a free hand in the experimental winemaking style at KRSMA Estates in Karnataka where he joined as an assistant winemaker after 8 years with GVL and learnt the new- world winemaking techniques and concepts focused more on the analytical and scientific approach to winemaking during the 4 vintages that he worked from 2014-17.
Big Banyan Wines (John Distilleries)
Mahesh started the green field project at the state- of- art- winery owned by John Distilleries, 30 km from Bangalore and helped in setting up 35 of the 40 tanks all the way to the bottling lines.
The vineyard and farmer development was a major challenge. He worked with Lucio Matricardi, the consulting winemaker from Italy, from the initial days of the project at Goa. He has been involved in the making of Chardonnay, Rosa Rossa Rose, Bellissima dessert wine, Cabernet Sauvignon and Limited Shiraz.
With an extensive experience of 16 years and 18 vintages in India and abroad, Mahesh Awate deserves special mention in the first List of 'delWine Top Ten Winemakers Under 40'- he turns 40 later next month on 27 July.
Sanket Gawand (Vallonne Vineyards)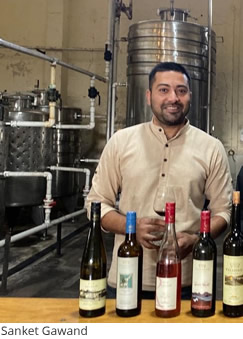 The 37-year old Sanket Gawand has been the winemaker since 2009 at Vallonne Vineyards located near Sanjegaon, Taluka Igatpuri, about 30 kms before Nashik. He has been making wines independently since 2014 at the premier boutique winery owned by Shailendra Pai.
A Biotechnology graduate of Mumbai University, Sanket did his PG Diploma in Wine Technology at GARTI Nashik before starting work in Feb 2009 as Asst. Winemaker at Vallonne under the guidance of the French Winemaker Marie Barbe till she went back. 'I learnt many important things from Marie but if I have to name one- it would be picking the grapes at optimum maturity based on sensory evaluation,' says Sanket.
Sanket has had international experience at Domaine de Chevalier, Bordeaux, France, where he worked as an intern and a Cellar hand in 2010. He had worked before as Vineyard & Cellar intern in 2008 at Fattoria Zerbina in Bologna, Italy.
'My inclination lies more towards the vineyards. We strongly believe at Vallonne that wines are made in the vineyard. I realized this at the earlier stage of my career because of the foreign experiences,' says Sanket who has doubled up his role working as a Viticulturist and Winemaker this year. He believes this will influence the quality and styles of the wines.
Wines at Vallonne
The wines crafted independently by Sanket include Riesling, Viognier Reserve, Syrah-Merlot and Syrah and recently the award winning wine Anokhee Cabernet Sauvignon 2016 listed at Waitrose London.
In order to get maximum advantage of the cool breeze coming from Mukhne lake which favours retaining crisp acid, Riesling was strategically planted in 2014. Since the first vintage in 2017 the focus has been dry Riesling with minerality over a period of time.
The first vintage in 2015 of Viognier Reserve was also the first Reserve white from Vallonne. It undergoes fermentation in French barrels followed by ageing on lees in the same barrels for 6 to 8 months. The idea was to match intense aromas with structure and complexity with subtle oak. 
Syrah-Merlot– a blend of 70% Syrah and 30% Merlot is made by fermenting both grapes individually with focus on fruity notes and soft tannins. It is also aged in old French barrels for 6 months to add complexity.
The vineyard is screened and only selected vines are harvested separately for Anokhee. This is followed by manual berry sorting and fermentation in Stainless Steel tank with focus on extended maceration to extract desired tannins. Malolactic Fermentation in French barrels is followed by 24 months of barrel ageing and a minimum of 18 months of bottle ageing with natural cork.
Chetan Arekar (Dessal Winery)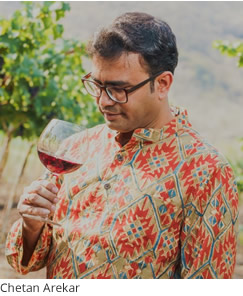 If one were to go by academics only, Chetan Arekar, currently the Senior Manager in Winemaking at Dessal Winery in Vinchur Park Nashik, would stand head and shoulders above the rest in his tribe. A specialist in Microbiology, he did his undergraduate degree from Shivaji University in Kolhapur in 2008, followed by M.Tech. from Karunya UniversityinCoimbatore.
Not only did he do his Ph.D. (Tech) in Food Biotechnology from Institute of Chemical Technology, Mumbai in 2013-2017 with Studies on Tropical Fruit Wines as his Dissertation topic, he also worked as a Research Technician at Seema Biotech in Kolhapur for a year in 2008-09 and taught fermentation technology and Microbiology at MGM's Jawaharlal Nehru Engineering College, Aurangabad asAssistant Professor from July 2011to December 2012 before joining the PhD programme in April 2013.
He worked as Assistant Winemaker at Soma Vineyards Bengaluru for a few months before joining Sula Vineyards as Assistant Winemaker from January 2018- July 2019. He has been currently into winemaking and managing winemaking operations, new winery site development and commissioning, Blending, setting up protocols for the upstream and downstream operations, managing and troubleshooting bottling operations, Sensory evaluation, Market research, quality control and Food safety.
He has interned with Kenwood Vineyards, California for over 4 months in 2019- helping with winemaking operations. This was followed by a short stint at Pernod Ricard in New Zealand last year.
Also Read: Wine Feature: Top Ten Winemakers of India under 40 (Part 1)
With a Little Help from my friends
I have been helped and guided by Ajoy Shaw DipWSET and Sumedh Singh Mandla DipWSET in the project by helping me set the direction and criteria and making sure we considered each and every known winemaker in India, who is under 40. This cut-off was my desire so that we could also measure their lifetime achievement and see some of them shooting for stars during the coming decade.
Sumedh is the CEO of VBev and had ample exposure to winemaking while the CEO of Grover Zampa. Ajoy was the Chief Winemaker at Sula Vineyards till he branched out and became a consultant winemaker and is greatly in demand. He was also elected as The Best Winemaker in India at the first delWine Excellence Awards (2016) held at Pullman New Delhi Aerocity. I am also grateful to several wine professionals, producers, winemakers and journalists for giving the inputs when requested.
Subhash Arora
Continued with the Final Part-3 covering the balance 3 winemakers to appear in the next issue. So watch out this space-editor
>>> Don't Miss Today's BEST Amazon Deals!
Originally Appeared Here