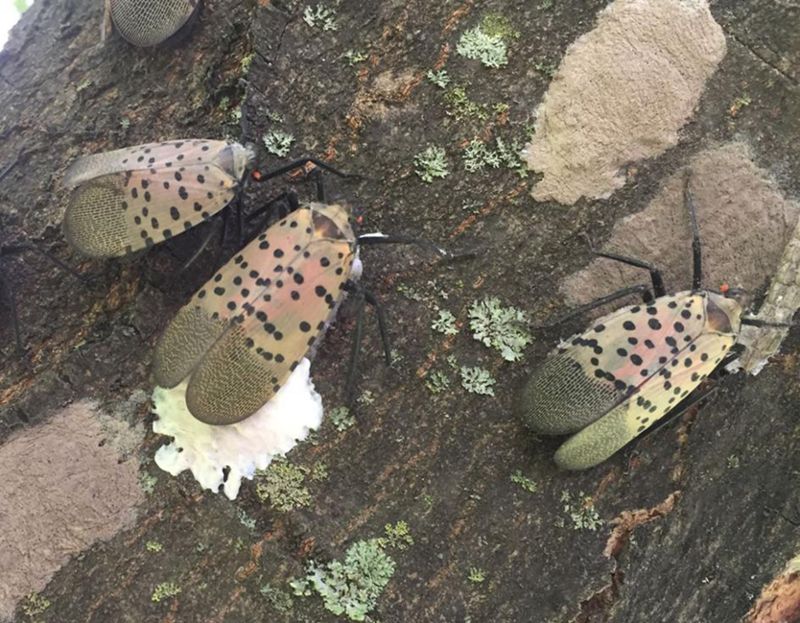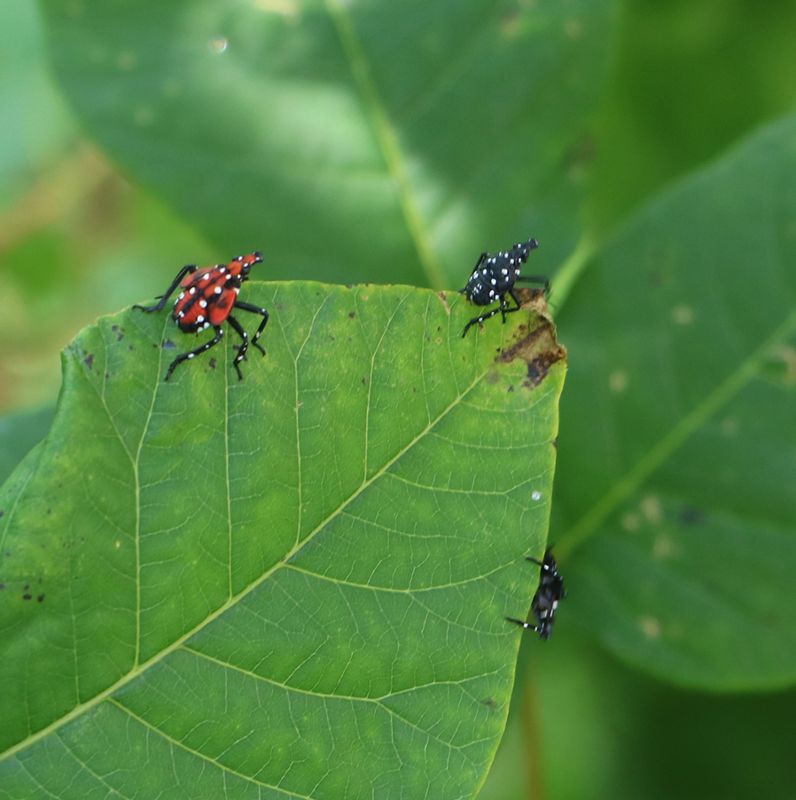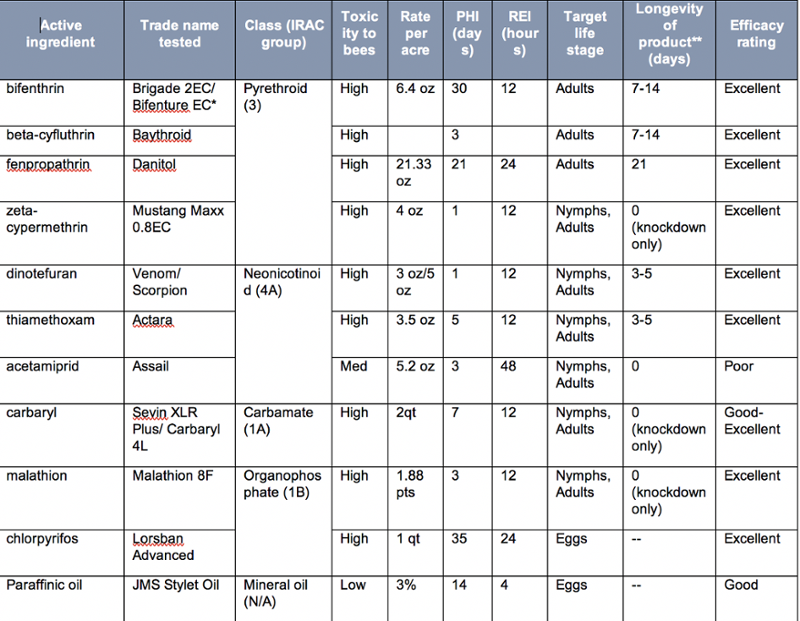 It has now been more than 6½ years since the Pennsylvania Department of Agriculture (PDA) confirmed that a new invasive species known as the spotted lanternfly (Lycorma delicatula) had been found in Berks County, Pennsylvania. This discovery in September 2014 in southeastern part of the state was especially concerning to grape growers because spotted lanternflies (SLF) are very fond of grapevines and that region is home to numerous wineries and vineyards.
Today, in spite of efforts to quarantine the insects, SLF is now present in 26 counties in Pennsylvania and has been found in eight additional states: New Jersey, Delaware, Maryland, Virginia, West Virginia, Connecticut, New York, and Ohio. It has been detected in Maine, Massachusetts, North Carolina, Michigan, California and Oregon, but established populations have not yet been discovered in those states. The important point is that this insect is here, and it's moving slowly but surely into new locations.
WHAT DOES THE SLF LOOK LIKE?
The adult SLF lay their egg masses on many different surfaces, including trees, rocks, fence posts, outdoor furniture, even children's toys that have been left outside. The masses themselves are not large, usually no longer than 1½" to 2" and have a mud-like covering (FIGURE 1). They can be located at all heights on a tree, which makes it difficult to find and remove the eggs. In vineyards, egg masses are often found underneath cordons, on the vines, and on wooden or metal posts.
In Pennsylvania, the nymphs hatch in May and June. The first three nymph stages are small, no more than ¼ inch, and are black with white spots. The fourth instar is red with white spots and black stripes and is slightly larger, about ½ inch (FIGURE 2). The adult SLF emerge in August and measure ~ l inch long, with black bodies and red, black and white hindwings (FIGURE 3). When the wings are folded, the forewings are a pinkish gray with black spots, the wing tips are black with gray veins, and the colorful hindwings are not visible.
HOW DOES THE SLF TRAVEL?
The most concerning question may be: how does it travel? If the SLF is a fly, does it fly, and how far and how fast? Even though is called a lantern"fly," SLF do not actually fly long distances in one flight. The insect is primarily a planthopper, and the four instar (nymph) stages and the one-inch-long adults can jump 3 to 4 feet. However, they are adept hitchhikers and have been known to cling to or lay its egg masses on cars, trucks, trains and sometimes slabs of stone. When it was first found in Winchester, Virginia in January 2018, the SLF were in a stone yard adjacent to a railroad and highways.
"It is fully within the range of possibility that SLF could hide out on the underside of a train car or lay an egg mass or two somewhere on a freight car and travel across the United States. In March this past year there were reports that agricultural inspectors had found several dead SLF on cargo planes in Sacramento, Stockton and Ontario. None of these insects have been found alive in California – so far.
Research in Pennsylvania, however, has shown that the SLF are capable of moving more than 3 or 4 feet at a time. After there were several reports of tens of thousands of SLF in mass dispersal flights, Dr. Thomas Baker, professor of entomology at Pennsylvania State University, Dr. Andrew Myrick, assistant research professor of entomology also at Penn State, and their research team set up flight dispersal sites at a fruit farm in Berks County in 2017 and another site at Dorney Park in Allentown, PA a year later. They documented the flight paths of individual SLF during mass flight dispersals and measured both ground and air speed, as well as the duration, distance and trajectory of their flights.
The Penn State team found that the average flight of a SLF lasts just 11.5 seconds. However, on occasional hot days with a vertical up-draft of warm air, the insects can be lifted up hundreds of feet and then carried downwind between 325 and 650 feet. [Readers who are interested in reading research reports can go to the website www.stopslf.org for a list of publications.]
WHAT DO SLF EAT?
When the SLF was introduced into Korea in 2006 (it is native to China, India, Japan and Vietnam), the insects attacked 25 plant species that are also found in Pennsylvania. The pests were first seen in Berks County, PA on wild grapevines, maple, weeping willow trees and Ailanthus altissima, an invasive sumac-like tree commonly known as tree of heaven. In eastern Asia, other host plants include not only grapes but hardwood trees, peaches, and more than 70 additional species. Of all those possible food choices, the SLF seem to prefer grapes and tree of heaven.
The insect uses its piercing-sucking mouthpart to feed on the sap of vines and trees and then excretes excess levels of sugars and water. The excrement, known as "honeydew," accumulates under areas where the SLF are feeding and attracts ants, bees, wasps and other sugar-loving insects, and frequently is colonized by sooty mold fungi, which can block photosynthesis in the leaves where it is present. So far sooty mold has not been reported on grape clusters or as a problem for either marketability or wine taint.
In 2014, Dr. Michael Saunders, professor of entomology at the Pennsylvania State University, told the author of this article that the SLF "has the potential to impact the green industry, grape growers, tree fruit growers, and the forests and wood products industries in Pennsylvania as well as the United States." In other words, grape growers will have allies in other industries to help them combat the SLF invasion.
Heather Leach, who joined Penn State's College of Agricultural Sciences as an extension associate in May 2018 to focus specifically on the SLF, has done some testing over the last two years to determine what other commodities the SLF might feed on in other regions such as avocado, hardy kiwi, fig, hemp, and even cucumbers. She found that the SLF can inflict damage on those crops as well. This was especially true on cucumbers, where the more SLF that were on a plant, the more the yield dropped. Row crops such as corn and soybeans are not as susceptible to SLF pressure.
ARE THERE BIOLOGICAL CONTROLS OR BIOCIDES THAT CAN PROTECT GRAPES?
If researchers could find a natural enemy of the SLF, that would possibly be a very good way to control the numbers of SLF. At one point, a parasitic wasp was identified as attacking SLF, but in low numbers, and there have been reports of spiders and praying mantises eating SLF.
In late 2017, Dr. Eric Clifton, a postdoctoral researcher in entomology at Cornell University, and Dr. Ann Hajek, professor of entomology at Cornell, received reports that fungi seemed to be killing some SLF on trees near an apple orchard in Berks County, PA. The two investigated, collected the dead SLF from tree trunks and on the ground, and determined that two North American fungal pathogens had been responsible for killing most of the SLF. Batkoa major was responsible for killing 97% of the SLF on the tree trunks, while for the SLF found on the ground, it was a combination of Batkoa major found in 51% and Beauveria bassiana in 49%. While both discoveries were exciting, Beauveria bassiana was particularly interesting as this is a commercially available entomopathogen that could be applied across a larger area.
Scientists from Cornell and Penn State followed up on the potential use of Beauveria bassiana in 2019. They established four research plots on forested sections of Norristown Farm Park in Norristown, Montgomery County, PA that had dense populations of SLF late-stage nymphs and adults. Each plot contained tree of heaven, one of SLF's preferred locations for both feeding and egg laying. Hydraulic sprayers were used to treat control sections with water and to apply a water-based commercial biopesticide containing Beauveria bassiana on the other sections. Insects were collected when they fell to the ground to compare rates of mortality between the water control plot and the Beauveria plot.
The Norristown study showed a 46% reduction of fourth instars with just one spray. The adult population was not reduced as much, possibly because the spray applied from the ground didn't go very high into the trees and, in addition, the adults were more mobile. The plots were somewhat small, and it may be that the nymphs moved farther and faster than the researchers anticipated, and some of the infected nymphs may have left the research plot before their demise.
The results from the Norristown study encouraged the researchers to continue their research during the Spring and Summer of 2020, this time on six secluded acres at the Blue Marsh Lake Recreation Area northwest of Reading, PA. The 2020 study involved the evaluation of a single application early in the season of a synthetic insecticide containing the active ingredient dinotefuran in comparison to two biopesticides containing Beauveria bassiana applied both from the ground and aerially over several weeks.
Leach told Wine Business Monthly that the Blue Marsh research was Penn State's first big-scale project with two different areas, with multiple sprays from both helicopters and ground-based sprayers.
The Blue Marsh research showed that both the "aerial and ground-based spray application of dinotefuran reduced spotted lanternfly populations by up to 90% within 24 hours of application and remained effective for at least two weeks." Results also showed that within this experiment, the insecticide "had minimal to no measurable impact on nontarget species, including pollinators."
Biopesticides, on the other hand, take longer to work than chemical insecticides: they require three to ten days to kill an insect. The two biopesticides containing Beauveria bassiana were applied by ground or air three times at two-week intervals. While the Beauveria spray was efficacious in woodlots, Leach said, "We didn't see the same response on a large scale" and the SLF populations within the biopesticide plots did not differ significantly from the control groups. Based on the results of the Blue Marsh research, Penn State is "not currently recommending B. bassiana for use in or around vineyards."
ARE INSECTICIDES A POSSIBLE SOLUTION?
In the Spring of 2018, Dr. David Biddinger, research professor of entomology at Penn State, and Leach, assisted by team members Dr. Julie Urban, associate research professor of entomology, and John Rost, research technician at Penn State Berks, put sleeves around 250 one-year-old potted grapevines and 250 potted peach trees at the Berks campus of Penn State in Reading, PA. They then introduced ten SLF nymphs into the sleeve surrounding each plant. Their goal was to test the efficacy of 20 different insecticides, and the team checked each plant every two, seven and 14 days to count how many SLF were alive or dead. The nymph trials ended in late July; tests with adult SLF began in early August.
Additional insecticide trials were conducted by Leach in 2020 in commercial vineyards to test the residual efficacy of insecticides that could be used both before and after harvest. According to Leach, the nymph populations in vineyards are often low, and the nymphs that are there "are susceptible to a broad range of insecticides including those that might be used for Japanese beetle." For nymph populations, usually only one application of insecticide is necessary, as nymphs have not been seen reinfesting vineyards at the same rates adult SLF. Adults, however, begin to arrive in vineyards in late August and continue to influx into vineyards until late October.
Several common insecticides have provided some control of both nymphs and adults, including Scorpion, Brigade, Danitol, and Mustang Maxx (TABLE 1). In a talk she presented at the first ASEV webinar on invasive pests in June 2020, Leach noted that growers who used sprays went from four applications prior to the initial arrival the SLF to 14 applications in the two years 2016 to 2018. The average cost per acre went from $54 to $147.
One important result of monitoring research conducted in vineyards was the discovery that between 54% and 80% (or more) of the SLF population in a vineyard was within the first 50 feet of the vineyard edge, depending on the landscape surrounding the vineyard. Consequently, treating the edge – the first 50 feet – of the vineyard can be just as effective as treating the entire vineyard. A modified sprayer or cannon sprayer could be used to treat only the edge of the vineyard, which would both save time and reduce insecticide input.
During a webinar presented in Ohio, Leach noted that BDI Machinery in Macungie, PA donated a CIMA Cannon Sprayer to an insecticide trial so that it could be compared to a CIMA over-the-row sprayer. Leach worked with a vineyard in Berks County to evaluate these two sprayers. She found that border spraying by the Cannon Sprayer was as effective at killing SLF as spraying the entire vineyard with an over-the-row sprayer. The border sprays reduced SLF by 85.4%, compared to spraying every row (for a 85.6% control), reduced spray time by 70% (6.6 minutes compared to 22.1 minutes) and lowered the spray cost.
Leach also did a "proof of concept" test of exclusion netting on vineyards, primarily on Grüner Veltliner vines, in 2020 (FIGURE 4). She found that netting (donated by DrapeNet) reduced SLF by 99.8%, and that the Brix was slightly reduced (by 0.5°) while pH and titratable acidity were not affected. The netting had no effect on the presence of either downy mildew or rot. While many growers are moving away from over-the-row netting, this might be a solution for smaller vineyards.
Another test project was to build a "flight-intercept wall," 13 feet tall, 180 feet long, at the end of a vineyard, and then to cover half of the framework with insecticide-treated netting and half with untreated netting (FIGURE 5). The object was to attract the SLF to the barrier, have them climb up the supports, and then kill them on the netting. Over a two-month period, 15,236 SLF were killed. Leach found that treated netting reduced the number of SLF on the first two rows by 79% compared with two rows with no netting, and that those first two rows of vines represented about 73% of the SLF population in the vineyard. However, there was no effect on the numbers of SLF in row 3 or the remainder of the vineyard. She also noted that building such a wall was not really a practical approach for growers, but that this trial represented a jumping-off point to search for more economical ways to reduce SLF in vineyards.
WHAT DAMAGE OCCURS ON GRAPEVINES WHEN SLF FEED ON THEM?
A Penn State research team comprised of Dr. Urban, Erica Smyers, a doctoral candidate in entomology, Dr. Michela Centinari, assistant professor of viticulture, and Dr. Saunders set up a research site in Berks County at Manatawny Creek Winery in Douglassville, PA in the Spring of 2018. They planted 80 three-year-old Chardonnay vines, each one in a netted cage. After the vines were established and adult SLF were available, they introduced different densities of adult SLF into the cages. The goal was to determine the feeding damage to the vine, long-term damage, amount of yield reduction and the impact of sooty mold on the vines.
In both 2019 and 2020, a Penn State research team (composed of Centinari, Leach, Urban, Andrew Harner, Ph.D. candidate, and research technologists Lauren Briggs and Don Smith), set up an experiment in a home winemaker's vineyard in Lehigh County, PA that had five-year-old vines with a trellis system in place. Cages were placed around 16 individual vines and then a known quantity – zero, low, medium and high – of adult SLF were introduced into the cages in four replicates in late August. The SLF remained in the cages for 4-5 days, at which time the SLF were removed by hand. The vines then had the following week to recover before the same numbers of SLF are reintroduced into the appropriate cages. The cycle was repeated six times.  
The goals for the project were to determine the effect of the different numbers of SLF feeding on the physiology of the vines. They specifically looked at photosynthesis and transpiration of leaves; the accumulation of carbohydrates and nutrients in the fruit and storage in the stem and root tissues; and the bud freeze tolerance (cold hardiness).
Throughout the experiments, results showed that more SLF reduced photosynthesis and sap flow, sugar content of fruit, starch (carbohydrates) and nitrogen in root tissues. Leach noted that vines already stressed by other factors such as disease, cold winters, lack of sunlight, and excessive rainfall are likely to be more sensitive to SLF feeding damage.
Data collected by Leach for the past three years from nine vineyards in southeastern Pennsylvania has shown that increasing levels of SLF on vinifera vines does have a correlation with reduced clusters per shoot the following spring, and that SLF feeding can reduce the hardiness of a vine and potentially increase susceptibility to winter injury (FIGURE 6). Of the more than 80% of growers managing for SLF in the Pennsylvania quarantine region, 30% reported damage, most of which is yield loss or potential vine death.
As a consequence, Penn State is strongly recommending that if growers have seen high levels of SLF feeding on vines in the summer or fall, they should carefully evaluate bud injury before pruning. Moderate to high levels of bud injury may necessitate increasing the number of buds retained to compensate for bud mortality or renewing trunks.
WHERE IS MONEY COMING FROM TO SUPPORT RESEARCH ON SLF?
Because the SLF posed a potential threat to agricultural crops, the U.S. Department of Agriculture Farm Bill in 2015 provided almost $1.5 million, with part of the allotment going to the PDA to do surveys and implement control of the SLF, and the balance to Kutztown University, Pennsylvania State University and North Carolina State University to conduct research on the range of the pest, its impact on grapes, and an analysis of its DNA. Penn State also received a grant to perform outreach and extension work.
By November 2017 the quarantine zone in Pennsylvania had been expanded to include 13 counties east of the Susquehanna River and south of the Pocono Mountains. Since the SLF problem was expanding, the PDA that year received $2.9 million from the U.S. Department of Agriculture (USDA) to control the SLF and another $25,000 for outreach efforts. The PDA also worked with the state Departments of Transportation and Conservation and Natural Resources to develop a multi-agency response plan.
In February 2018, the month after the SLF was found in Virginia, the USDA allocated $17.5 million to help stop the SLF, and the Pennsylvania state budget for 2018-2019 included $3 million for the PDA to work to understand, detect and control the invasive pest.
Research on the SLF received a major financial boost in 2019: the USDA's National Institute of Food and Agriculture awarded a four-year, $7.3 million Specialty Crops Research Initiative grant to Penn State to support an interdisciplinary, multi-institutional 37-member team of researchers who are working to learn more about SLF and to develop strategies for the long-term management of that insect.
The interdisciplinary research team, led by Dr. Julie Urban, associate research professor of entomology at Penn State, includes entomologists, vineyard extension educators, insect behaviorists, toxicologists, viticulturists, plant physiologists and plant pathologists from Penn State University, Cornell University, Virginia Tech, the University of Delaware, the University of Rhode Island, Temple University, and Rutgers University, as well as the Northeastern IPM Center, the USDA Agricultural Research Service and USDA Animal and Plant Health Inspection Service.
CONCLUSION
A research team, composed of Dr. Jocelyn Behm, assistant professor of ecology and integrative biology; Dr. Matthew R. Helmus, assistant professor of ecology and invasive species; and Benjamin Seibold, associate professor of mathematics, at Temple University in Philadelphia has conducted a study of where the SLF are likely to establish, based on the presence of certain crops such as grapes. They included information about transportation pathways and the presence of tree of heaven, one of the SLF's favorite plant hosts. SLF is expected to establish in many grape producing areas, not just in the United States, but globally.
While the SLF will probably continue to spread, the population growth will be relatively slow, in part because they produce only one generation each year. According to Leach, growers should keep up to date with new management options and information from their state extension programs and departments of agriculture and, most importantly, keep their vines healthy before SLF makes its way to them.