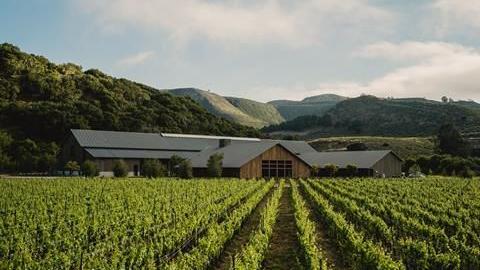 Recently, I was invited to the media opening of The Hilt, the newest tasting room to open in the Sta. Rita Hills appellation.
It was a brand I was unfamiliar with, but couldn't be any more impressed upon seeing this gorgeous new estate and tasting room. In 2014 the owners acquired the 3,600-acre Rancho Salsipuedes, which they liked for its ideal location in the Sta. Rita Hills. The goal was to produce high end pinot noirs and chardonnays from three distinct vineyards, Bentrock and Rancho Salsipuedes (both vineyards formerly known as Rancho Canada de Salsipuedes), Puerta del Mar, and Radian.
They explain that the ideal climate, soils, and clones help them produce wines at "the hilt of their potential, creating wines that are lively, fresh, and well structured."
Now open to the public by appointment, the tasting room is called "the barn at the Hilt," made with reclaimed barn wood and built beside the winery's production facility. The buildings were designed by the well-known architects Howard J. Bracken and Silvia Nobili from Bracken & Gilliam Architects with interiors by Amber Lewis of Amber Interiors Design Studio.
I loved the layout, which has numerous small rooms for private tastings and a main gathering room with a long table and chairs for larger tasting parties. It's like visiting the private home of a vintner with very sophisticated taste. In fact, the owner's dedication to quality and state-of-the-art facilities allows winemaker Matt Dees to focus on the best farming practices to make the finest wines from the estate vineyards.
The affable Dees, whom I met for the first time during the media event, clearly loves his job. A student of plant and soil science, he found it interesting even as a child. He attended the University of Vermont to study plants and soil. While only a freshman he landed a job nearby at Shelburne Vineyard, where Dees helped plant the grapevines.
It was then that he began to understand how soil effects the vineyards and winemaking. At the young age of 25, Dees was hired as winemaker at Jonata (which means tall oak in Chumash), thanks to his reputation in Napa Valley.
"As a winemaker, people find it surprising that my true passion is in the vineyards," Dees explained. "To make great wines, my job is to cultivate estates with a voice worth listening to. I want to spend as much time as possible in the vineyard, not hunched over a fermentation tank."
It's a big job as Dees oversees growing and production at both the original Jonata in Ballard Canyon, and the Hilt Estate. But he has a great team to help him with vineyard manager Ruben Solorzano and assistant winemaker Drew Pickering. Although the new winery was built for the Hilt, Dees and team will be making Jonata wines there too.
The focus in the tasting room is the Hilt and Jonata, the latter offered for some of the high end tastings. When you make an appointment, you will be contacted by a knowledgeable wine expert to determine your interests and then they will create an ideal tasting experience for your appointment.
The estate is at the south western end of the Sta. Rita Hills appellation as its the closest wine tasting room to Lompoc just off Santa Rosa Road. That said, this is no bargain establishment. Tasting fees begin at $50 per person, and typically cost $85 per person if you want to taste some of their high end wines, and you should.
That's because I liked all of the wines, but my favorite was the 2018 pinot noir Radian Vineyard. I loved its luscious fruit forward flavors, yet it's not overly ripe, and beautifully balanced. It's the type of pinot noir I love with a really good steak, or seared ahi. I even love such pinot noirs with rich wild salmon.
About Jonata, it was created in 1998 to explore and expand world-class winemaking in Santa Barbara County. Their vineyards in Ballard Canyon on a 600-acre site has 84 acres of vines with 12 grape varieties. Most of the property is comprised of ancient oaks, fruit gardens, and diverse animal life.
Jonata gained recognition from wine collectors and wine critics for making wines that express the estate's unique soils and climate. But they never created a tasting room for the Jonata brand until now. I'm sure that's why they aren't widely known. With this gorgeous new tasting room, that will surely change fast.
If you're planning to head there directly, call first, appointments are necessary. If headed southbound you may get there faster by traveling down the scenic Hwy. 1. Tastings may be scheduled during one of two time slots, 11 a.m. and 2 p.m., only Monday through Friday at this point.
You can reach the tasting room at 805-564-8581, or make reservations online at www. Thehiltestate .com. It's sure to be an unforgettable wine tasting experience.
>>> Don't Miss Today's BEST Amazon Deals!
Originally Appeared Here