When COVID-19 restrictions first hit Western Australia last March, cellar doors across the state were shut down.
After they reopened shortly after, strict regulations forced wineries from Margaret River to Frankland River and the Swan Valley to adopt paid seated tastings only.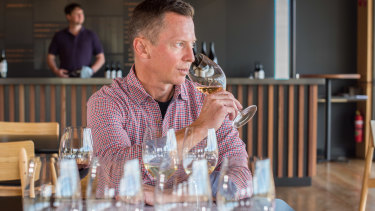 This novelty went against the wine industry's tradition of the cellar door bar, where customers can rock up unannounced and taste as much or as little wine as they like, most of the time for nothing. It's a custom that is foreign at wineries across Europe and the USA.
One year on and the days of the free wine tasting are not over but limited, with more wineries adopting savvy offerings for cellar door visitors.
Wilyabrup winery Fraser Gallop invested in a golf buggy for visitors to tour the estate and taste wines from certain vineyards.
Some wineries now only take bookings for tastings. Others still welcome walk-ins but more often than not at a small price.
While these shifts may seem drastic to the droves of visitors to the South West and Great Southern, where the majority of WA's cellar doors operate, they say they have evolved their offerings to suit the times and that it's better for customer and winery alike.
Voyager Estate cellar door manager Adam Elton while counter tastings would always have their place, seated tastings provided an extra level of immersion, personalisation and time to settle in.
"There's a balance of being able to give customers more information on the wine and ask more questions, while also having the space and time to enjoy the wines and consider their purchase without a staff member in front of them or another customer lining up behind them," he said.
"If anything, counter tasting reintroduced in WA with Phase 4 has become less popular and trickier to manage in accordance to social distancing."
Having more time with customers has given wineries better scope to sell their wines too, as evidenced by a 49 per cent increase in online wine sales nationally, the latest Wine Australia data showed.
No one expects to rock up to a brewery and have a free tasting paddle.

Amanda Whiteland, Margaret River Wine Association CEO
Wines of WA CEO Larry Jorgensen said producers could allocate more time and resourcing so that visitors got access to limited release and back vintage wines, or behind-the-scenes experiences, such as how grapes were grown and wine was made.
"This can all be provided in an uncrowded space that is COVID-safe and a more pleasant experience," he said.
Mr Jorgensen said the extra time wine staff had with visitors helped foster better relationships that led to further contact via newsletters and wine clubs, both vital sources of income for the industry, smaller players especially.
"Additionally, managing the number of people in cellar door providing experiences that focus on wine attributes and production practices – often paired with food – supports the notion of thoughtful and responsible consumption," he said.
Margaret River Wine Association CEO Amanda Whiteland said a paid winery experience or cellar door tasting opened doors for wineries to partner with websites such as Expedia.
"We've worked with wineries to help build capacity here and understand how to put a bookable experience online that feed into some of these online travel agencies," she said.
"We were on this journey before COVID, with the aim to create a better experience for people coming to the region to buy wine rather than just for a Hen's Day or whatever.
"Bookings also help wineries coordinate their cellar staff."
She said it had become common for wineries to offer tours as part of a one-hour tasting session that could be booked online. Others charged a fee for visitors to taste reserve wines, which could then be redeemed on any future purchases.
"Breweries have been doing tours down here for years," Ms Whiteland said. "No one expects to rock up to a brewery and have a free tasting paddle."
Winemakers in the Great Southern, which had experienced an influx of tourists outside its peak season thanks to WA's border restrictions, said the spending habits of visitors had changed and wineries were keen to adapt and cater to their needs – and their access to surplus funds.
"We did 12 months' worth of sales in four months, and much of that was online with changing buying habits because of COVID," Duke's Vineyard owner Freddie Batcherlor said of his Porongurup winery.
Loading
"But also because there weren't 10,000 people going to Bali every week, they were doing laps of our state instead.
"We've had double the number of people visit the cellar door, there doesn't seem to be a pattern to it, it's quite random. January was crazy busy, but when school went back, everything stopped, it went really quiet.
"Last weekend (the long weekend) was absolutely insane, totally bonkers. We expect to be busy now until after the school holidays in April."
Further south in Marbelup, Oranje Tractor owner Pam Lincoln said COVID spurred them to offer daily seated tastings in addition to the winery's existing weekend slots and introduce two tiers of wine tasting at $28 and $48 matched with in-season food and estate nibbles.
"We've had a lot more West Australian visitors, and in general, about twice as many visitors than normal," she said. "Put it this way, in winter, we usually shut down and do pruning. We didn't last year, we had a week off."
Some of WA's best wine tastings:
Voyager – seated educated tasting that includes special-release wines
Fraser Gallop – visitors tour the estate and taste wines from certain vineyards on golf buggy
Clairault Streicker – wine blending experience for visitors
Woodlands – renovated cellar door offering vertical tastings
Whicher Ridge – wine sensory garden tastings