Tamburlaine Organic Wines Release 'True Earth Collective' Range with Jamie Durie, OAM
Posted on May 10, 2021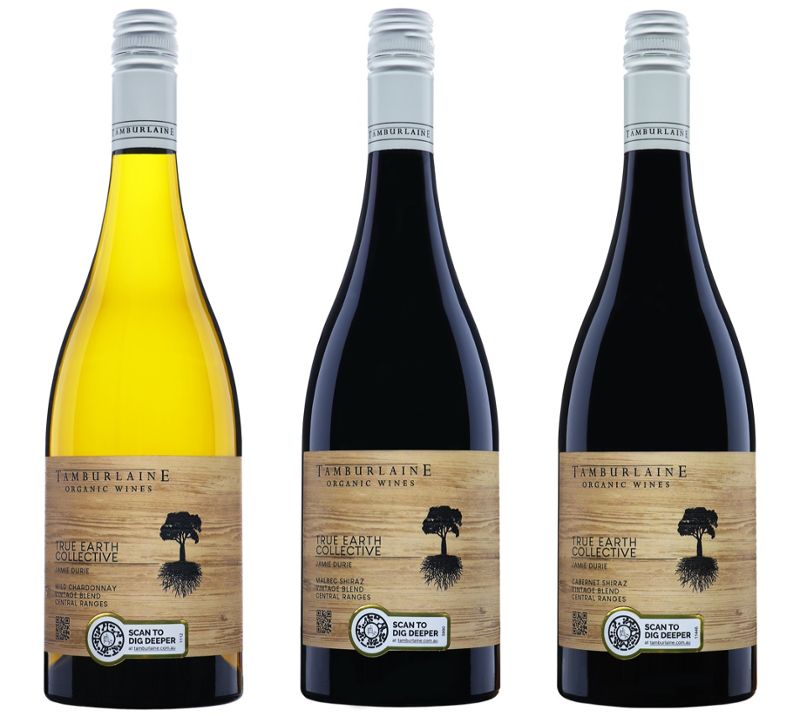 Tamburlaine Organic Wines (Tamburlaine) is pleased to announce an innovative collaboration with Jamie Durie to create a small batch of wines called 'True Earth Collective', set to do a whole lot of good. 
As is the Tamburlaine way, the very limited, quality releases are from organically certified vineyards, but these wines also come with extra benefits.
"We're thrilled to be partnering with Jamie and Planet Ark on a project that is so synergistic with our values," said Mark Davidson, Tamburlaine's Chief Winemaker. 
"Tamburlaine has prioritised organic and regenerative farming practices across our vineyards for over two decades now. We're staunch believers that it's the way forward for winemaking and more broadly for agriculture in Australia," Mark said. 
"I am passionate about the need to honour and heal our land," said Jamie Durie. 
"This collaboration with Tamburlaine was born through the mutual respect for land and how it's managed. We are tremendously excited to see this project from conception through to completion. I've been an ambassador for National Tree Day since 1999 and worked with Planet Ark on environmental initiatives for over 27 years," said Durie. 
For every bottle of True Earth purchased, consumers are also donating $2 to Planet Ark's National Tree Day, supporting their efforts to plant over one million new trees, shrubs and grasses each year. 
In addition, the project integrates two exciting new Australian-born technologies. Each bottle is uniquely 'fingerprinted' with Laava Smart Fingerprint® technology and after scanning, consumers can explore the wine back-story and connect with Upstreet®, a micro-investment platform. Customers who sign up to Upstreet will receive $4 per bottle in fractional shares of a sustainability Exchange Traded Fund (ASX:FAIR). 
There are 3 wines in the collection: Wild Chardonnay, Malbec Shiraz and Cabernet Shiraz, each selected from organic vineyards across Orange and Canowindra in Central West New South Wales. True Earth Collective wines will be available for purchase exclusively online and through Tamburlaine Cellar Doors for as long as they last.
About Tamburlaine Organic Wines 
Tamburlaine was established in 1966. In 1985 the Hunter winery was purchased by a small group of friends and relatives led by Managing Director and Chief Winemaker, Mark Davidson. Mark has built his long-term winemaking philosophy around Contemporary Organic practices in the vineyard and the winery. After challenging years of research and development, we have become one of Australia's largest producers of organic wines with vineyards in the Hunter Valley and Orange region. Named after Christopher Marlowe's famous play and character 'Tamburlaine the Great', we work to lead the way with our Contemporary Organics vision, successfully producing award-winning organic, vegan-friendly, low sulphur and no added sulphur wines. 
About Jamie Durie, OAM 
International award-winning landscape designer and horticulturalist Jamie Durie has hosted over 56 television shows across three continents, receiving a Television Logie Award for Australia's Best New Talent and a further six Logie awards for hosting Australia's Most Popular Lifestyle show 'Backyard Blitz'. After hosting Australia's 'The Block' for the first two seasons he was swept up by Oprah Winfrey with whom he worked for several years. Durie then went on to host another 18 lifestyle and design shows in the USA. Durie is the author of 12 best-selling design books and has been a contributor to multiple design and lifestyle publications, most recently Mansion Magazine with The Australian Newspaper. 
Durie founded his practice Durie Design in 1998 specialising in both landscape design, concept architecture and furniture design, designing for top Italian brands like Natuzzi, Riva 1920 and Unopiu and in the USA McGuire and Pottery Barn among others. During this time Durie and his team have received over 38 international design awards in both landscape design and furniture design, including a gold medal at the prestigious Chelsea Flower Show in London. 
A committed environmentalist and pioneer of 'The Outdoor Room' concept Jamie has worked in the environmental sector for over 28 years. Durie was selected to train with Al Gore and to be a part of the Climate Reality Group. An ambassador for Planet Ark's National Tree day for over 21 years Durie has worked on multiple environmental campaigns with the United Nations in New York, Greening Australia, Landcare Australia, the Australian Conservation Foundation and multiple other organisations. In honour of his work over the last two decades, Jamie was awarded the Medal of the Order of Australia in 2013 for services to the environment & design, and in 2004, he received the Centenary Medal for services to the environment, television, and the community. 
Today Durie resides in his home in Sydney, Australia with his beloved partner Ameka and family. He is currently filming his new show 'Curb Appeal: Xtreme' in Nashville, USA returning to Australia to host 'Growing Home' for the Seven Network in the last half of 2021.