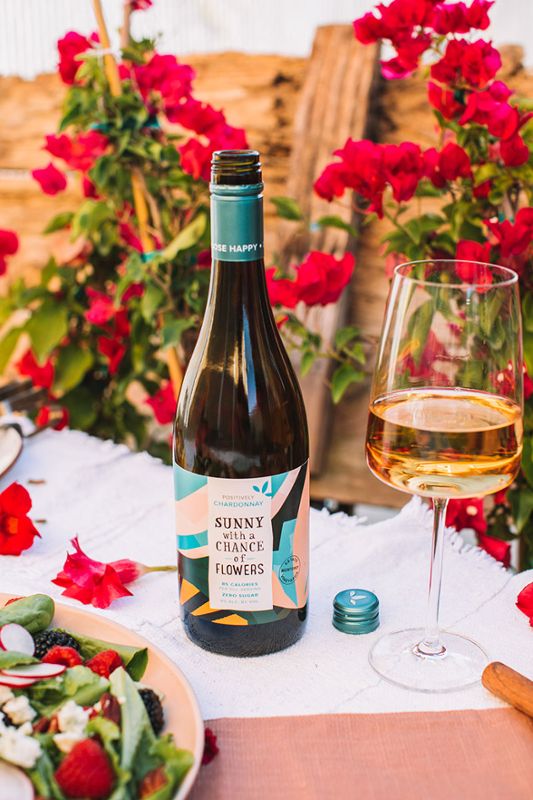 SALINAS, CA — February 25, 2021  –  Scheid Family Wines is pleased to announce that Sunny with a Chance of Flowers Chardonnay has been named one of Wine Business Monthly's Top Ten Hot Brands for 2020. "Sunny" – an innovative zero sugar, low calorie, low alcohol wine – marks Scheid's entry into the growing "Better for You" category. It is the only wine brand in this segment that states zero sugar on its label, as well as being the only one that is estate-driven and certified sustainable.  
Reflecting brands that "make a statement," the Hot Brands accolade aims to acknowledge the "diversity of the American wine market."  A trailblazer in the Better for You wine category, Sunny with a Chance of Flowers represents Scheid Family Wines' recognition of changing consumer demands as "a 'better for you,' low calorie, low sugar and low alcohol wine that packs a lot of flavor."
Heidi Scheid, Executive Vice President of Scheid Family Wines, comments, "It's an honor for our Sunny with a Chance of Flowers to be recognized as a Hot Brand by Wine Business Monthly. This is a brand born of a need to have a healthier for you option that still has all of the great flavor, aroma, mouthfeel and texture that we want in a wine. Sourced from our sustainably certified estate vineyards in the Monterey AVA, Sunny exceeds expectations on what a low alcohol wine can deliver. We're really excited at how the market for Sunny is developing and the enthusiasm and repeat purchases we're seeing."  Scheid further noted that since its launch in mid-2020, Sunny with a Chance of Flowers has gained distribution in 45 states and 6 countries, with over 4,500 store location placements.  
Using proprietary alcohol reduction techniques which preserve aroma, flavor and mouthfeel, Sunny with a Chance of Flowers has 85 calories per 5 ounce serving, offering consumers 30 percent fewer calories than an average serving of wine. At 9% alcohol by volume, it is significantly lower than the 13-14% ABV of many other wines. Sunny with a Chance of Flowers features uplifting and colorful packaging, exuding an attitude of positivity. Sunny launched with a Chardonnay, Sauvignon Blanc and Pinot Noir, with additional varieties planned in the future. All are 100% varietal wines, line priced at SRP $16.99 and currently shipping to major markets and retailers, including Kroger, Whole Foods and Albertsons.
About Scheid Family Wines
Scheid Family Wines is a family-owned, estate-driven wine company founded in 1972. With 4,000 acres of sustainably certified vineyards located in Monterey County, California, and an innovative luxury level winery, Scheid Family Wines is fully integrated to bring high quality estate grown wines to the marketplace. Scheid's winery and bottling operations are powered by 100% renewable wind energy generated by a 396-foot tall wind turbine, which also supplies energy to many homes in the local community. The Scheid Family Wines globally distributed portfolio includes Scheid Vineyards, Sunny with a Chance of Flowers, Ryder Estate, District 7, Ranch 32, Metz Road, VDR and Stokes' Ghost. Scheid Family Wines also produces many regionally distributed brands for specific clients and distributors. For more information, please visit www.scheidfamilywines.com.