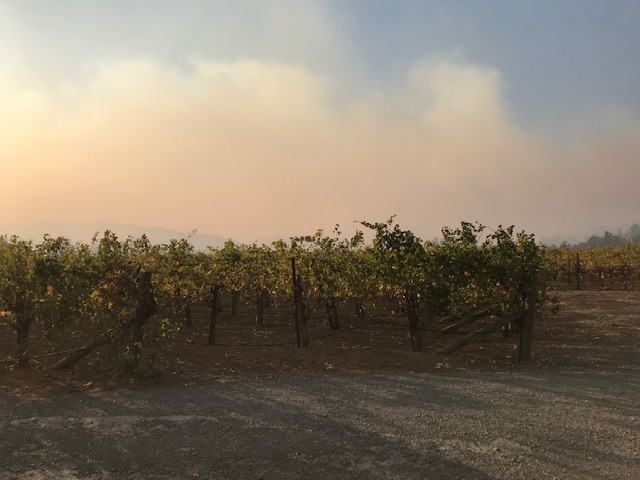 About 100 wildfires burned 10 million acres across the western United States in 2020, resulting in $680 million in crop losses in California and Oregon alone. Long-term impacts to the wine industry have been estimated at $3.7 billion, according to Bruce Pan, who leads the chemistry research group at E. & J. Gallo Winery, citing industry figures.
"The long-term impacts from these fires are pretty staggering," Pan said Tuesday at a forum at Unified Wine & Grape Symposium on managing uncertainty and risk during wildfires.
During the presentation, Pan and other speakers discussed the many unknowns facing smoke taint scientists, including the difficulty of establishing thresholds to assess the risk of smoke exposure to the fruit – and wine.
The nature of smoke exposure is complex, and more research has to be done, said speakers on the panel, which also included Anita Oberholster, cooperative extension specialist in enology at UC Davis and Tom Collins, Tom Collins, assistant professor of grape and wine chemistry in the Viticulture and Enology Program at Washington State University.
The to-do list includes collecting baseline data for each variety to determine smoke exposure risk.
"There're mountains of work we have left to do," said Oberholster, who stressed that "smoke does not equal smoke taint."
Pan said there are different approaches to measure smoke-related compounds, including those in free volatile form such as Guaiacol and Cresol and numerous bound glycosylated compounds.
In addition, no consensus exists on which smoke marker compounds are most relevant or on how test results should be interpreted, Pan and others said. Testing capacity can be "severely limited," Pan said, especially during wildfires.
Modeling smoke-related risk is challenging. "There are many factors at play," Pan said.
That includes fuel source; the extent and timing of smoke exposure; and the age of the smoke. Vineyards of different varietals planted side by side can often have different responses to smoke exposure, Pan also said.
In addition, smoke-related compounds are transformed in the berry and during wine fermentation and aging, the speakers said.
Research has determined that enzymes in one's saliva may hydrolyzed chemical compounds into volatile compounds associated with smoke taint, according to Oberholster.
Pan said the composition of smoke has to be better understood as well as the fruit's uptake of smoke compounds.
There is also a need to model and predict smoke flow through the atmosphere and the vineyards; establish the contribution of smoke-related compounds from sources; and explore "the extraction and transformation of smoke compounds during winemaking and aging," Pan said.
Strategies to selectively target smoke compounds have to be developed, he and others said.
Oberholster said amelioration treatments to treat affected wine lack specificity, affecting wine quality. These treatments, which include fining, spinning cone technology, reverse osmosis and enzymatic treatment, remove color and aroma compounds from the wine and take away body.
Other remedial measures include masking smoke characteristics with oak.
Preventative measures, Pan said, include constructing firebreaks that prevent fires from reaching vineyard; the application of barrier sprays that reduce the uptake of smoke taint compounds into the grape and early warning system that would entail modeling weather patterns so that growers can make picking decisions before a smoke event; and traditional grape breeding for increase resistance of vineyards to smoke effects.
Prescriptive measures in managing uncertainty related to smoke exposure, Pan said, include managing extraction and pre-fermentation fining as well as yeast and enzyme selections; and isolating fractions to sequester problematic wines that can be treated later.
"In the near term, it's very important the next time we encounter a fire that we have good consensus on suitable metrics to drive decision making," Pan said. There also needs a wider availability of testing, he said. The research community and industry should also "vet" smoke-related management practices.
In the long term, industry needs "better metrics to project sensory risk, Pan said. "We need prevention strategies to block uptake of smoke related compounds," he said.
Other long-term goals include improved "improved remediation practices," early warning systems and traditional breeding of vines less susceptible to smoke, Pan said.
Collins, who continues to build a network of smoke sensors, plans to collect data from wildfires to eventually develop a predictive model for the industry.
Oberholster said current recommendations include taking a berry sample close to harvest if there is smoke exposure concern; doing small lot fermentations and performing sensory evaluations of these wines. Like Collins, Oberholster is studying ways to speed up bucket fermentations.
Collins, whose laboratory experiments with smoke using hoop houses, has experimented with kaolin and bentonite barriers, beginning in 2018. The scientists in Washington State sprayed vines with a hand sprayer before deliberately exposing the plants to smoke. The results were inconclusive, Collins said. The scientists repeated that trial in 2019 and tested skin extracts. There was a 30 to 40 percent reduction in Guaiacol in skin extracts, he said. The lab is still studying the data for 2020. "We're going to continue to work in this area," he said.
Dale Stern, partner at Downey Brand LLP, said evaluating relationships and understanding how they work helps growers and wineries in the event of a wildfire.
"I think that good communications are an essential part of a business relationship," Stern said.
Growers and wineries should establish whom they will talk to in case of a smoke exposure event.
"It's important to understand before it's 3 o'clock in the morning and there is a smoke event going on and you're trying to reach out to somebody, who is that you're going to talk with and how you're going to talk with them," Stern said. "Is it by text, by email, phone call or all of the above?"
Gregg Hibbits, general manager at Mesa Vineyard Management, moderated the panel.