Scholomiti: Winter work at CJS Vineyards & Aurelius Winery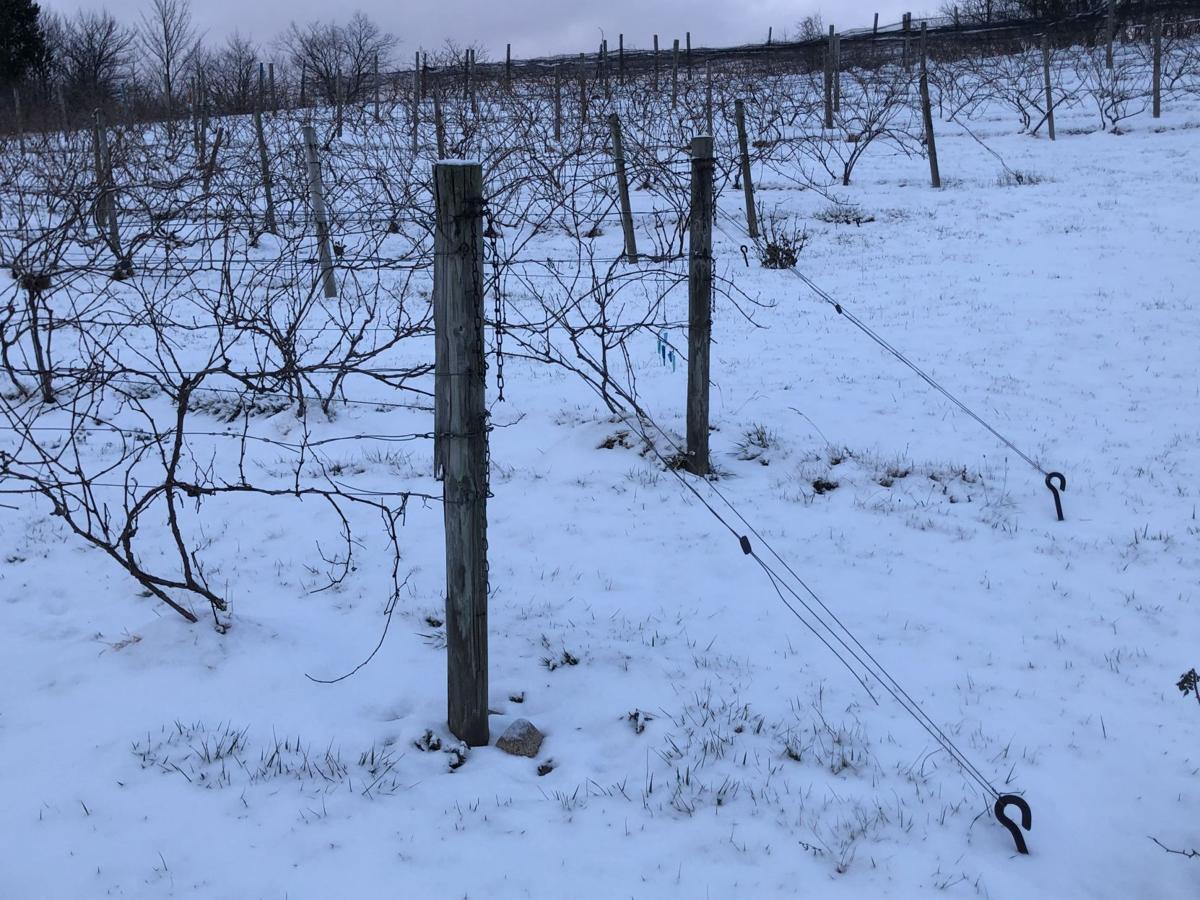 Chris Scholomiti
Special to The Citizen

Well, we're almost through January. It's been an uneventful winter, and the good news is that it's less than two months until spring! We've seen seasonable temperatures for the latter half of this month, and a bit of snow and rain. Looks like the vineyard soils are soaking up the moisture, making up for some of last summer's near drought conditions. We've been fortunate so far that the old polar vortex hasn't made its way down here from Canada. Mother Nature seems to try and smooth things out from time to time in the Finger Lakes.
We're doing some planning here at CJS Vineyards for spring vineyard work, like replacing old vineyard trellis posts and replanting some spots in the vineyard where we have lost vines over time. Trellis systems are comprised of line posts to support the wires the vines grow on, end posts to keep the wires tight and support the weight of the vineyard row, and earth anchors to stabilize the end posts. A row in the vineyard laden with grapes before harvest can put much strain on the trellis system, so it needs to be strong!
Vineyard line posts can be either wood (pressure-treated or native trees) or steel, and end posts are typically wood of a larger diameter than the line posts. Earth anchors are steel bars approximately 3 to 4 feet long with a big corkscrew on one end that gets screwed into the soil, and are attached to the wood end posts with wire. We use a post hole digger on the tractor with a homemade tool to install earth anchors. The trellis wire is a galvanized high tensile steel of 12.5 or 14 gauge. Large steel staples fix the trellis wire to the line posts. Then there are different devices and tools to properly stretch the wire tightly to prevent sagging when the crop load is large. A well-maintained trellis system is important for grape production.
With a little bit of free time in winter, grape growers and winemakers can attend industry seminars and conferences. These days, everything is online with the COVID-19 epidemic all around us. In mid-January I attended an Eastern Viticulture and Enology Forum webinar presented by Penn State and Cornell for eastern grape growers and winemakers. The topic was grapevine nutrition requirements and how to sample vines for nutritional analysis. It was well-attended, and several more sessions are scheduled. The next one is about how research has changed winemaking practices at small and medium-sized wineries on both the East and West coasts. Local grape growers and winemakers have been diligent in the last 20 years learning about new practices and technologies in both viticulture and enology, and sharing them, resulting in the steady improvement in quality of Finger Lakes wines. We now are recognized as a world class wine producing region.
A follow-up to this is the BEVNY 2021 (Business, Enology, Viticulture) Conference March 3-5, this year presented online. Speakers will be from: nationwide trade association Wine America, California's Lodi Winegrape Commission, the New York state deputy director of food and agriculture, the Cornell Finger Lakes Grape Program and Cornell's enology lab representatives. Topics will include wine sales and technology, business model adaptation in a COVID-19-impacted environment, building a successful wine brand and New York wines and their place on the world stage. If you are interested in grape growing and winemaking, more information and registration can be found at bevny.org.
January is typically a quiet month in our tasting room, but in early 2021 we are seeing more interest in wine tasting and curbside pickup. Primarily it's local guests and New Yorkers from along the Thruway corridor from Buffalo to Albany and all the points in between. I'd like to thank all the folks who have called for a tasting reservation or curbside wine pickup, and hope in the very near future life will be getting back to more "normal." 
Looking ahead to Valentine's Day, many wineries will offer special wine and food pairings and other events to celebrate Feb 14, so check out what your local Finger Lakes wineries are doing. Meanwhile, long winter evenings are a great time to do home wine tastings, next month I'll talk about how to set up a wine tasting/food pairing event in your own home. Cheers!
Chris Scholomiti is co-owner and winemaker at CJS Vineyards & Aurelius Winery, located at 6900 Fosterville Road, Aurelius. The winery's tasting room is now open by appointment, with tastings on the hour from noon to 4 p.m. Saturdays and Sundays, and by appointment on weekdays. The winery also offers curbside pickup and wine shipments. For more information, questions or comments about the column or wine and grape-growing in the Finger Lakes, email wine@cjsvineyards.com, call (315) 730-4619 or find the winery on Facebook.