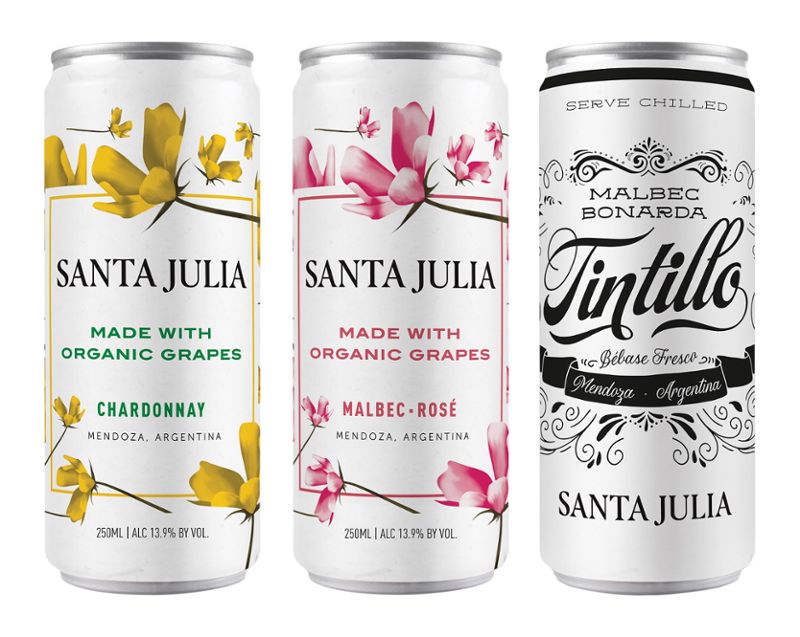 Niles, IL – March 17, 2021 – Winesellers, Ltd., the family-owned, global importer and marketer of fine wines and the award-winning importer of Bodega Santa Julia, is pleased to unveil its new canned packaging of Santa Julia Organic Chardonnay, Malbec Rosé, and Tintillo Red Blend in alternative 250ml cans (SRP $10.99/2-pack). 
Santa Julia is one of the largest certified organic wine producers in Argentina. Having recently achieved Vegan Certification from LIAF, and Fair Trade Certification by Fair for Life, Santa Julia continues to lead and innovative in trend-forward segments. The Santa Julia Organica range is a fast-growing range in the Winesellers portfolio, sourced from organic certified Estate vineyards in Maipu, Mendoza. A more convenient, sustainable, and easy-to-transport package provides another format for Santa Julia to cater to modern wine drinkers.  
"Today's wine consumer is adventurous – always in search of the next unique find and trend," said Adam Sager, Winesellers, Ltd. Co-President. "Canned wines offer the perfect transport and option for summertime activities from grilling with friends, to boating to concert-hopping for what we hope is a more open summer season." The Chardonnay and Rosé are certified organic (CCOF, LIAF, and Fair Trade), while the Tintillo is a red blend made with Malbec and Bonarda in a light and refreshing style using carbonic maceration (like Beaujolais) and meant to be chilled. "We've seen a tremendous increase in demand for high quality affordable organic wines," said Sager. All wines are also available in 750ml bottles prior to release of the new canned format.
For the family-owned, third generation Santa Julia winery sustainable winemaking is an all-encompassing, evolving pursuit. True sustainability means caring for the vineyards, the local ecosystem as well as their people. Santa Julia not only grows organic grapes, but also invests in native wildlife habitats, has built education and wellness centers for their employees' families, and promotes equality and social responsibility for their workers.
"There are many wine consumers who not only care about the quality inside the bottle, but equally care about how the wine is produced and the impact this has on the environment and community" said Adam Sager Co-President of Winesellers, Ltd.
The Santa Julia cans join Winesellers, Ltd's popular canned portfolio, which includes: Tiamo Organic Rosé, White and Red from Italy and Tiamo Organic White and Rosé Spritz from Italy; and Sea Pearl Sauvignon Blanc from Marlborough, New Zealand.
About Santa Julia
Founded in early 1990s, Santa Julia is one of the emblematic Argentine wine brands, both in Argentina and around the world. Santa Julia is a combination of the quality and diversity of the Mendoza land, which produces modern wines.  Bodega Santa Julia is committed to being natural, environmentally friendly, and growing in harmony with the community. The long-term sustainability of harvests is extremely important, and Santa Julia fosters the natural richness of the soil through certified organic vineyard management.
About Winesellers, Ltd.
Founded in 1978 by Yale Sager, Winesellers, Ltd. is a second generation, family-owned and globally recognized importer and marketer of fine wines to the U.S. market. The company's portfolio represents the finest quality of wines in their respective price category and has widespread distribution in all 50 U.S. states. The Winesellers, Ltd. portfolio includes producers and brands from Argentina, California, Washington State, Oregon, France, Spain, Portugal, Germany, Italy, New Zealand and other countries worldwide that can be found in premier retailers and restaurants throughout the U.S.
For more information, visit www.winesellersltd.com and follow on Facebook, Twitter and Instagram.