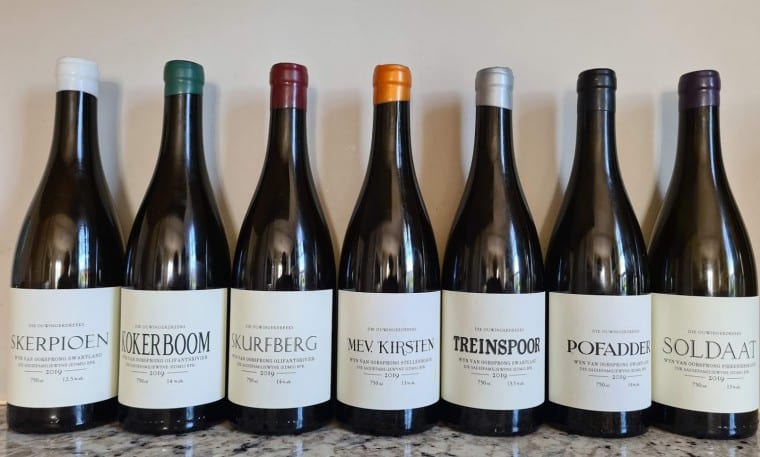 Eben Sadie of the acclaimed Sadie Family Wines relates that he and the team farm over a distance of 400km utilizing 45 different vineyards, total production amounting to a relatively meagre 65 000 bottles – describing them as "highly collectible" is an under-statement.
The Old Vine Series ("Die Ouwingerdreeks") from 2019 was released in the second half of last year and I've finally got around to reviewing them. Of the vintage, Sadie says that yields were generally down and grapes seemed a lot riper than usual, the resulting wines showing particular depth and texture. My impression is a vintage of extremely high overall quality. Tasting notes and ratings as follows:
Skerpioen 2019
From a Swartland field blend of Chenin Blanc and Palamino. A beguiling nose with subtle notes of pear, white peach, lime, green apple and dried herbs. The palate is lean but not too much so – punchy acidity really galvanises the wine while the finish is salty, even slightly bitter. The epitome of a linear wine, which is to say the opposite of fleshy, but oh, so satisfying.
CE's rating: 94/100.
Kokerboom 2019
From Olifants River Semillon. The nose shows intense citrus and green apple, a subtle waxy note plus hints of hay and fresh herbs. The palate has massive concentration but equally driving acidity while the finish is again long and salty. A wine of great complexity in terms of both intensity of flavour and dimension.
CE's rating: 95/100.
Skurfberg 2019
From Olifants River Chenin Blanc. Classic aromatics of white peach, citrus, talcum powder and dried herbs while the palate has astounding concentration but also a very smart line of acidity, the finish extraordinarily long. This is the pick of the white wines from the vintage but I'm not sure it's the greatest Skurfberg ever, the 2018 for instance being arguably a little more graceful.
CE's rating: 96/100.
Mev. Kirsten 2019
From Stellenbosch Chenin Blanc. The merest hint of honeysuckle before naartjie, yellow peach plus subtle notes of bees' wax and fresh bread. The palate is powerful but supremely well balanced – impressive fruit concentration is matched by a good line of acidity before a savoury finish. Seems a little more reined in than previous vintages which serves it well.
CE's rating: 95/100.
Treinspoor 2019
From Swartland Tinta Barocca. Exotic aromatics with notes of dried herbs, lavender, liquorice and earth in addition to go with dark, slightly jammy fruit. The palate is medium bodied and just about fresh enough, the tannins quite smooth. Not sure of rustic appeal but a bit off the pace relative to its stablemates.
CE's rating: 91/100.
Pofadder 2019
From Swartland Cinsault. Very fragrant on the nose with notes of floral perfume, herbs and spice sitting above red berries and plum while the palate has a great core of fruit, bright acidity and fine tannins. This is vivid and beautifully poised – others have commented on its relative depth and plushness but while it does to seem to have extra intensity, I did not find it unduly weighty (alcohol is 13%).
CE's rating: 94/100.
Soldaat 2019
From Piekenierskloof Grenache. A wonderfully compelling nose with notes of red fruit, herbs, flowers and a hint of Pinot Noir-like musk while the palate has lovely fruit purity, bright acidity and powdery tannins, the finish long and dry. So vivid and yet so light, this is a wine of ethereal beauty and captivating energy.
CE's rating: 96/100.
Palladius 2018 rated 95/100 on release last year – read the review here.
Columella 2018 rated 97/100 on release last year – read the review here.
Find our South African wine ratings database here.
Attention: Reviews like this take time and effort to create. We need your support to make our work possible. To make a financial contribution, click here. Invoice available upon request – contact info@winemag.co.za