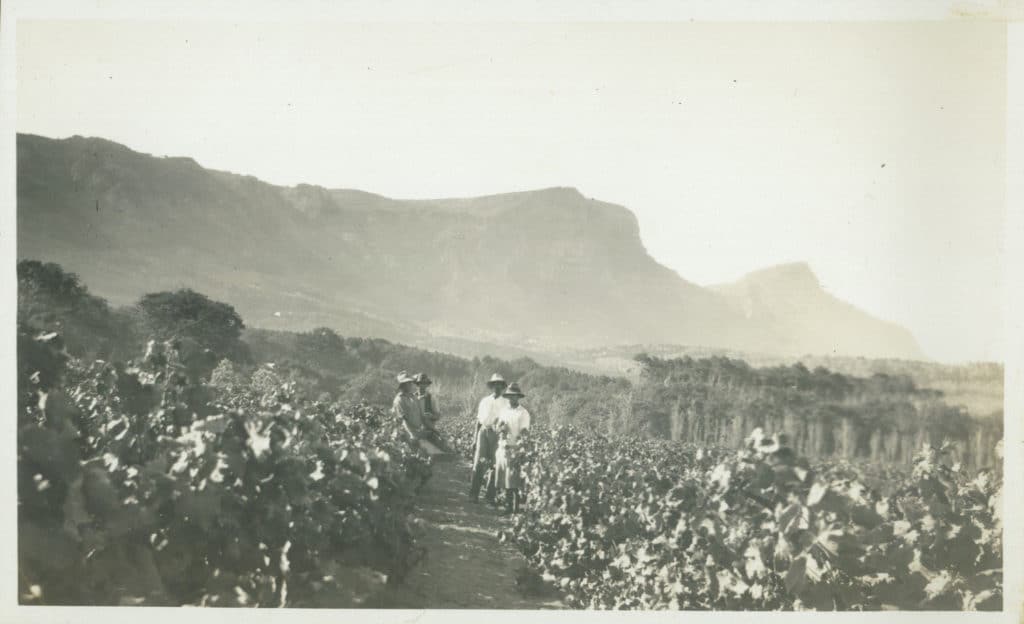 It was almost two years ago, in March 2019, that I attempted to identify the South African wines regarded as the best wines after Constantia during the 18th and 19th centuries.
The Paarl wine known as 'Diamond' came up as a strong contender (read more here), and then there was the wine reckoned 'in some respects superior even to the original Constantia': a Semillon-based blend from Worcester, fondly known as Oom Koos Mosterdpotjie Wyn, with Citrusdal farmer Abraham Mouton's nagmaal wine regarded as 'almost, but not quite, equal to the Worcester wine'.
However, I wasn't able to identify the Becker and Hendrick credited with producing the Cape's 'most esteemed' muscats (after Constantia) by French explorer and ornithologist Francois le Vaillant in his Travels into the Interior parts of Africa, by the Way of the Cape of Good Hope, in the Years 1780, 81, 82, 83, 84 & 85, and by pioneering wine critic André Jullien in his encyclopaedic Topographie de Tous les Vignobles Connus (1816). 
Thanks to a Winemag reader named Stewart Gibson, I can now at least tell you who Becker was.
Gibson (no relation) had been researching his Becker daughter-in-law's family tree, and discovered that she was descended from Franciscus Josephus Becker, one-time owner of Durbanville estate Altydgedacht. Becker's enduring claim to fame is that he hosted Napoleon's aide, Emmanuel, Comte de las Cases, after he was removed to the Cape for plotting his hero's escape from St Helena.
'It was as a result of your article that I became aware of the Napoleon connection,' wrote Gibson in an email to me. 'As this came as a surprise to the family, I was able to present our daughter-in-law and her brother each with a case of Altydgedacht wine for Christmas!'
As Franciscus Josephus Becker only acquired Altydgedacht in 1816, having arrived at the Cape from Bernkastel-Kues, Germany, in 1792, he was not the Becker who made the muscats praised by Le Vaillant as 'those which approach nearest to the wines of Constantia' in the 1780s.
However, Gibson now asked me: 'Are you aware that his uncle, Joseph Antonius Becker, had owned a farm in Constantia called Goedgeloof?'
Eureka!
Born in Koblenz, Germany, in 1746, Josephus Antonius Becker was a surgeon who received his 'burgher rights' (citizenship) in 1775. That same year, he purchased the 60-morgen property described as 'Goedgeloof situated in the Cape district, at the Witte Boomen' (today the mostly residential area of Bel Ombre) in partnership with the assistant supervisor of De Schuur – a partnership which ended in a court case, resulting in Becker becoming the sole owner. 
In November 1779, Becker applied for his property to be resurveyed because there were no beacons marking its boundaries, and he didn't want to risk cultivating land belonging to the Company (this request was granted). The following February, he applied to be granted a small plot adjoining his property, for which he was prepared to pay four schillings in quitrent annually (also granted). He made a similarly successful application in February 1781.
Evidence that Becker was prospering also comes from contemporary visitor accounts. On 6 October 1777, for example, Captain Robert Jacob Gordon enjoyed the hospitality at Goedgeloof, as recalled by one of his companions, William Paterson, in his Narrative of Four Journeys into the Country of the Hottentots, and Caffraria, 1777 – 1779.
'Captain Gordon and myself left Cape Town and proceeded along the bottom of Table Mountain, leading towards Constantia,' he wrote. 'We dined at the house of Mr Becker, which is only about two miles distant from Constantia, being well situated and sheltered from north-west and south-east winds. This place produced excellent wine though the situation is rather low. Constantia is, however, preferable to all other parts of this district, not only because it is more elevated, but on account of the nature of the soil, which is a light sandy loam.'
When Patrick Colquhoun published his Treatise on the Wealth, Power and Resources of the British Empire in Every Part of the World (1814), he included the 'valuable tract' written by a certain Mr Fisher on the importance of the Cape of Good Hope to Britain.
'I cannot omit mentioning the vineyard of Mr Becker, near Constantia, which is planted with the vines that gentleman carried with him from the banks of the Rhine,' wrote Fisher. 'It is unlike the vineyards of the colony nailed on espaliers of bamboo of considerable height. Some small quantity of wine has been made from it; but the proprietor, anxious for the credit and reputation of his wine, feels disinclined to sell any of it until it has arrived at a certain age, when he can speak with certainty as to the success of his vineyard and the goodness of his wine. Without calculating on the effect of age on this wine, it is impossible not to present judgement on it by pronouncing it as really delicious.'
As Joseph Antonius Becker died in 1808, leaving his widow Johanna Elizabeth Moller and no children, it's entirely possible that his nephew Franciscus Josephus had taken the reins at Goedgeloof by this stage – perhaps introducing the hill post or 'Mosel Arch' system of vine training that he'd known in his youth, growing up in the Middle Mosel winegrowing centre of Bernkastel-Kues.
Satisfying as it is to have at last identified the older Becker, I can't help looking briefly at the earlier history of Goedgeloof, which was granted to the brothers Johann Zacharias and Johann Christoffel Beck in 1728. JZ had arrived at the Cape from Germany in 1715 and quickly accumulated wealth through the pacht system of alcohol retail. In 1723 he was joined by JC who quickly acquired wealth through his marriage to Anna de Groot, the widow of the malt beer pachter Rudolph Steenbok. Quite the property investor, JC's 1735 tax return showed that he owned 73 slaves and employed two knechten (European servants), while his 60 000 vines produced 53 leaguers of wine (some of it no doubt coming from Goedgeloof, which was bought by Jacob van Reenen in 1744).
It was a later owner, Scottish medical doctor and poet Dr James Ross Hutchinson, who renamed Goedgeloof (which means 'good faith') as 'Bel Ombre' (in acknowledgement of the shade provided by the many silver-leafed wittebome or Leucadendrons in the valley). Here he died in 1870, having also snapped up Klein Constantia in 1866, and in 1872 Bel Ombre was sold from his estate to Johannes Rathfelder, in whose family it stayed (give or take a few sub-divisions) until 1970 when it was sold off for residential development.
However, there's an intriguing modern wine conclusion to this story. It turns out that on an 1890 sub-division of Bel Ombre, named 'Le Marais', a Muscat de Frontignan vineyard was planted in 2012, and a state-of-the-art underground cellar built with the intention of 'crafting' limited quantities of Le Marais Natural Sweet from vine-desiccated muscat grapes under the St Leger label.
The St Leger website is stylish, albeit in need of some proofreading, and the wine packaging looks ambitious: 'Our mission is to create & release only iconic wines, worthy of it's [sic] Constantia heritage.'
But while a limited release was anticipated in the first half of 2020, it seems 'no wine is currently available for sale' and my email to the address provided has gone unanswered. I have no idea who the people behind St Leger might be but I'd love to find out – if only to tell them that Le Marais is part of the Becker property which once produced wines that were pretty famous in their own right.
Joanne Gibson has been a journalist, specialising in wine, for over two decades. She holds a Level 4 Diploma from the Wine & Spirit Education Trust and has won both the Du Toitskloof and Franschhoek Literary Festival Wine Writer of the Year awards, not to mention being shortlisted four times in the Louis Roederer International Wine Writers' Awards. As a sought-after freelance writer and copy editor, her passion is digging up nuggets of SA wine history.
Attention: Articles like this take time and effort to create. We need your support to make our work possible. To make a financial contribution, click here. Invoice available upon request – contact info@winemag.co.za.