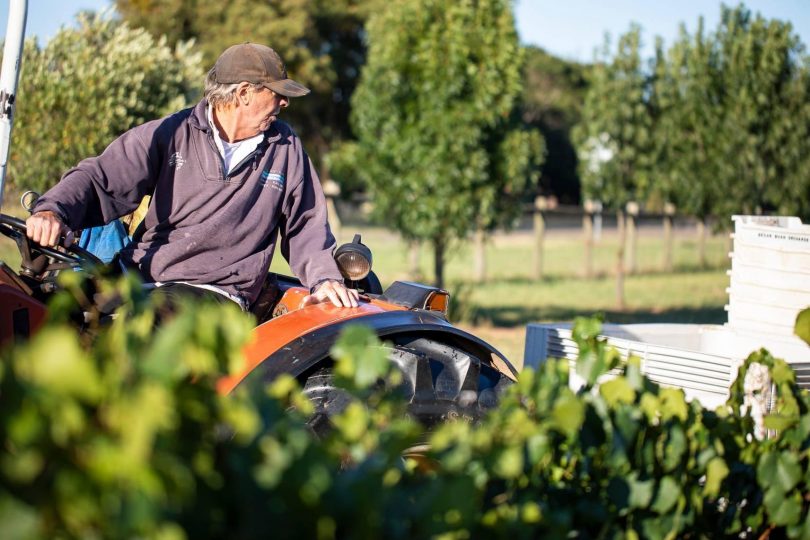 Vintage 2021 begins at Grove Estate near Young. Photo: Supplied.
Grape harvest may mean early starts and long nights in the vineyard, but that won't dampen the optimism of growers and winemakers in Hilltops and Canberra during the coming weeks.
Vintage 2021 has officially commenced in both regions and many people are predicting bumper crops.
It's a dramatic turnaround after drought and smoke from the 2019-2020 Black Summer bushfires dropped yields to as low as zero in Canberra, while Hilltops also suffered.
---
READ ALSO: Filmmaker Geoff Burton toasts to retirement among Canberra's vines
---
Grove Estate, on the outskirts of Young in the Hilltops Wine Region, was the first to pick chardonnay grapes, destined for sparkling wine, on Thursday, 4 February.
Chardonnay is an early ripening white variety and is often picked while it's green to make a sparkling wine base.
The other white grape varieties at Grove Estate will soon be picked using a mechanical harvester and local labour.
It will then be another four weeks before Hilltops starts picking its red varieties, such as shiraz and cabernet, and the Italian varieties the region is known for, such as sangiovese and nebbiolo.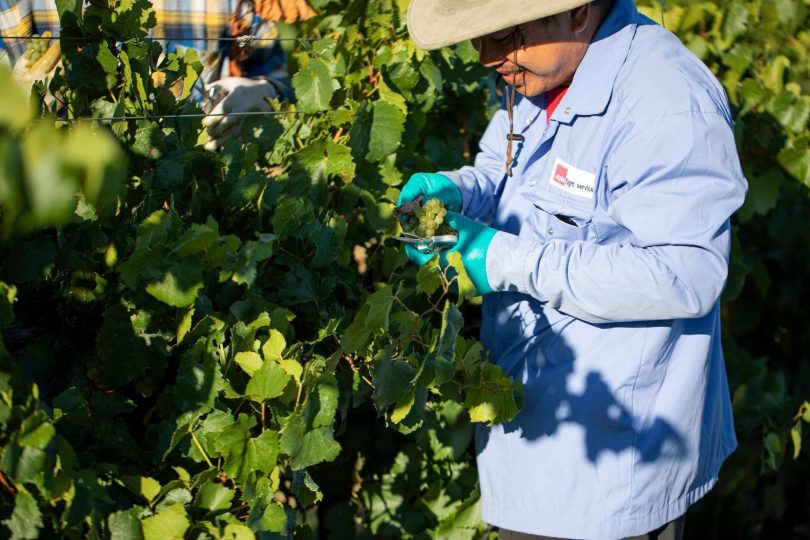 Grove Estate employs locals to handpick its grapes. Photo: Supplied.
Viticulturist Brian Mullany said it's a relief to have harvested some fruit already after picking virtually nothing in 2020.
"Our yields were already down because of the drought and then the smoke from the bushfires put an end to it," he said.
The NSW Department of Primary Industries estimates the state's crush was down by 11 per cent – around 286,905 tonnes – in 2020 because of the drought and smoke taint.
However, Brian said 2021 will be a good harvest if the rain holds off.
"I'm a little bit worried about the rainfall," he said. "Ideally, we would like the grapes to dry out before harvest. The quality is looking good so if we get a dry harvest, we'll get good fruit."
Rain will be a challenge for all, with wet grapes prone to disease and splitting.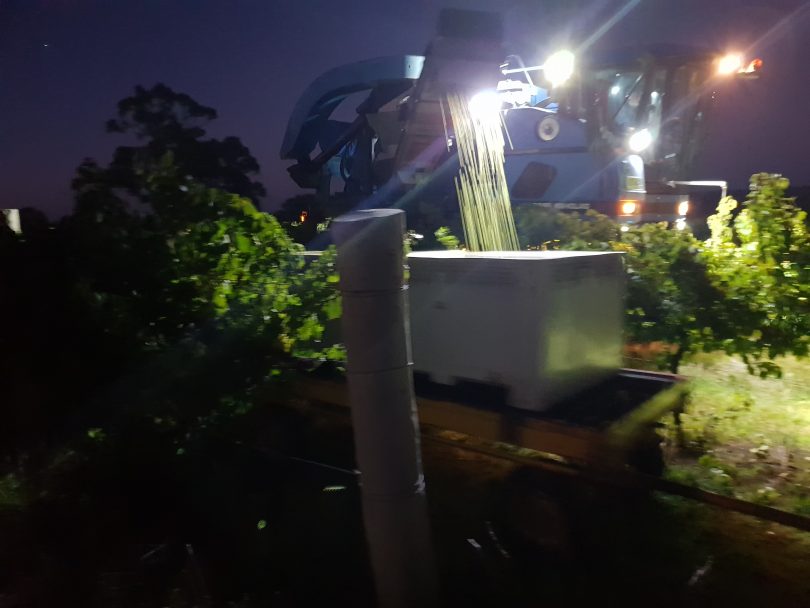 Grapes are picked in the cool of the night at Freeman Vineyards. Photo: Supplied.
Grove Estate received three to four millimetres on the afternoon of Friday, 12 February, however Brian says he won't start worrying until the gauge tops 20mm.
Freeman Vineyards, south of Young, was busy picking chardonnay and pinot gris ahead last Friday's predicted rain.
While its vineyards weren't as badly impacted by smoke taint as others, they were impacted by the drought.
Seasonal conditions this year, on the other hand, have been extremely favourable, said Jane Adams from Freeman Vineyards.
---
READ ALSO: A food-lover's guide to Bungendore
---
"We've had a very cool spring, a cool summer and fairly regular rainfall," she said. "This combined with our elevation – Freeman Vineyards is just under 600 metres – means the white varieties are going to be lighter, sprightlier and more aromatic."
In Canberra's wine region, Steph Helm and her family were also busy picking gewurztraminer grapes off the vines at Vintner's Daughter before last Friday's rain.
She roped in husband Ben, daughter Grace and dad Ken, who owns and runs Helm Wines down the road in Murrumbateman.
Gewurztraminer is always the first to ripen around the first or second week of February, says Steph.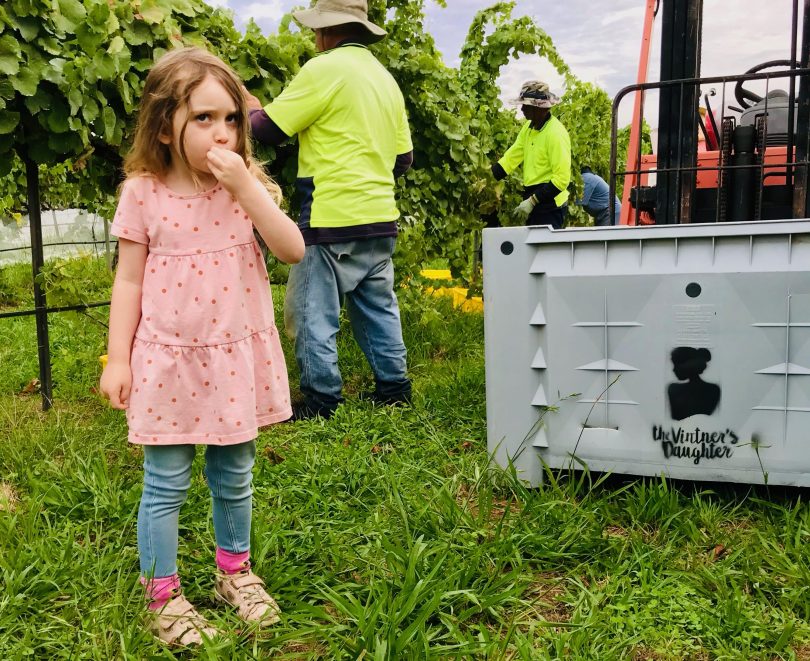 Steph Helm's daughter, Grace, helps to pick and taste the grapes at Vintner's Daughter. Photo: Supplied.
"I tasted the juice this morning and it looks beautiful, lots of flavour," she said on Saturday, 13 February. "After we processed the grapes, Ben and I high-fived each other. I think every winemaker and grower will do the same after a year when we were so close and lost it all."
This time last year, Steph and her family were watching the grapes closely to decide the best time to harvest, but ended up picking only five per cent after smoke drifted over the vineyards.
Fortunately, the small family-owned business was able to test every variety to find the grapes that weren't affected by smoke taint and could be processed into wine.
"Because we have such small lots, we could take that gamble," said Steph. "It was amazing how differently affected the varieties were. Some of our whites – gewurztraminer, Riesling and chardonnay – were fine and sold out in three months."
These wineries have survived on reserve stock and boosted interest in backyard tourism during the COVID-19 pandemic.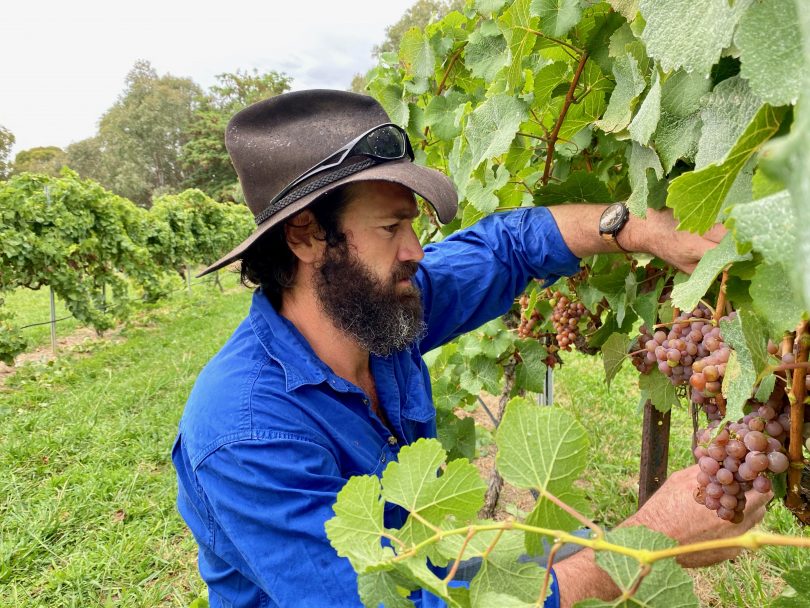 Steph Helm's husband, Ben, helps to pick grapes at Vintner's Daughter. Photo: Supplied.
"We were closed for two-and-a-half months, which was a blessing because we had a newborn baby, but it wasn't great for our finances," said Steph. "So when we reopened, we were amazed by how many people visited and joined our wine club."
Likewise, Grove Estate reopened in June and invested in a new deck with a marquee to host sit-down tastings at a fee.
"Now people can't go overseas, they're travelling from Sydney and the North Coast to us," said Brian. "We've experienced some of our best sales after a very depressing time when we didn't harvest and then COVID-19."