RD Winery's Napa Valley debut: The story, the wine, the design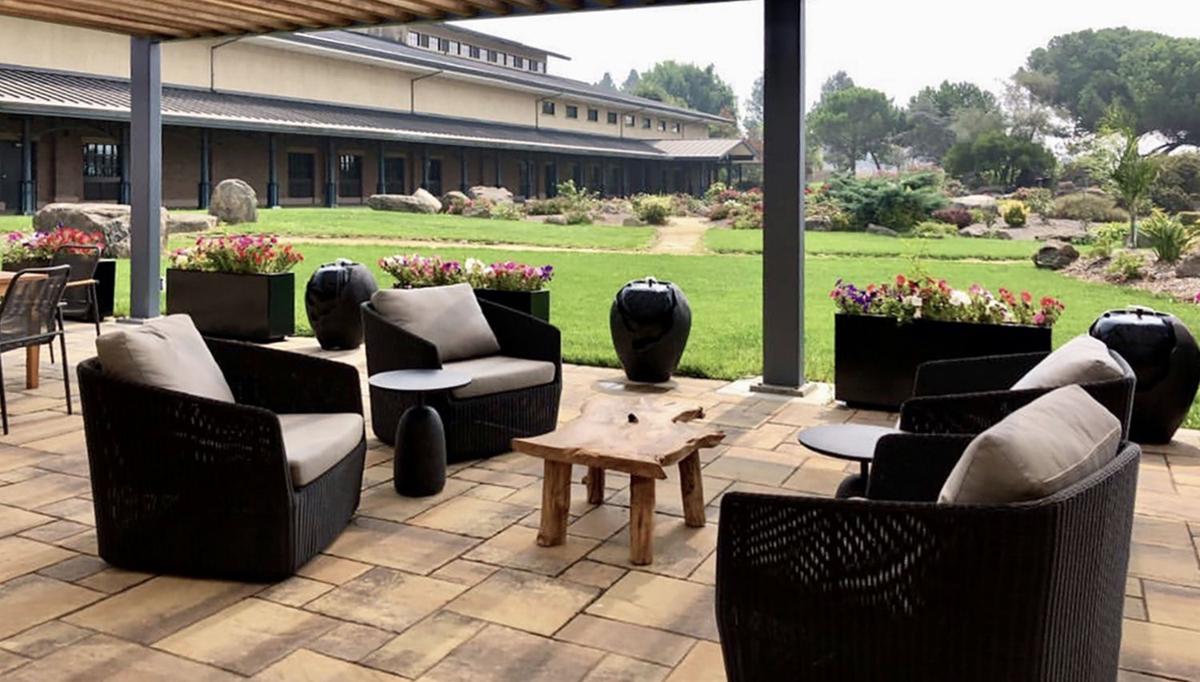 PATTI L. COWGER

With Napa County's move to the orange tier this week, at long last, the tasting room at the first Vietnamese-owned winery in the Napa Valley will be opening its doors.
RD Winery's 1,600-square-foot facility had just completed an extensive, two-year-long remodel in the spring of 2020 when the pandemic prevented its celebratory grand opening. Since July of last year, however, visitors have been able to enjoy tastings on its generous patio along with strolls through its bird-chirping garden.
Support local news coverage and the people who report it by subscribing to the Napa Valley Register.
To quote RD's mission statement, "We build bridges and relationships over the joys of lively conversation, exciting food, and great wine."
After the year we've had, who's not ready for that!
The name
The story of the winery's founder, Dong Van Nguyen, is one of rags to riches. One in a family of nine, born in the Quang Ngai province along the South Central Coast of Vietnam, he learned from his father an entrepreneurial spirit, high standards and a sense that nothing is impossible.
In 1994, Dong established his company, Rang Dong Group. It translates as "the rising sun" and is the name behind the initials "RD." He went on to create a successful construction and real estate company in Vietnam.
Dong became an avid wine lover and collector and after visiting the Napa Valley, he was inspired to start a winery of his own. In 2011, he established relationships with individual growers throughout California. In the early years, wines were produced for export to Vietnam, and then in 2018,  Dong set his sight on opening a tasting room in Napa. He chose the former Hakusan Sake Garden site near the intersection of Highway 29 and Jameson Canyon Road.
Dong Van Nguyen's roots, and the essence behind his labels, are reflected in the ambiance and design of his tasting rooms. With a little imagination, visitors can feel transported from a valley of vineyards to the turquoise waters of Vietnam's picturesque Ha Long Bay.
The design
In 2018, I received a call from Mailynh Phan, RD Winery's CEO. She explained that she had received engineering plans for a remodel of their facility, inside and out and asked if we could meet. On my way over, I thought how exciting it would be to not only design a wine-tasting room but to also create a unique, experiential destination.
I soon learned that Phan had the same idea. She described her vision as "high-end fishing village." That is, indeed, unique but I understood exactly what she meant: natural materials such as bamboo and palms mixed with a coastal color scheme coming together in a tasteful, tropical setting.
Over the next few months, I presented Phan with conceptual designs, drawings, and furnishings for both a public and a private tasting room, a patio, restrooms, a seating lounge equipped with a television and a kitchenette for tour bus and limo drivers, and a bit of landscaping at the entrance. I also introduced her to general contractor Dan Knego, of Knego Construction, who made our vision come to life.
I specified wall tile that resembled wicker, floor tile that resembled driftwood, and white oak for all the custom-made bars, conference tables and vanities. I also designed bronze-finished cocktail and drinks tables topped with textured vinyl and laminated bamboo fabric (no worries over wine spills!)
I commissioned fine artist and faux painter, Dusty Kramer, to recreate a shoreline on the large soffit above the main bar and along the tops of the walls. He accomplished this with varying layers of turquoise with white highlights to represent foam that remains on the sand as waves flow back to sea. With a stroke of luck, I found 16 light pendants for the bar that had these same colors and seashore patterns.
An eyesore of an inconveniently-located, 20-foot structural post in the center of the public tasting room would transform into the main attraction. We covered it with bamboo in the shape of a large umbrella you might see at a beach-front hotel. Phan and I still don't know what to call it but it's somewhat like a Mexican palapa. In any case, we then encircled it with a round bar top to accommodate eight more guests.
The rest of the public tasting room offers various seating vignettes with loveseats, club chairs and dining chairs – all accessorized with tropical plants and original art. In total, this area seats 34.
The private tasting room seats 24 and has its own special attractions. A 10-foot, custom-designed, hand-blown glass chandelier consisting of 24 turquoise glass waves shines above two large tasting tables. The room also showcases a gallery of original photography and oil paintings by Vietnamese artists. Selecting the paintings was my last, but most enjoyable, task. Given RD's mission statement and sentiments behind its labels, I chose vibrant colors with joyful images that evoke feelings of celebration.
The private tasting room will be available by reservation for private parties, business conferences, and special occasions. Phan is presently working with a chef to create an Asian-fusion cuisine to highlight the versatility of their wines.
The wines
RD Winery has two labels, Fifth Moon and Hundred Knot. The Fifth Moon label represents the Vietnamese holiday that celebrates the summer solstice. Grapes are sourced from outlying areas in California and are described as "fresh and easy-drinking."
They include Malvasia Bianca, rarely known in California and described as "energic and exotic with mineral-laced tension and verve." It pairs well with seafood and Asian cuisine.
Its Gruner Veltliner is both spicy and fruity and compliments heavy flavors like curry as well as delicacies like sushi. Fifth Moon also has a rosé and a juicy red blend.
The Hundred Knot label refers to a Vietnamese fable about the power of love and determination and the notion that, with passion and steadfast persistence, anything is possible. It is with these principles that RD's vineyards are tended, good wine is produced, and relationships are bound. Hundred Knot wines include a refreshing Sauvignon Blanc, an opulent Chardonnay, a high-density Syrah, and a hearty Cabernet Sauvignon. Something to suit every cuisine from seafood and vegetables to cheese platters and brisket.
Winemaker, Timothy Milos, is a sixth-generation Bay Area native from rural west Marin. He practices conservative winemaking using classical techniques. He describes his approach as "minimalistic, doing only what is necessary to reveal the vineyard and the vintage."
Wines range from $25 to $55 per bottle. They can also be purchased as a trio gift package for $80 or $100 and is accompanied by three food recipes.
For more photos and a video showing this project from start to finish, visit plcinteriors.com/rdwinery
To plan a visit and review Covid-19 protocols, visit rdwinery.com or call (707) 259-9446. RD Winery is open Thursday through Saturday, 10 a.m. to 7 p.m., and Sunday through Wednesday, 10 a.m. to 5 p.m. at 3 Executive Way. It's closed on Tuesday.
WATCH NOW: THIS IS WHAT WINE AGED IN SPACE TASTES LIKE
CHECK OUT: BARRELS of FUN IN ST. HELENA
Photos: Barrels of Fun St. Helena, 2021
Barrels of Fun, 2021
Barrels of Fun, 2021
Barrels of Fun, 2021
Barrels of Fun, 2021
Barrels of Fun, 2021
Barrels of Fun, 2021
Barrels of Fun, 2021
Barrels of Fun, 2021
Barrels of Fun, 2021
Barrels of Fun, 2021
Barrels of Fun, 2021
Barrels of Fun, 2021
Barrels of Fun, 2021
Barrels of Fun, 2021
Barrels of Fun, 2021
Barrels of Fun, 2021
Barrels of Fun, 2021
Barrels of Fun, 2021
Barrels of Fun, 2021
Barrels of Fun, 2021
Barrels of Fun, 2021
Barrels of Fun, 2021
Barrels of Fun, 2021
Patti L Cowger is an award-winning Napa-based interior designer and owner of PLC Interiors.