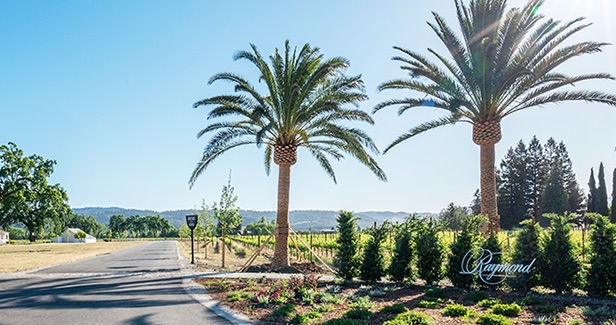 St. Helena, CA – May 20, 2021 – Raymond Vineyards unveiled its new entrance leading from Highway 29 to the winery in a series of grand opening events coinciding with the release of its 98-point rated 2018 Generations Cabernet Sauvignon. Guests now arrive to the winery on a nearly one-and-a-half mile route through the winery's Rutherford estate. No mere entryway, the opening of the road to Raymond reflects an ambitious endeavor in the Napa Valley to unite two distinct estates, create a dramatic entrance that brings its guests through an experiential voyage among organic and Biodynamic vineyards, while reducing traffic on the valley's main thoroughfares.
The winery has deemed its entrance The Avenue of the Senses, a name created through a crowd-sourced social media campaign that garnered nearly one thousand entries. The former entrance (off of Zinfandel Lane) has now been dubbed "Generations Blvd." in honor of the Raymond family's five generations of stewardship, history and heritage in the Napa Valley.
"Raymond Vineyard's Avenue of the Senses is the culmination of a grand journey to unite Raymond's Rutherford estate, the Ticen Ranch property and Highway 29. It has been the dream, not only for us, but also for the Raymond family before us," says Proprietor Jean-Charles Boisset, "Uniting these two estates and leading our guests through the heart of the Napa Valley presents an incredible opportunity to bring our guests among the vineyards and into the magical environment essential to Napa's unique sense of place – the vineyard treasures that create world-class wines."
Since joining the Boisset Collection in 2009, Raymond Vineyards has become one of Napa Valley's leading fine wine producers; its winemaking renaissance has been led by Winemaker Stephanie Putnam and Consulting Winemaker Philippe Melka. The winery has become Napa Valley's largest certified organic and certified Biodynamic estate, has converted to nearly 100% solar energy – one of the largest winery solar installations in Napa, and has become well-known as one the most dynamic and award-winning destinations. Boisset added nearly 100 acres of estate vineyards in the lauded Rutherford and St. Helena appellations with the addition of Ticen Ranch in 2013 and Founder's Ranch (formerly Bartolucci St. Helena) in 2015. After re-planting both vineyard, Raymond converted them to certified Napa Green, organic and Biodynamic farming.
Raymond marked the opening with a small ceremony thanking local officials, journalists, luminaries and VIPs that contribute to the valley's continued strength and resilience, including County Supervisor Alfredo Pedroza, Sheriff John Dunbar, Mayor of Yountville John Dunbar, Visit Napa Valley President and CEO Linsey Gallagher, the Napa Valley Vintners, and local Chambers of Commerce and the Rutherford Dust Society.
The grand opening of the Raymond entrance marks the first step in a continued evolution that will include enhanced outdoor guest experiences focused on enlightening the visitor's appreciation of Napa Valley's vineyards, wines, history and commitment to quality and sustainability. 
About Raymond Vineyards
Raymond Vineyards, founded in 1970, comprises a 200-acre estate in Rutherford and St. Helena. Five generations of the Raymond family created a Napa icon, with an enduring reputation for elegant wines with a beautiful balance of finesse, power and complexity. Today, guided by the vision of Proprietor Jean-Charles Boisset, Raymond Vineyards is one of the wine world's most dynamic winery destinations. Highly-ranked wines are crafted by Winemaker Stephanie Putnam and Consulting Winemaker Phillipe Melka from Raymond's certified organic and Biodynamic® estate vineyards and select long-term vineyard partners. The winery's guest experiences unite education, passion and entertainment, offering diverse opportunities to explore wine. The solar-powered winery is certified organic by CCOF, Demeter Biodynamic, Napa Green, Fish Friendly Farming and California Sustainable Winegrowing Alliance. To learn more, please visit the Raymond Vineyards website.
About Boisset Collection
Boisset is a family-owned collection of historic and unique wineries bound together by a common cause: authentic, terroir-driven wines in harmony with their history, their future and the land and people essential to their existence. With more than twenty-five historical and prestigious wineries in the world's preeminent terroirs, including the Côte d'Or, Beaujolais, Rhône Valley, California's Russian River Valley and the Napa Valley, each house retains its unique history, identity and style, and all are united in the pursuit of fine wines expressive of their terroir. To learn more about the Boisset Collection, please visit our website.