Rapid City teacher carves time into day to create wooden boxes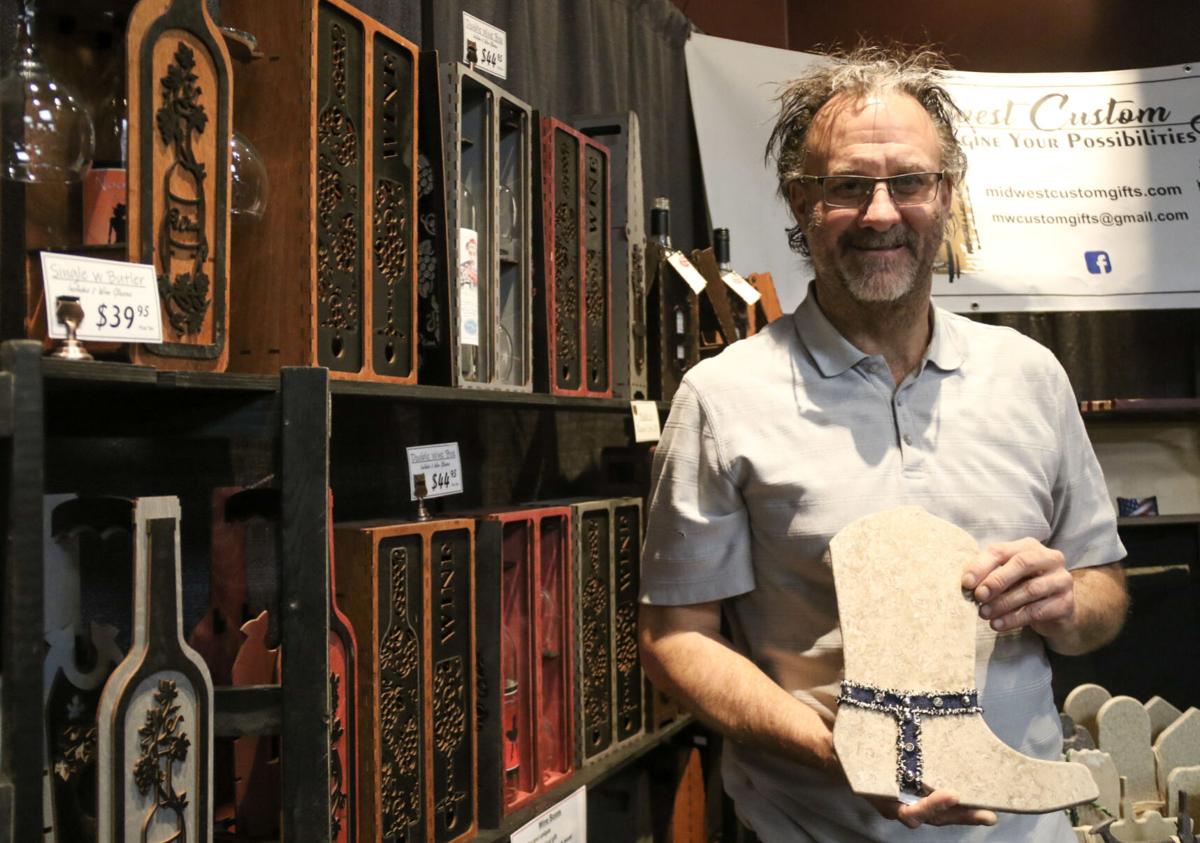 Jason Reub takes eighth-inch birch plywood and creates wooden wine and whisky boxes in his garage.
Reub's four-year-old Midwest Custom Gifts business is at its first Black Hills Stock Show in the CINCH Trade Show on the second floor of the civic center.
Reub, of Rapid City, said he started his business with wooden rubber band guns after teaching engineering and robotics classes.
"I decided I was going to challenge myself and make this rubber band gun completely from scratch," he said Thursday. "Honestly for me, the greatest thing is to take nothing and build something that's cool — to think about the problem-solving."
He said it's the challenge of figuring out how to make all the pieces fit and work together in a way that's durable.
He said he began with hundreds of hours working on rubber band guns and piles of prototypes that got scrapped.
"Five-thousandths of an inch can make or break me on a laser," Reub said. "I got it down now, my prototype trash pile isn't nearly as big as it used to be, but it is definitely. I throw a lot of stuff away."
Reub's two-car garage turned into a full operational woodshop complete with CO2 lasers, table saws and other woodworking machinery. He said his business has grown so much that he's starting to run out of room. It starts, though, as a sketch on paper or a pattern with the laser.
After selling the rubber band guns for about two years at trade shows, Reub decided to start making wine boxes.
"Huge reception," he said. "Now I have 10 different boxes in five colors, and they keep expanding."
He took his creations to the 79th Sturgis Motorcycle Rally and saw a great turnout and created wooden frames for the 80th.
Reub now creates cutting boards out of countertop material, hidden compartment flag boxes that can be mounted to the wall, custom gift tags, decks of card boxes and more.
"Every year I get some idea, and honestly most of it comes from my customers," he said. "That's how this expands."
He said each idea and each new piece of technology opens up another dimension for how to expand his business.
During the day, though, Reub is a teacher at Rapid City Central High School as the career and technical education teacher. He previously taught at Rapid City Stevens where he took a team of students to the South Dakota Regional Science Bowl.
He said he's still learning to balance teaching with working on his craft.
"There's a point where you say, 'I'm not working today,'" Reub said. "There are days where, like getting ready for the stock show, my nights and weekends are consumed by it."
Midwest Custom Gifts will be at the trade show through Saturday.