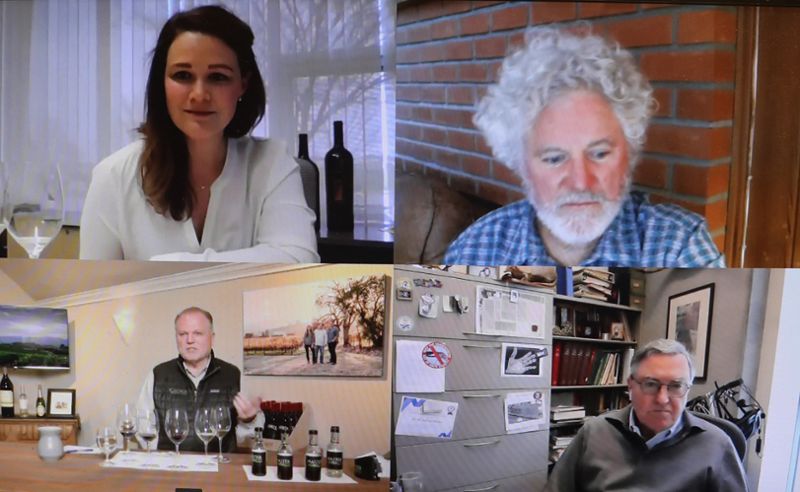 The Unified Grape and Wine Symposium is always a great place to try wines from all over the country. This year's conference, while it was held virtually, nevertheless presented a tasting event to address the concept that while the world is changing, the vinifera varietals grown in California have remained the same. Winegrowers are dealing with climate changes, different consumer preferences and market conditions, labor availability, and a changing regulatory environment. In spite of these challenges, many growers have resisted planting new varieties of grapes.
However, there are options that are becoming available on a commercial scale that will give growers different choices for confronting problems such as Pierce's disease (PD) and powdery mildew. Dr. Andy Walker, professor of viticulture at the University of California, Davis, started the session with a summary of the breeding program for grapevine resistance to PD that he started when he joined the faculty at Davis in 1989. He used Vitis arizonica grapes with a single gene for resistance that Dr. Harold Olmo had collected in Mexico in 1960.
 "If you cross vinifera varieties with it, all the progeny are resistant, and if you select one of the seedlings and cross it to a vinifera wine grape, 50 per cent of the progeny are resistant," Walker noted. He and his team mapped the resistance gene, which allowed them to look at the DNA of individual plants to determine if they were resistant, selected the progeny with susceptibility to PD, and made sure that those individuals that were left were very highly resistant. 
They also learned to force seedlings to bloom in the second year of growth, going from "seed to seed in two years." Previously, grapes from one cross had to be in the ground for three or four years before they could be harvested to make wine, and then that wine had to be evaluated for its flavor profile. This process could take as long as seven or eight years. Now the breeding program can go from a cross of a wild grape and V. vinifera to grapes that are 97 per cent vinifera in 12 years. It should be noted that the PD resistant grapes used by Tolmach and Wagner to make the wines included in the virtual tasting were several generations removed from being 97% of one vinifera varietal.
Walker commented that they have tested the PD resistant varieties in numerous locations, including properties in Yountville and St. Helena, for many years. "The next hump," he said, "is: do they make decent wine and are winemakers happy with them?" The major challenge is "what are we going to call them, and how do we market them?"
Walker's program of PD resistant vines has reached the point where some vines are now available for planting in commercial vineyards. Two early "adoptees" were Adam Tolmach, winemaker and owner of Ojai Vineyard in Oak View, California and Chuck Wagner, winemaker and owner of Caymus Vineyards in Rutherford, California. Tolmach provided two white wines and two red wines for the tasting and Wagner supplied two red wines. 
The white wines
Tolmach had planted his first vines, Syrah and Sauvignon Blanc, in 1981, and saw lots of problems with PD as the vineyard is close to a river and a riparian habitat with green and blue-green sharpshooters that carry PD. By 1995, they pulled out the vineyard and purchased grapes from northern Santa Barbara County. He found out about Walker's work and was able to get four different new varietals from Walker's program at Davis when they became available.
"My approach, in general in wine, is to try to tread a little bit lightly. I'm very entranced with modest alcohols and trying to let the wines speak for themselves," Tolmach said. The vineyard is planted with the rows five feet apart and five feet between vines to maximize the production. The vines are vertically trellised, with tall canopies. Because the rows are close together, the grapes don't get quite as much sunlight which, Tolmach believes, is a good thing in such a warm climate. 2020 was a very warm summer, but he had no problems with raisining. "Even with very young vines, we averaged 4.7 tons to the acre for all four varietals."
The grapes in his Ambulo Blanc were 62.5% Cabernet Sauvignon, 12.5% Carignan and 12.5% Chardonnay. Those vines bloom early, have small to medium berries with medium large clusters, high productivity, and ripen early. The wine had 12.5% alcohol and he described it as "not quite Sauvignon Blanc and not quite Chardonnay." 
The Caminante Blanc also was 62.5% Cabernet Sauvignon, 12.5% Carignan and 12.5% Chardonnay, but not the same individuals, according to Walker. The vines bloom late, produce small berries and small clusters with more color, have medium productivity and ripen mid-season. Tolmach commented that the grapes are more intensely flavored and distinctly different from the Ambulo Blanc grapes, and he described the wine, with 13.3% alcohol as "more herbaceous and spicy." 
Tolmach did not add acid to either of these two wines. The grapes were whole cluster pressed, and after 24 hours, were put in old French oak barrels. He blocked the malolactic fermentation. The wine was lightly fined and filtered, and then bottled in August 2020.
When asked how he will market these wines, Tolmach replied that he plans to blend the two whites together, and then come up with a distinctly different Ojai Vineyard label that features a fanciful name. With only 1.2 acres planted with these grapes, the quantity of wine produced will be small. The wine will be sold to his Wine Club and in the tasting room.
Walker noted that initially he thought these PD resistant grapes would be grown in border areas where there was some PD and that the grapes would be used as blending varieties. However, he now thinks it's apparent that the quality of the grapes is such that they can stand on their own.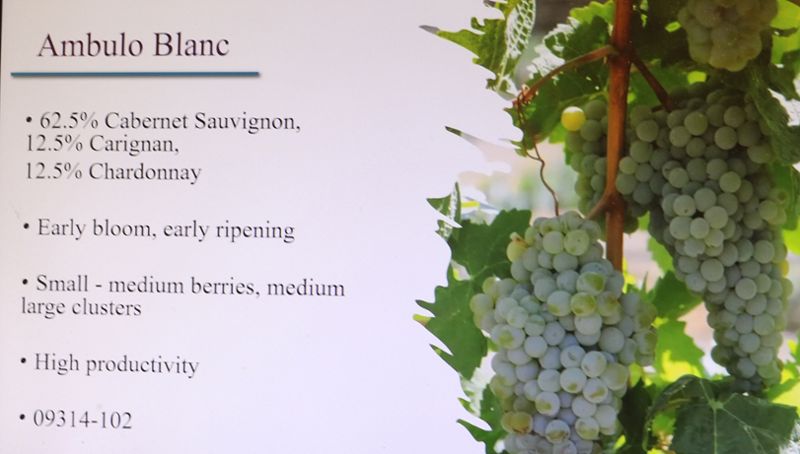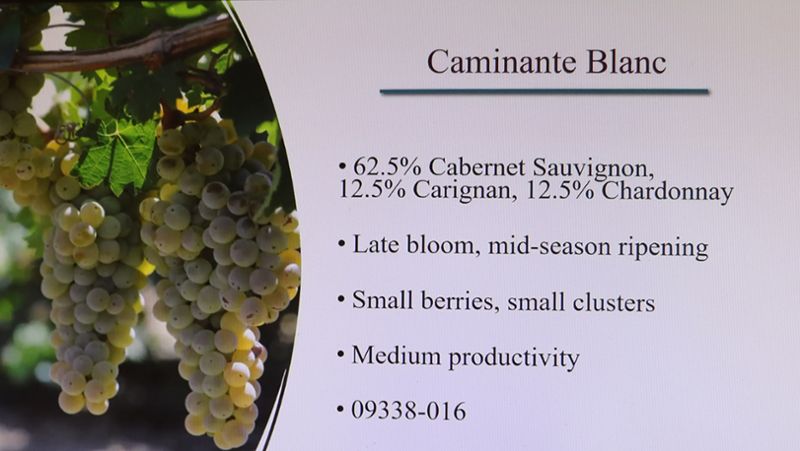 The red wines
The first red wine from Ojai Vineyard was made by Tolmach from one of Walker's PD resistant varieties that doesn't have a formal name but is known as Selection #07. Tolmach, however, calls the wine "Walker Red." Walker noted that it is the only grape in the tasting that is only 94% vinifera.
#07 is a very upright vine that easily produces three or four clusters per shoot, so Tolmach thinned off two-thirds of the crop, going through the vineyard twice, and still ended up with almost six tons to the acre. Once thinned down to a semi-reasonable crop, he said it is easy to grow. The clusters are a bit tight, but not extremely so. He thinks the flavors are a bit spicy, but also "emphatically fruity – Grenache or Zinfandel-like in its emphatic fruitiness."
Paseante Noir, the fourth wine, was 50% Zinfandel, 25% Petite Sirah, and 12.5% Cabernet Sauvignon. The clusters are large but much looser, with relatively large berries. Tolmach cordon prunes and it is somewhat "shy bearing." The flavor profile is spicier, more Syrah-like, with a touch of earth. 
Tolmach included about 25% whole clusters in the fermentation, which took place in neutral French oak barrels, and added some acid, as he found both these red wines to be somewhat soft. The fermenting grapes were pumped over rather than punched down, and remained on the lees until the batch was bottled after receiving some sulfites. 
The alcohol level in the first Ojai red wine was 12.7% and in the Paseante Noir was 14%. As with the two white varietals, Tolmach plans to blend the #07 with the Paseante Noir.
Wagner reported that Caymus Vineyards has a creek that goes through their property in Rutherford and serves as the host for PD. As a consequence, they have been dealing with PD since the 1970s. "Pierce's disease devasted our vineyards several times before we realized we had to pull sick vines out and replant. It's been real hard to control, and we've spent a lot of time and money and redevelopment of the vineyards," he said. 
Caymus has now produced wines from the PD resistant varieties for four years and the winery has now dedicated two entire blocks to the variety. "We don't feel that these wines are plagued with non-vinifera character," he stated. "It feels so familiar to me as a wine consumer of vinifera wines, and I think the marketplace will see it that way, too." 
However, Wagner is not sure he wants to use Paseante as the name on their label, in part because Walker has 15 more varieties yet to be released. Wagner reported that he had recently read that "Cabernet Sauvignon was still the most popular wine selling in the marketplace, but that close behind that was red table wine." Caymus makes one red table wine, Conundrum Red, and that wine is probably where they will put the wines from the PD resistant varieties.
The winery is also growing Paseante Noir PD resistant grapes in Suisun Valley, known as a "PD haven," according to Wagner. The soil is "sycamore clay" and the region receives about 24" of rain each year, with no rain between April and October. The vineyard is planted with 5' by 5' spacing and is dry farmed. Although the grapes set a fairly light crop, about 50% are cluster thinned, and the remainder are allowed to hang, even though the vines seem to be struggling and could have used irrigation, but none was available. The basal leaves were turning yellow, and there was some "crinkling" of the berries that were harvested.
The 2019 Paseante Noir came in at "a whopping 17.4% alcohol, that may have been a record for us." According to Wagner, the winery "let the wine go cold turkey," and did not acidify the wine. It was made in a small stainless-steel fermenter with standard pump-over processes, no cold soak and no bleeding, and was put in new French oak barrels. "We wanted it to show properly what the variety could produce," he said.
In December, the winemaking staff of five people did an initial blind tasting of the winery's more than 100 lots of wine that had been kept separate, and the two Paseante wines came in with outstanding scores. "We actually gave a 100% rating to the 2020 vintage." Wagner stated. "We think these are high caliber vinifera wines and it doesn't need to be sequestered along the creeks. It could go into larger production, it's that good. I think red table wines are probably where we'll end up with these wines. But people these days are just about what tastes good. If we plant this in rich soil, region 3 or region 4, and get a reasonable crop, in the 2½ to 3 tons per acre range, we could make a profit on that and make consumers happy at the same time. I think these wines are Really Good!"
Wagner concluded by stating, "We have the four acres along the Napa River in region 2-3 that we dedicated to the one variety we liked the best, and we're also in the Suisun Valley. We're contemplating planting another 25 acres this year." Tolmach agreed with Wagner's assessment, and said, "The Paseante Noir has a lot of personality, and I'm really taken with it. Our first crop was the 2019 and we have the 2020 in the barrel as well. I think the quality has progressed dramatically between the two vintages, and there's really something that's here. It's really thrilling."
Wagner concluded the tasting session with the comment, "Andy, you've given us a lot in your life's work at UC Davis. The whole industry owes you a lot of thanks!"
The tasting session was moderated by Molly Scott, director of grower relations at Justin Vineyards and Winery in Paso Robles, California. At the end of the program, she recognized Master the World, which provided the wine sample kits for the virtual tasting and was a sponsor of the session. Master the World is a specialized wine club that offers subscription-based blind tasting kits and is owned by Full Circle Wine Solutions in San Mateo, California.