Pancha's, Yountville's last remaining dive bar and oldest business, isn't going anywhere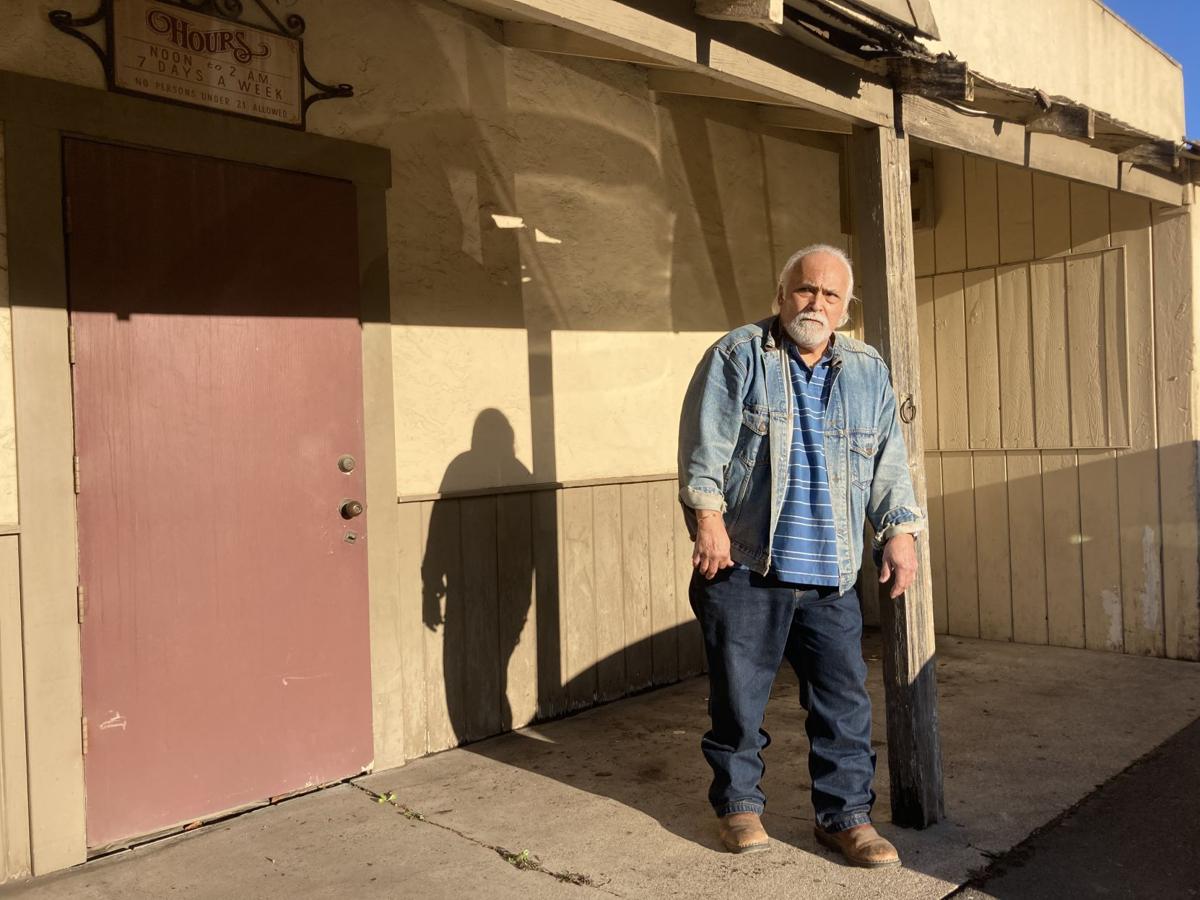 To the right ear, the names of the bars that lined the streets of Yountville half a century ago might sound like a chorus of old friends: Claudia's. Mexicali Rose. Yountville Saloon. The Whistle Stop. The Two Spot.
At the time, Yountville was mostly dive bars. During the seventies and eighties, the list of town bars stretched at least a dozen long, with the residents of the nearby Veterans Home a vital clientele. Today the list is just a single name: Pancha's.
It was 1982 when Bobby Solis opened Pancha's doors. The bar scene just seemed the way to go to Solis, a life-long Yountville resident who had been working as a general contractor.
In a way, he was joining the family business: his father, Roberto Solis, had been a bar owner intermittently over the course of his life, and his maternal grandparents, Frances and Ruben, owned Jalisco and Café Rancho Grande, two restaurants in Napa County popular in the 1950s and 1960s.
After setting his sights on the bar business, Solis began a search for the right piece of property. There were potential sites littering either side of Washington Street, but Solis didn't just want to lease a bar – he wanted to own one.
"The land is what I was after," Solis, 72, said, nursing a Coor's Light in the yard behind the bar on a Friday afternoon in mid-February.
If he owned the land, Solis knew, there would be no landlord to answer to. There would be no one to demand big rent increases; no one wanting to sell the land.
In short: it would be harder to get rid of him.
The dusty yellow building at 6764 Washington St. was owned by Bob Del Rosso, who'd done well for himself as the owner of Silverleaf Night Club, a popular, rowdy spot in Napa in the 1940s. When Solis first approached him about buying the bar, Del Rosso offered to lease it him and told Solis he'd have "first option to buy" if the property ever came up for sale. Solis walked away.
"I said, 'That doesn't mean a thing, Bob. That could happen – when? Any time from now until I die,'" Solis said.
But a year later, he reconnected with Del Rosso, who agreed to sell the property to Solis if he'd rent it for the first five years. ("I think he was hoping that I wouldn't make it that long," Solis said.)
We're offering our best deal ever with this Editor's Special. Support local news coverage by subscribing to the Napa Valley Register.
Rent was $450 a month in those early days, Solis remembers. Five years later, he purchased the property for $110,000. He thinks it'd go for something like $5 million in the today's market.
Today the bar, which will celebrate 39 years in business next month, is Yountville's oldest business.
"And I have no intention of ever selling it," Solis said, peacefully puffing away at a cigar.
The making of a landmark
The building that houses Pancha's today has barely been touched since Solis bought it from Del Rosso in 1987, and it shows. The northern half of the bar was built in what Solis calls "old-style" construction: it has no concrete foundation. The walls sit directly on dirt, and that half of the floor sits hard on a motley base of rocks and grit.
On the outside, the beige paint is faded and chipping, exposing swaths of the old wood behind it. From the inside, the walls appear slightly concave, as if the room were perpetually in the middle of a deep inhale.
The building is a portrait of Yountville as it once was, according to Lynda Castell-Branch, a lifelong Napa resident who worked there as a bartender in her mid-20s nearly four decades ago.
"Pancha's is pretty much as it was when I worked there, and a lot of time has passed since then," she said, fondly recalling shifts spent listening to World War II veterans tell war stories. "Yountville has gotten to be so well-manicured. Seeing all the massive changes that have happened in the valley, I kind of like seeing one last little picture – a little window into what was."
Solis has worked to preserve the bar beyond the physical. Pancha's is still very much a family business: almost every member of the Solis family has worked there in some capacity, he said. His niece, Rose Franco, 67, has been a fixture of the bartending staff since the early days. His nephew, Rose's brother Rene, 65, used to regularly pick up shifts before he began his own driving business. And except for the addition of hard liquor – the bar in its early days served just beer and wine, though "the wine didn't really sell," Solis said – the menu has remained largely the same. Beers still go for $3.
The Yountville Solis grew up in was a rough town: the preponderance of bars often drew tough clientele. Rene remembers stories his older brother Dave would tell about men who'd make the trip to Yountville from out of town just to get in bar fights.
There were only a couple hundred permanent residents of the town when the Solis boys were growing up; the local kids were bused into Napa for schooling, Rene remembers, where the other children were warned by their parents to keep their distance from the Yountville kids.
Highway 29, today the main artery for tourists visiting wine country, once ran right through the middle of town. ("There'd be a car every five minutes," Rene recalled.) Yountville's downtown didn't have a single stop sign or a red light, Solis said, and there were only two restaurants in town.
It was that sleepier, cruder version of today's Yountville that birthed Pancha's. At the time, Solis' bar was one of many, but it quickly became something of a spot for veterans, farmworkers and the town's working class residents.
Even as its clientele base grew, Solis was acutely aware that some of the town's population disapproved of the bar. Pancha's was one of just two Mexican-owned bars in all of Yountville, and Solis believes there were those who would have quite liked to have seen his business fail.
He faced pressure from the town council a few times to "do something" with the building, according to Gary Loomis, who has bartended nights at Pancha's for the last 28 years, and sometimes there'd be trouble with neighbors or from law enforcement.
"They just didn't know how hard-headed I would be, especially because by then, I had purchased the property," Solis said. "It was, like – you think I'm not going to stay here?"
It helped that Solis's local roots run wide and deep: three generations of his large Mexican-American family had lived in Napa Valley before him. The bar itself is named for his maternal grandmother, Frances, whom everyone called Pancha. She was the matriarch of the family, the mother of at least 13 children, of whom Jenny, Solis's mother, is the oldest. Solis, born to Jenny when she was 14, was Pancha's first grandchild, and the two had a close bond.
Pancha, who passed away in 2000, could hold her own, Solis remembers. She often stopped by the bar to joke with even the rowdiest of patrons, and pulled some shifts from time to time. He hadn't consciously planned to name the bar for her, Solis said; one day it just came to him, and he asked his grandmother for her approval.
"She said, 'Go ahead, mijo, maybe it'll bring you some luck,'" Solis said, using Spanish slang for 'my son.'
As the reputation of the valley and Yountville itself grew, its bars were replaced with wine tasting rooms and demand for a table at Thomas Keller's French Laundry, a single block away from Pancha's, exploded. Pancha's clientele began to shift: veterans and farmworkers were still cornerstone customers, but so were the waitstaffs of nearby wineries and high-end restaurants.
Some nights, Rene, bartending, would see "a big group, and it'd be all attorneys," he said, using an expletive. Then there might also be a bunch of doctors, and next to the doctors, a throng of leather-clad bikers.
"Drive by on weekends, you might see a Jaguar and a Ferrari outside, but also a bunch of motorcycles," he said. "This bar gets a very mixed crowd."
Pancha's reputation was spreading, too. Franco, in particular, became notorious for her fiery, take-no-prisoners attitude when it came to misbehaving patrons; she's thrown out an unknowable number through the decades, according to Solis.
After pop star Jessica Simpson, ostensibly on a trip to Napa Valley, entered Pancha's and refused to pose for a photo with one of the bar's most beloved regular customers, Franco promptly threw her out, too – along with "her entourage," which included a large bodyguard, Rene said. (Simpson did not respond to a request for comment for this story.)
"I have a reputation on Yelp, and it's ridiculous, some of the stories," Franco said. "Some people come into the bar and go, 'Well, I just wanted to come in here and get thrown out, so I could (say that I had).'"
In the summer of 2012, Pancha's caught the eye of Playboy Magazine, which promptly featured it as the number one spot on its list of the top dive bars in the entire country.
"When night falls in Napa Valley, off-duty cult-cab winemakers, French Laundry chefs and vineyard workers gather at this dimly lit beacon to soak up Buds and shots with beef tongue burritos from the taco truck in the parking lot," the description read. Solis was floored.
"God bless Hugh M. Hefner," he said, pulling a worn issue of the magazine out of the bar's back office and pointing proudly at the blurb. "I was doing OK before that, but this really turned things around."
Waiting out the pandemic
The past year has not been kind to California's bars. Pancha's has sat dark almost the entirety of last year; the state's bars aren't permitted to open whatsoever until their respective county reaches the orange tier, and cannot open for indoor service, even at limited capacity, until the least-restrictive yellow tier.
Even when the county briefly rose to the orange tier for a period of weeks last fall, Solis balked at moving his service exclusively outdoors: it seemed a recipe for open container violations and drunken, wandering patrons, he said.
Nearby wineries have installed touchless payment technology, plexiglass dividers and begun offering virtual experiences, but those are strategies that just don't make sense for Pancha's, according to Loomis.
Patrons, be they regulars or tourists, don't come to Pancha's for tweezered, craft cocktails; they come to experience the place, a thing that can't just be bottled up and taken to go, he said.
Recreating a pre-pandemic atmosphere is an obstacle for the entire hospitality industry, but "definitely more of a challenge" for dive bars, according to Alex Susskind, professor of food and beverage management at Cornell University's school of hotel management.
"The experience within the four walls of the business is what makes (a dive bar)," Susskind said. "It's more difficult to recreate the environment that built that business with a third or a quarter of the people there."
In June, Susie's Bar – a beloved Calistoga dive that first opened in 1944 and last changed hands in 2013 – went up for sale. Its owners had attempted to cobble together a to-go menu strategy for the pandemic by partnering with a nearby restaurant since takeaway drinks had to be served with food, the Weekly Calistogan reported, but business had proved shaky.
Bars across the state – including centuries-old haunts in San Francisco – are grappling with the same restrictions, wondering if they'll make it through the pandemic's last leg.
Loomis, who's been making ends meet on unemployment insurance since the bar closed last year, says he's confident Pancha's will emerge from the shutdowns. He's just not sure what'll be waiting for the bar on the other side.
"I don't know if we'll ever see the same crowds," Loomis said, pausing. "I just don't ever see it going back, so we're thinking about how we might make up the difference (in) business, and what that might be like."
Crowds aside, there's likely to be some pent-up demand among consumers, according to Cornell's Susskind: data has shown that roughly 70% of consumers want to patronize restaurants.
"My guess is the demand for bars is the same," Susskind said, adding the notoriously high virus transmission rate in bar settings could initially depress things.
When Solis opens Pancha's again for the first time since March 2020, there'll be at least a few familiar faces waiting for him – including Kevin Hangman, who before the pandemic had spent every afternoon since his retirement three years ago at the bar, sometimes joined by his wife, Christina.
Before COVID, he'd get there at noon, take a seat and light up a cigar. Franco, who has become a dear friend of the couple, would have a gin and tonic waiting for him. They'd strike up a conversation, and Hangman would queue up a few songs on the jukebox before heading home.
Hangman still stops by Franco's house once a week for a drink and a cigar, but he misses his fellow regulars.
"The old timers of us – it's like that TV show Cheers," Hangman said. "We all know each other's names, and it's a pretty remarkable group."
Solis's initial hunch that he might stick around in business longer as a land owner has undoubtedly contributed to the bar's longevity. And even having been closed for the last 49 weeks, Pancha's has had the good fortune to avoid drowning under the high overhead costs threatening the viability of many of the state's small businesses. It's survived earthquakes, floods and its fair share of rowdy bar fights: it'll survive the pandemic, too.
Solis, asked if he thought naming the bar for his grandmother brought him some luck after all, hesitated.
"I never thought of it that way," he said, pausing to consider. "I just thought, hey – thank God for Playboy."
WATCH NOW: Celebrating Napa Valley's natural beauty
Throwback Thursday: Downtown Napa 1960-1980
Woolworth's, Napa, September 30, 1962
Catch up on Napa County's top news stories
An appeals court rules the Expo's offer to keep a model railroad exhibit at the Napa Expo — though at higher rent — renders an anti-eviction p…
Transportation officials are looking at creating 2 roundabouts on Highway 29 in Oakville and Rutherford.
The move would follow an earlier round of job cuts by NVUSD in early 2020, as enrollment continues to fall in the district.
Napa's new card room, Ace & Vine, opened for business this past week. Take a look inside. 
Some Napa school traditions manage to live on, pandemic or not. Like picture day. 
A mountain lion was spotted in a central Napa neighborhood earlier this month. There are witnesses and a video to prove it.  
A woman who was sexually assaulted in a portable toilet at BottleRock 2019 has filed a civil lawsuit against the music festival's organizers a…
Napa County has received more than 840 complaints since its shelter in place order was lifted for the first time in June 2020, records show. 
A deteriorating two-story concrete building in remote south Napa County wetlands once relayed news from Asia to the rest of the United States …
Experts say the spike is the result of a pandemic economy and far from normal. In the meantime, skyrocketing home values could displace renters.