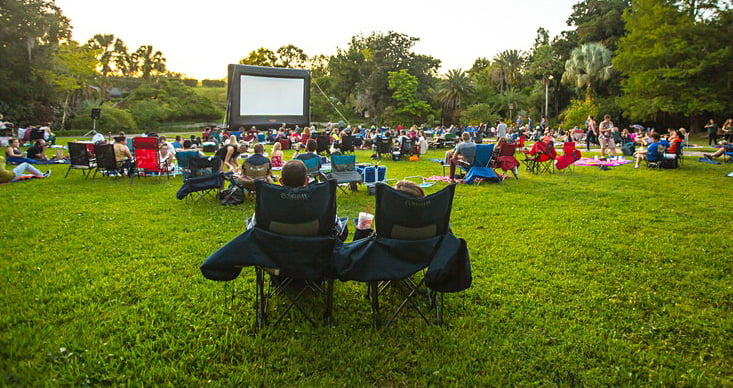 The month of love is upon us and Orlando does not disappoint when it comes to fun things to do with your sweetheart in February! Peruse our curated list of romantic Orlando events below and check back as we update this listing throughout the month. 
February 1 – 7
A Class Act

Garden Theatre

January 27 – February 7

Garden Theatre's production of A Class Act will feature live music as a cast of eight actors and musicians tell the story of Ed Kleban's life.

$25 – $40
Rom-Com Trivia at Crooked Can

Tuesday, February 2, 7:30pm

Crooked Can Brewing Company

Trivia is back! Bring your loved one, or test your knowledge on how to get a loved one during this special rom-com trivia night. Food and beer available for purchase.

FREE Admission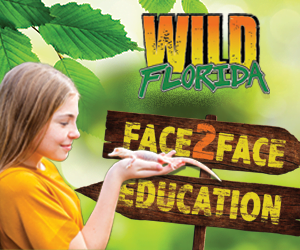 My Lord, What a Night

Available February 3 – 14

*VIRTUAL Video on Demand from Orlando Shakes

This insightful new play sheds light on the true story of the unlikely friendship between Albert Einstein and Marian Anderson. Risking scandal and controversy, iconic historical figures—with distinct approaches to facing inequality—grapple with overcoming injustice during a turbulent time in our nation's history.

$30/couple
OMA 1st Thursdays: Onija

Thursday, February 4, 6-9pm

Orlando Museum of Art

In partnership with Black Theatre Girl Magic. Participating artists have submitted works exemplifying the fighting spirit of West African inheritance in Black people in America and the Diaspora. Peruse the featured art show and enjoy after-hours museum access, plus BBQ with a Latin twist by Maya Rosa food truck, music, beer, wine, and beverages in the outdoor bar. Masks are required at all times when indoors.

$15
The Skies Over Africa

Friday, February 8, 7-8pm

*VIRTUAL event hosted by James C. Albury (director of the Kika Silva Pla Planetarium at Santa Fe College) and Emil Buehler Planetarium director Derek Demeter

Tune in from home for an evening of stargazing on a virtual tour of the night sky from various regions of the 2nd largest content on Earth; Africa! The duo will share African sky lore and mythology, as well as discuss past and present contributions of native African and African-American culture to the field of Astronomy. Presented on ZOOM, registration required.

FREE
Leu Gardens Movie Night: The Burbs

Friday, February 5, 7:30pm

Leu Gardens

Enjoy a showing of The Burbs with your favorite date. Pack a dinner picnic basket and seating, alcohol is permitted. Tickets will be on sale Monday, February 1 via Eventbrite.

$6
Uncasked Concert

Saturday, February 6, 2:30pm

Bok Tower Gardens

Enjoy a special flight of three craft beers from Grove Roots Brewery while enjoying a musical journey through sips and songs with Geert D'hollander.

$35
Down the Rabbit Hole

February 6 – March 13

Mead Botanical Garden

Circus arts, dance, music, comedy and theater come together to put you right in the middle of this beloved story. Presented by Creative City Project

$22 and up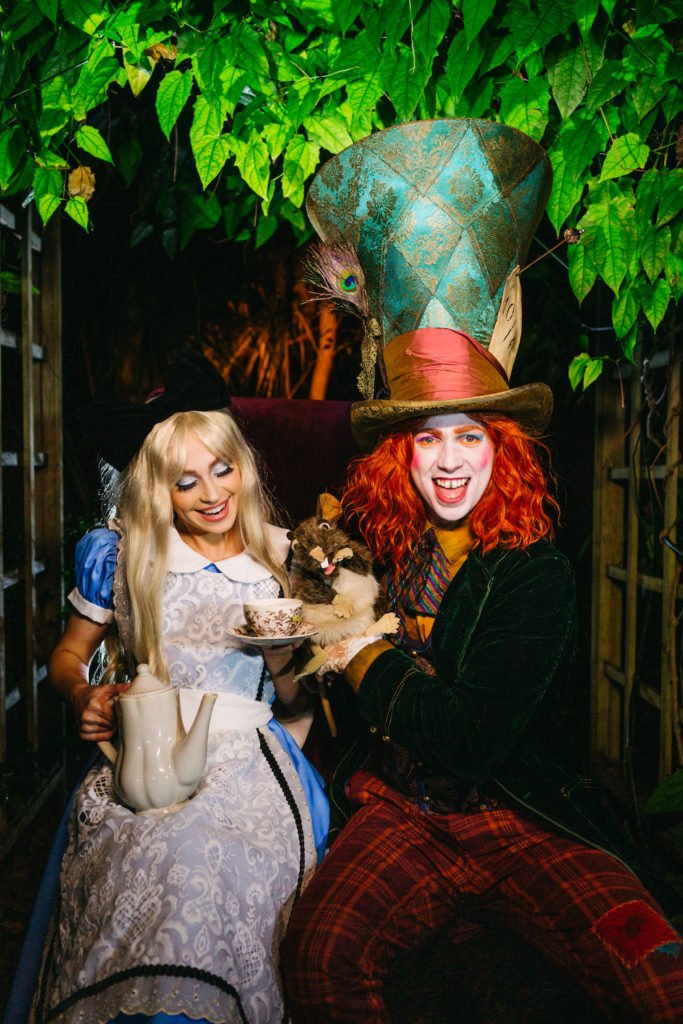 Spring Bloom Brunch in a Bag

February 7 and February 27, available from 9-10am

Bok Tower Gardens

Enjoy a special brunch menu and mimosas ($6 additional) from the Blue Palmetto Cafe. Each brunch order is packaged to go and can be enjoyed anywhere in the gardens. February menu: Loaded Quiche served with fresh greens and vinaigrette, Bok Breakfast Bowl and a Belgian Liege Waffle with blueberry compote and maple syrup.

$15 (plus gardens admission)
Sunday Brunch at Frontyard Festival – Opera Orlando In Concert: Broadway Meets Opera

Sunday, February 7, 12pm (show at 1pm)

Dr. Phillips Center for the Performing Arts

Part of the Frontyard Festival—six months of socially distant, live entertainment and unique experiences. Enjoy live music featuring Grammy Award-winning baritone Gabriel Preisser, the Opera Orlando chorus and other special guests. Brunch and bottomless drinks available for purchase and delivered to your socially distanced box.

$15/person
February 8 – 14
Lovers and Friends Exclusive Wine Pairing Dinner

Wednesday, February 10, 7-9:30pm

Bulla Winter Park

One of a kind wine pairing event for food lovers in a socially distanced environment. Enjoy a private five-course wine dinner, which will immerse you in Spanish cuisine prepared by Bulla's Executive Chef while tasting a special selection of wines from Marqués de Vargas.

$160/couple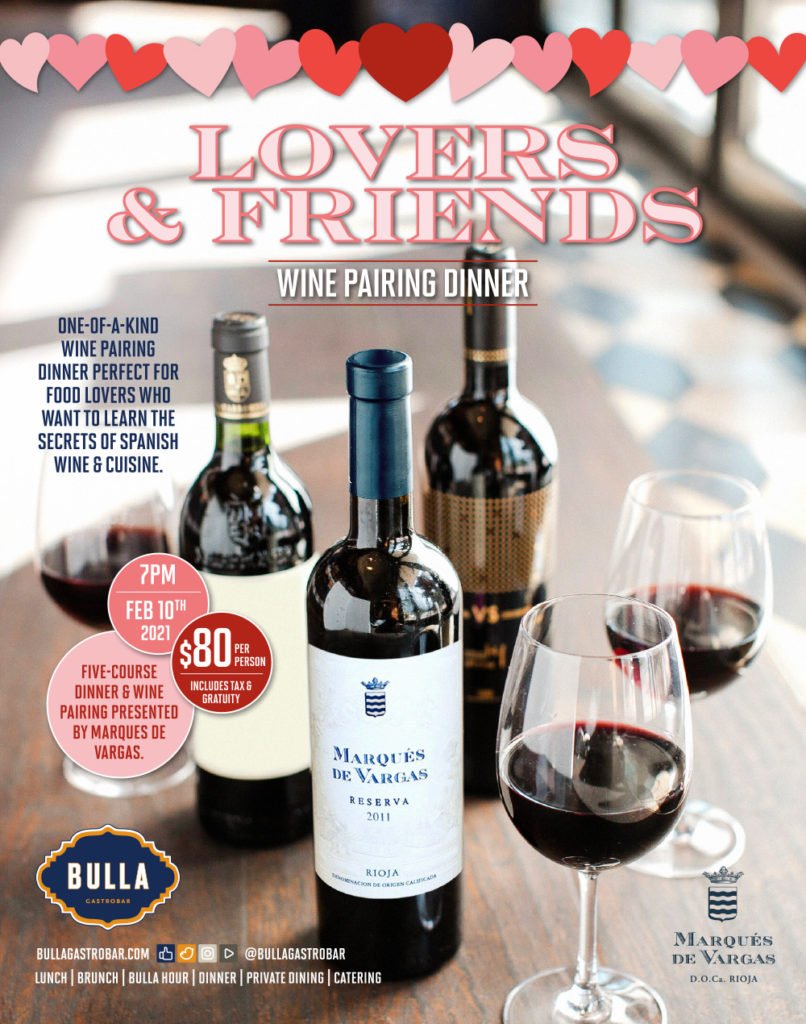 Virtual Valentine's Day Cocktail Making Class

*VIRTUAL event hosted by ABC Fine Wine & Sprits

Wednesday, February 10, 6:30pm

Join Account Manager and Mixologist expert Alex Brick as he creates 2 cocktails for Valentine's Day. Grab your boo, pal or solo cup, because these cocktails are one you'll love! Hosted on Facebook live.

FREE 
Thornton Park District 2nd Thursday Wine & Art Walk

Thursday, February 11, 6:30pm

Thornton Park District

Enjoy a night of art and adult libations in the Thornton Park District. The cost of admission grants you a wristband glass and a map of all the participating drink locations.

$10
Virtual Valentine's Day Wine Pairing Class

*VIRTUAL event hosted by ABC Fine Wine & Sprits

Thursday, February 11, 6:30pm

Join wine experts Dan Eddy and Nathan Dale as they discuss the perfect wine to sip this Valentine's Day. Grab your boo, pal or wine glass and sip along!

FREE
Orlando Ballet presents Moulin Rouge® The Ballet

February 11 – 14

Dr. Phillips Center for the Performing Arts

Get up close and personal with the bohemian world of Paris in its heyday and the spiritual birthplace of the Cancan as Moulin Rouge® The Ballet transports audiences to the most famous cabaret in history. Get more details here.

Tickets start at $24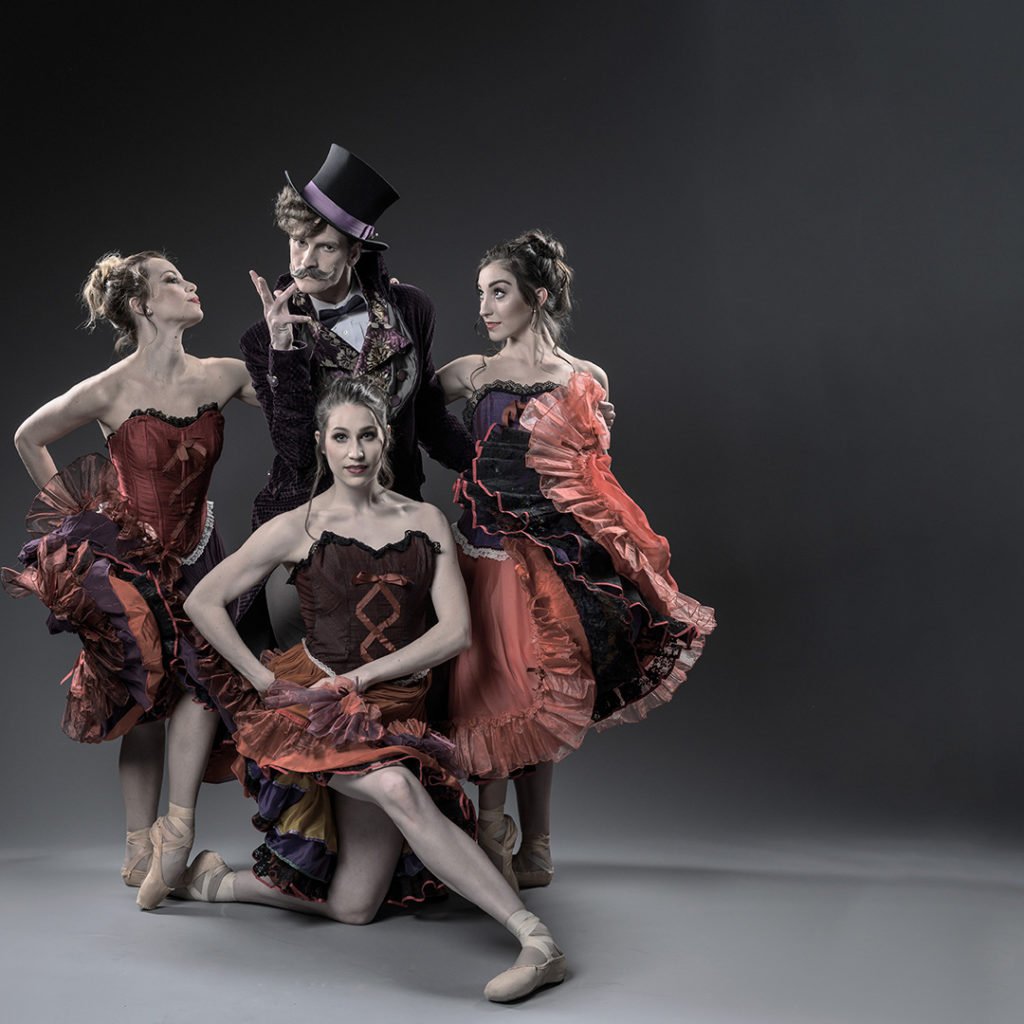 Handmade Happy Hour: Hand-Embellished Photos 

Friday, February 12, 6pm

Cottage at Lake Lily

Maitland Art Center's Handmade Happy Hour is back! Learn to embellish your personal photographs or cards with simple, embroidered stitching. After learning some basic techniques, you will be free to get creative and have fun.

$20 individual ticket; $35/couple; $60 for a group of four
Live at Timucua: Ben Rosenblum Trio

Friday, February 12, multiple times

In-person shows at 7 and 8:30pm; virtual live stream tickets also available

Timucua Arts Foundation

Award-winning New York City jazz pianist Ben Rosenblum and his trio will perform an intimate concert at the Timucua Arts Foundation in Orlando, part of a seven stop Southeast tour through Florida, South Carolina and North Carolina.

$25 in-person tickets; $5 live stream
Horse-Drawn Carriage Tours in Downtown Winter Garden

February 12 – 14, 6-10pm

Tours depart at Downtown Pavilion, 104 S. Lakeview Ave.

SOUL Haven Ranch is offering private horse drawn carriage rides in a Cinderella coach throughout Valentine's Day weekend in Winter Garden. Cuddle up as you take in Winter Garden's charming twinkling lights and sights all along Plant Street on the 20-minute tour.

$95 per tour (accommodates up to 4 adults)
SubRosa Dining Experience Couples' Senses Series: Touch

February 12 – 14, multiple times

Secret location revealed 24 hours before

In honor of Valentine's Day, SubRosa Dining Experience will debut a new Sensory series which highlights one or more senses during the Dining Experience. Explore the sensory world of touch. This experience will include a hands-on activity that each couple will complete together while going on a colorful food journey. Vegetarian meal option available upon request.

$270/couple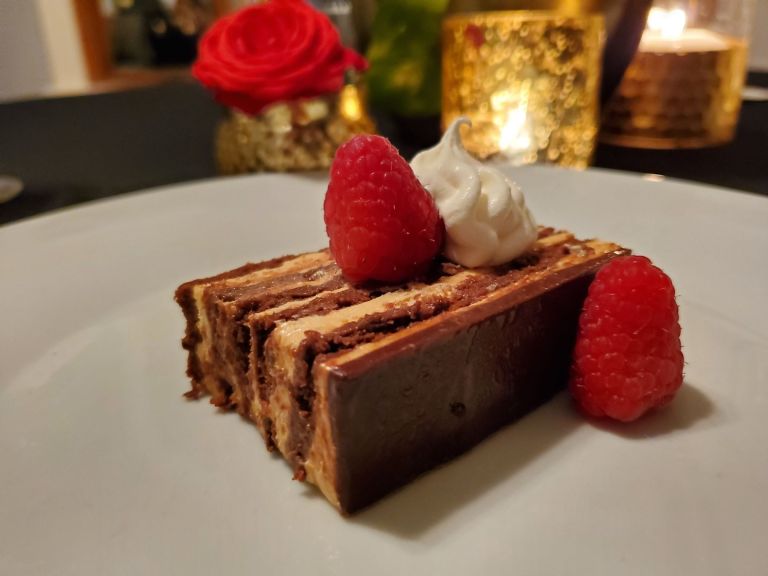 Aromatherapy and Botanical Perfume and Cologne Making Workshop

Saturday, February 13, 2021, 9:30 am

Leu Gardens

Fun and interactive Aromatherapy DIY workshop where you will make your very own custom perfume or cologne using 100% pure essential oils and botanical flowers.

$75
Galentine's Day Brunch

Saturday, February 13, 10am

The Welcome House

Who is ready for some Gal Pal Hangs!? The Dinner Party Project is excited to offer an opportunity to do just that….safely with a gathering outside at The Welcome House.

$45
Love Notes: A Wine 'n Music Social

Saturday, February 13, 12pm

Swirlery Wine Bar

Outdoor event featuring wine, beer, live music and food vendors. 

$10
Pours at the Preserve

Saturday, February 13, 5:30-8:30pm

Oakland Nature Preserve

Walk Oakland Nature Preserve's upland trails in the evening, sipping wine or tasting beer, enjoying the sunset through the trees and the stars in the night sky, listening to the sounds of nature. The half-mile trail will be lighted for you with luminaries. Enjoy refreshments at the five tables stationed along the paths.

$40
Bubbles From Around the World

Saturday, February 13, 5:30pm

Emeril Lagasse Foundation Kitchen House and Culinary Garden

Fun, beautiful, informative and empowering, Kcuvée is a new kind of wine school: a first-person sensorium that will take your palate to the next level. During this course, discover the main producing sparkling wine regions of the world and new trends of the industry. Learn the differences between Prosecco, Cava and Champagne and join KCuvée instructors to taste their favorites.

$200; $49 multi-course meal add-on from Chef Kevin Fonzo available
Corsets & Cuties Burlesque Cabaret

Saturday, February 13, 7pm and 9:30pm

HÄOS on Church

Join Corsets and Cuties for a Valentine's burlesque cabaret at this all new eatery and performance venue in downtown Orlando. For a complete date night, purchase your tickets for the show in advance and make dinner reservations separately for HÄOS (on Yelp or Opentable). 10% off food check with proof of ticket stub.

$15; menu prices vary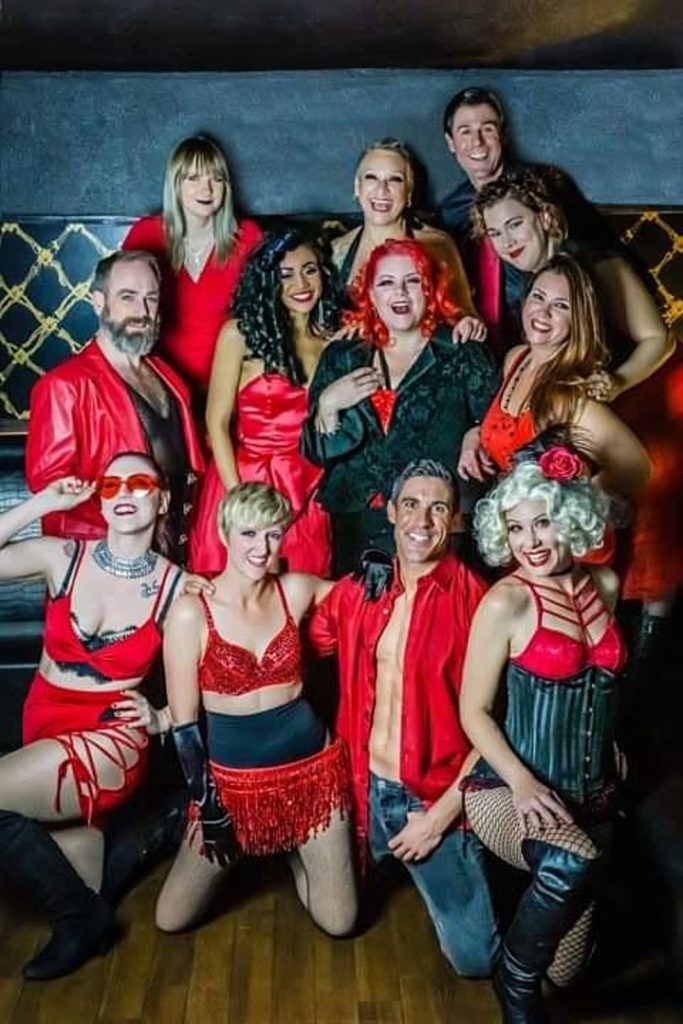 Springs Blooms and Tunes with Steamin Jazz

Sunday, February 14, 6pm

Bok Tower Gardens

Celebrate Valentine's Day with a special outdoor concert on the Oval Lawn featuring the incredible music of Steamin Jazz.

$25
Disney Movie Night: Beauty and the Beast

Sunday, February 14, 6pm

Dr. Phillips Center for the Performing Arts – part of the ongoing Frontyard Festival series

A dash of magic comes to downtown Orlando nearly every Sunday evening through May, as Dr. Phillips Center presents Disney Movie Night—classic stories direct from the Walt Disney Company's vast film library.

$5 – $10
Classic Movies at Garden Theatre: Casablanca

Sunday, February 14, 6:30pm

Winter Garden Theater

Watch your favorite classics on the big screen as part of Garden Theatre's ongoing Classic Movie series.

$15
Kiss Me, Shakespeare! A Valentine's Cabaret

February 12 – 14 (February 14 showtimes still available, all other shows sold out)

Darden Courtyard – Orlando Shakes

This performance, showcasing Master of Fine Arts interns from UCF, features the most romantic scenes from Shakespeare's works alongside popular Broadway love songs, making for the perfect date night with your special someone this Valentine's Day weekend.

$30/couple for a two-person table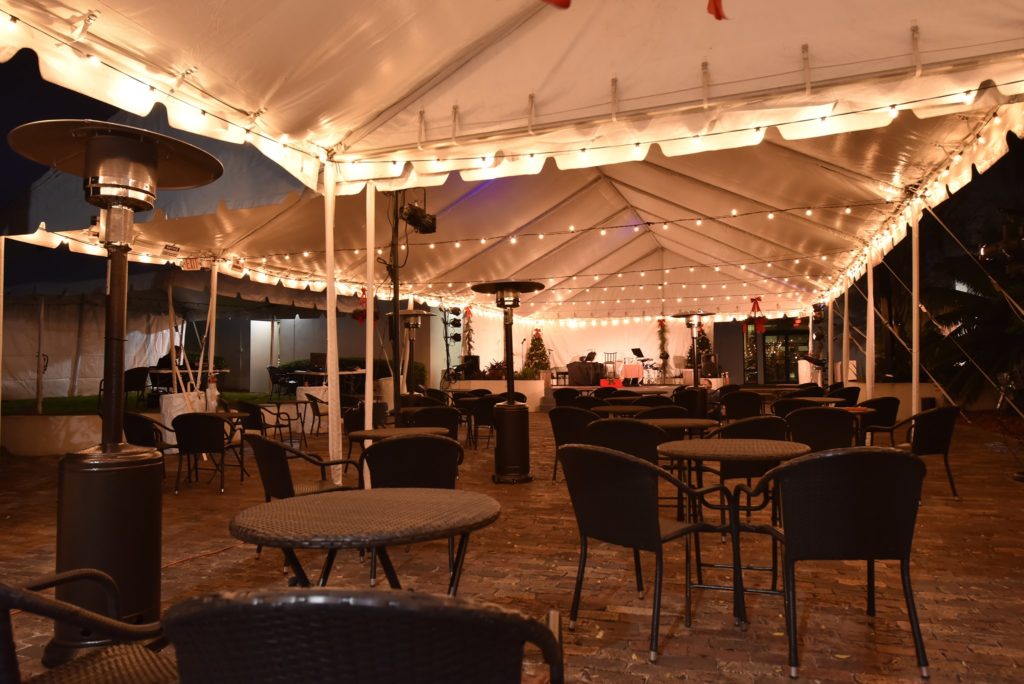 Valentine's Movie Night at Leu Gardens: When Harry Met Sally

Sunday, February 14, 7:30pm

Leu Gardens

Enjoy a showing of When Harry Met Sally with your favorite date. Pack a dinner picnic basket and seating, alcohol is permitted. Tickets on sale February 8 via Eventbrite.

$6
February 15 – 21
Couple's Cooking: A Night in Seoul

Monday, February 15, 6pm

Publix Aprons Cooking School – Dr. Phillips

This is a hands-on cooking class. Practice makes perfect, so roll up those sleeves! Master new skills as you work side by side with our chefs to create an amazing meal. Menu includes Steamed Korean Dumplings, Oi Muchim (Korean Cucumber Salad), Spicy Bulgogi (Korean Beef BBQ with light vegetables) with BiBimBap (Korean Mixed Rice with Asstd. Vegetables & Meat) and Hotteok (Korean Dessert Pancake with Walnut Syrup Filling).

$100/couple
Josephine

February 17 – March 21, multiple showtimes

Darden Courtyard – Orlando Shakes

This critically-acclaimed, off-Broadway musical combines cabaret, theater, and dance to tell the story of the iconic Josephine Baker, the first African American international superstar and one of the most remarkable figures of the 20th Century. The 1930s luminary pushed the boundaries of race, gender, and sexuality, while living an extraordinary life as her most authentic self. Josephine is a brilliant, one-woman tour de force that celebrates Josephine's life journey, while highlighting her most famous acts, from songs like "Blue Skies" and "La Vie en Rose," to the dance routine that established her stardom, the danse sauvage, also known as the banana dance.

$90/couple for a two-person table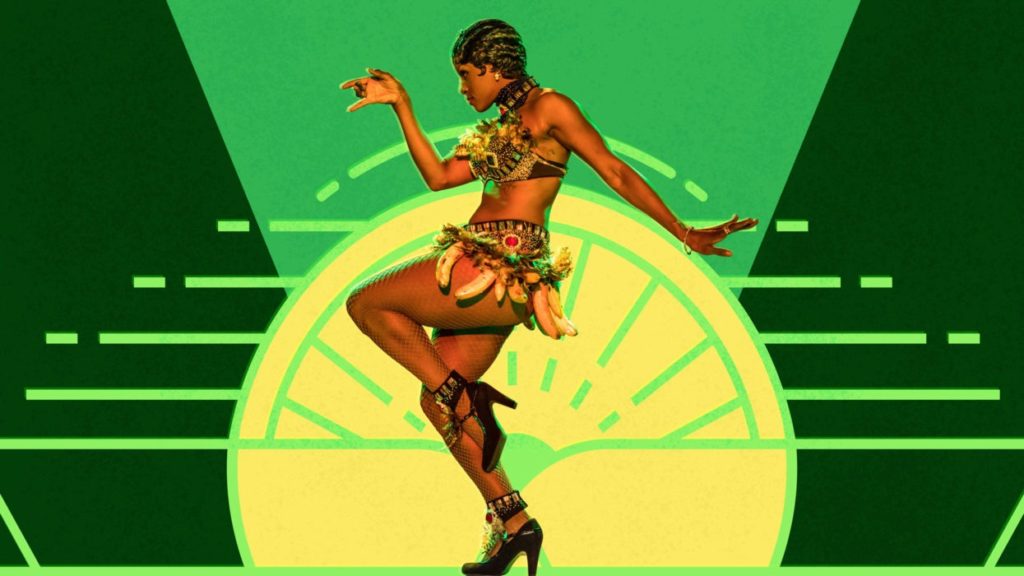 France Discovered

Thursday, February 18, 5:30pm

Emeril Lagasse Foundation Kitchen House and Culinary Garden

Kcuvée is a new kind of wine school: a first-person sensorium that will take your palate to the next level. Discover what has made France the ultimate wine country, unveil the mystery behind French wine labels and become a connoisseur. Note: it is recommended that you complete Kcuvée's Introductory Wine Course before attending this class.

$150
Opera on the Town: Ivan Lynch

February 19 and February 21

Orlando Museum of Art

Based on Tolstoy's masterpiece novella of the same name, Death of Ivan Ilych is a one-act chamber opera composed by John Young with a libretto by Alan Olejniczak.

$75
Downtown Clermont Wine Stroll

Saturday, February 20, 6-9pm

Corelli's Pantry

Come to Corelli's Pantry in downtown Clermont for a $20 Wine Stroll. Stroll to participating businesses for a little shopping and sampling of 20+ wines, plus live music entertainment.

$20
Flavors of Winter Park Foodie Walking Tour

Saturday, February 20, 12pm

Tours depart from Winter Park Chamber of Commerce

Two and a half hour walking tour of Winter Park's famous Park Avenue with local historical commentary and food samples at eight local venues.

$59
French Baking Workshop

Sunday, February 21, 10am

Publix Aprons Cooking School – Dr. Phillips

Learn how to make a few of the most quintessential French pastries and see just what all the fuss is all about.

$60
Classic Albums Live: Led Zepplin II

Saturday, February 20, 8pm

Hard Rock Live Orlando

Enjoy a Led Zeppelin tribute show. 

$35
February 22 – 28
Wekiva Paint Out

February 22 – 28

Wekiva Island

Guests get a chance to watch the artists work daily from Monday, February 22, to Saturday, February 27, throughout the state park and around Wekiva Island.
Kitchen Fundamentals Cooking Class: Pasta, Risotto, & Gnocchi

Wednesday, February 24, 6pm

Publix Aprons Cooking School – Dr. Phillips

Learn how to make basic pasta dough, pappardelle with leeks & pancetta, 4-cheese ravioli with wild mushroom rags, shrimp scampi risotto with asiago, and gnocchi with browned butter, sage & pecorino in this hands-on cooking class.

$50
Curated Experiences at Grande Lakes Orlando

February 26 – 28

Grande Lakes Orlando

In one perfectly planned weekend, guests at Grande Lakes Orlando can enjoy the ultimate mix of relaxation and inspiration, along with one-on-one time with expert chefs, winemakers, jewelers and more. A wine paring dinner and mini concert with Joey Fatone, caviar brunch at Knife & Spoon, and a special Wheels, Watches, Whiskey and Wine reception are just a few of the included experiences. Guests can also choose four additional Curated Experiences, including cooking demonstrations, falconry school, mixology, fly fishing and more.

$750 (accommodations additional)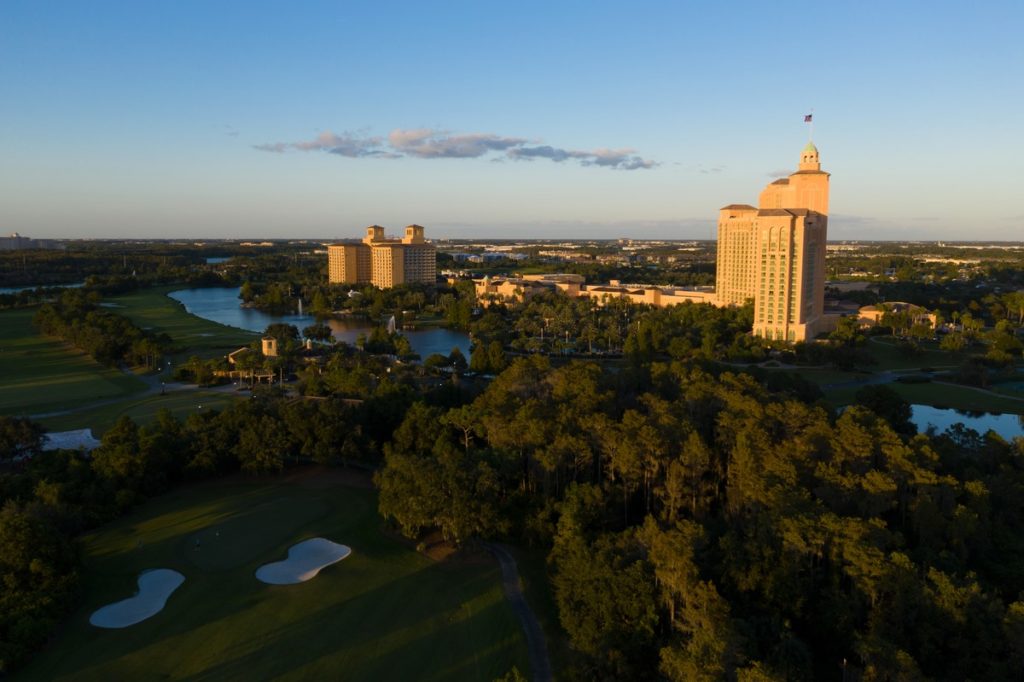 A Taste of the Swan and Dolphin

Saturday, February 27, 5:30pm

Walt Disney World Swan and Dolphin Resort

Feast your way through 10 food stations and sip from 22 beverage stations from the hotel's award-winning restaurants. This all-inclusive dining event will feature live entertainment and unlimited food and beverage tastings, including dessert selections from the hotel's world champion pastry chef, Laurent Branlard. Safety protocols will be in place including reserved tables for each party. Tickets are limited.

$110 for event only tickets; room packages including two tickets available from $359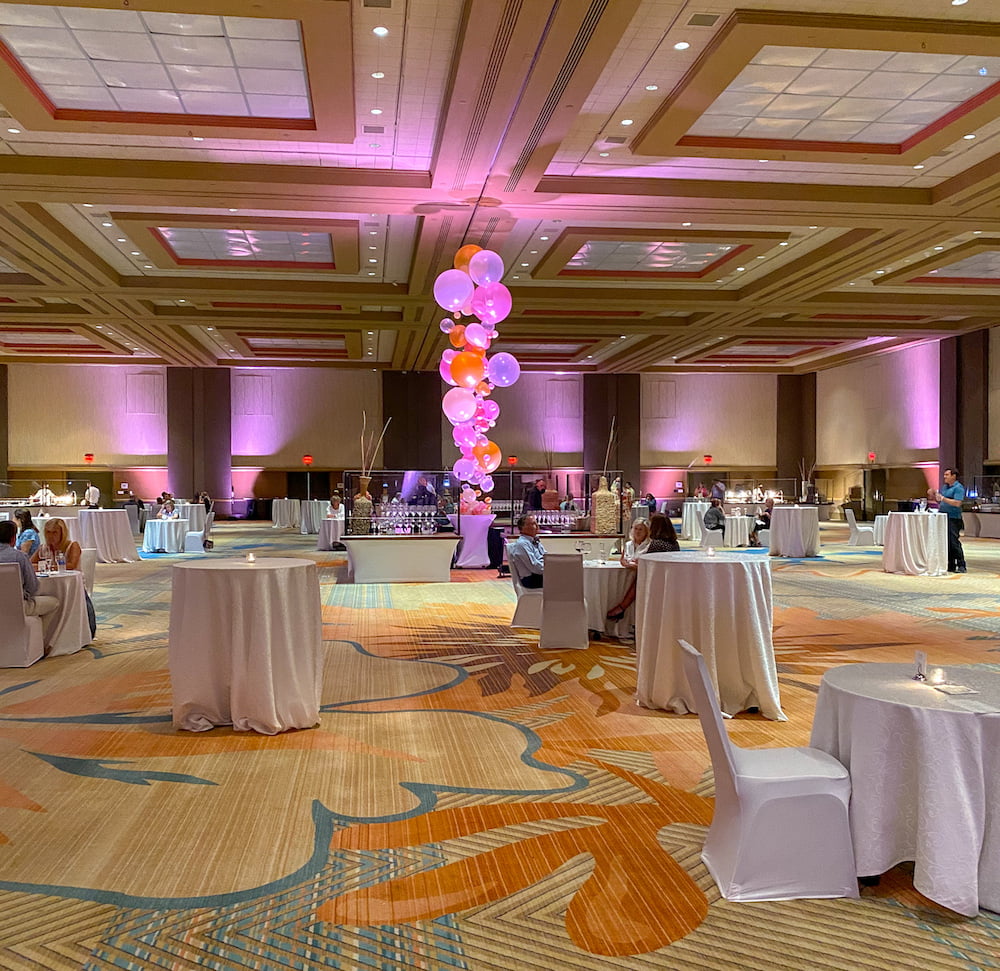 Vegan Food & Wine Festival

Sunday, February 28, 11am

Apopka Ampitheater

An all VEGAN Event with 30 vendors including food, crafts, gifts, and full of surprises.

Free
ONGOING Orlando EVENTS
Weekends at the Winery

Saturdays and Sundays through February, noon-4pm

Lakeridge Winery

Come out and enjoy the expansive vineyard green, including delicious food, live entertainment, food trucks, and of course your favorite Lakeridge wines by the glass at the outdoor bar.

FREE Admission
Dueling Piano Dinner Show

Sunday nights in February

Tin Roof Orlando

Enjoy a high energy, all-request Dueling Pianos show every Sunday night in the Green Room.

Menu prices vary; reservation required
Brunch Remix

Sundays in January

Hard Rock Hotel Daytona Beach

Enjoy a beachside brunch with live music each week. 

Menu prices vary
Sunday Jazz Brunch

Sundays, February 7, 21, and 28

The Boheme

Join us every Sunday at The Boheme for some of the best brunch and live jazz in downtown Orlando.

$60
---
Want your Orlando events listed here?
Learn more about advertising with us and submit your event here.
Disclosure: Some, but not all, of the Orlando events featured in this post are hosted by our valued advertising partners.
Feature image credit: Leu Gardens