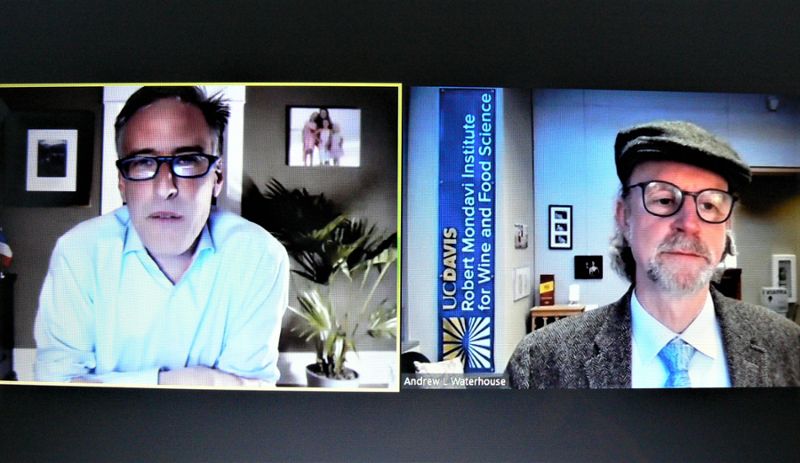 Online wine sales have seen strong steady growth for more than a decade, and saw explosive growth in 2020 as a consumer wine buying option during the COVID-19 pandemic. Michael Osborn, founder and executive vice president of Wine.com, one of the oldest and largest online wine retailers, believes strong sales growth will continue and there is significant opportunity for online sales to carve out a larger share of the off-premise wine sales market. Osborn discussed the success of Wine.com and the market outlook during an online presentation March 10, "Pioneering Online Wine Sales," for the University of California, Davis (UCD) Walt Klenz Wine Business Speakers Series. Sponsored by Treasury Wine Estates and named in honor of former Beringer Blass Wine Estates CEO Walt Klenz, who introduced Osborn, the lecture series was established in 2005 and is presented by the Robert Mondavi Institute for Wine and Food Science and the Department of Viticulture and Enology.
Wine.com has more than 50,000 wines available from 8,000 different wine producers, it works with 400 wholesalers, and operates six retail fulfillment centers strategically located across the U.S. The company served nearly 700,000 consumers the past year. The Wine.com website had 46 million visits in 2020 and hit a one-day record for visits with nearly 257,000 on December 15, 2020. 
The company has had steady annual growth of 15 to 20 percent since 2007, but year-over-year growth soared 119 percent in calendar year 2020 with revenues of $329 million. "Awareness is one reason eCommerce in the wine industry had not grown faster, but awareness was a game changer in 2020," Osborn said. Although the company was already planning for growth, Osborne said it doubled its marketing budget in 2020, and it continues to improve services and expand for growth.
Background
Drawing from his background in the computer software industry and his passion for wine, Osborn, at age 29, started the online wine sales venture eVineyard in 1998, that later became Wine.com.
Showing a photograph of an overwhelmed consumer facing a "wall of wines" on the shelves of a wine retailer, Osborn explained: "This is why we exist. In the retail store, the customer can glean some information about a wine from the front and back label and price, but with a computer database, there is so much more information and opportunity to tell the consumer about a wine. There is so much information missing from the store environment, and with limited shelf space, it limits the number of wines and choices available."
Osborn attributes Wine.com's success to its ability to provide a "consumer value proposition" for customers and an "industry value proposition" for wine producers. Wine.com's focus on "filter and sort" data as "the world's largest wine store" provides many information options to visitors to guide purchases and to learn about wines and producers. Customers have information and buying options for both "self-serve" or for "curated" experiences.
For the trade, he says, "We provide the ability for our winery partners to tell their story first hand." Wineries can post photos, videos, maps to their tasting rooms and background information on key people, vineyards, etc. "Storytelling is so important, and all our content is always vintage specific," Osborn emphasized.
Customers, Sales Differ From Traditional Retailers
"We're doing a good job of attracting all generations of wine enthusiasts, and all interest levels from novice to advanced," he said. The Wine.com customer base broken down by age group is somewhat younger compared with traditional off-premise wine sales segments, led by Millennials/Gen Z at 39 percent, then Gen X at 27 percent, Boomers are 27 percent, and older consumers are 4 percent. The share of new customers in 2020 by age group was trending even younger, led by Millennials/Gen Z at 44 percent, then Gen X at 29 percent, and Boomers at 25 percent. 
Wine.com's highest average selling price per bottle based on age group purchases is by Millennials/Gen Z at $28.50, compared with $28.20 by Gen X, and $25.80 by Boomers. Osborn said Boomers still account for the highest average value per order among all age groups, but he is optimistic about the direction the statistics are going. "The average bottle selling price for Millennials is a great indication of what may be ahead of us with this younger age group, who have a longer lifetime ahead of them as consumers," Osborn said.  
Wine.com sells a higher percentage of imported wines in the U.S. than the national average. Based on 2020 data, 52 percent of its sales were imports and 48 percent domestic. This contrasts with Nielsen IQ data for national off-premise wine sales of 69 percent domestic and 31 percent imports. Osborn explained: "I attribute this to the fact we offer everything. When you offer the world of wine, there is more chance customers will experiment and learn about new regions and producers." He said tariffs had not severely impacted import prices and sales, as the company's import suppliers took on the burden to help reduce these impacts on consumers.
Wine.com's 2020 sales breakdown by wine color/type is also different from Nielsen IQ data, with Wine.com sales 62 percent red, 22 percent white, and 11 percent sparkling; compared with Nielsen IQ sales of 43 percent red, 33 percent white, and 11 percent sparkling.
Customer Service Programs
Osborn highlighted Wine.com customer service programs that promote sales.
–StewardShip—With an annual fee of $49.00, customers receive unlimited year-long shipping. Osborn said StewardShip was implemented in 2009 to take away the fear/uncertainty about shipping costs with every purchase. This encourages consumers to purchase more. StewardShip customers purchase an average of five times a year, and account for an average of $1,000 in annual revenue per user. This service has a 70 percent renewal rate.
–Live Chat Wine Specialists—Started six years ago to assist customers, a team of 100 sommeliers/specialists is available to greet customers and offer assistance when they access the website. This program has provided more than 1 million live interactions with customers.
The company started two important new customer programs in 2020.
–Virtual Experience live stream tasting events started in April 2020 when the pandemic hit. Customers can purchase wines in advance and taste them during the online event with the producers. This program has featured wine industry celebrities such as Michael Mondavi, Laura Catena and Jean-Charles Boisset, and entertainment celebrities with wine brands such as John Legend, Sarah Jessica Parker and Cameron Diaz. Wine.com hosted 55 such events over the past year viewed by more than 100,000 households.
–Picked by Wine.com—A new personalized wine club subscription service based on personal preferences and tastes. The customer completes a short questionnaire to guide hand-picked selections by Wine.com experts, with selections customized by optional criteria (region, varietal, etc.)
Fast, efficient shipping has always been a company priority, with 50 percent of customer orders receiving next day delivery. The average time a shipment spends in transit is 1.7 days. "Speed is paramount," Osborn said.
Future Plans
Osborn noted that the U.S. off-premise wine market totals about $50 billion in annual sales, but it is very fragmented with over 200,000 licensed stores. There is still very low eCommerce penetration in this market he said, meaning there is still much opportunity for growth in online market share.
The company began adding spirits to its product offerings a year ago. The U.S. off-premise spirits market is about $45 billion/year. Spirits have a similar supply chain to the wine industry, and the category also offers good opportunity for eCommerce growth. "Like wine, there are plenty of spirits producers who have really compelling stories to tell," Osborn said. The company plans to expand its fulfillment center warehouse facilities in 2021 to accommodate growth.
Osborn summarized: "We've always tried to focus on the consumer first and make sure we're giving the best service we can. We could not have the SKU count we have without the customers telling us what they want." He added, "I used to think having 3,000 to 4,000 different wines would be sufficient, but now we're past 50,000."