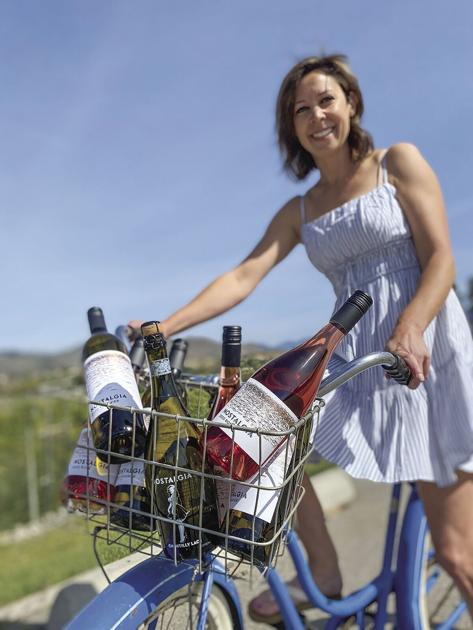 Oliver Twist Winery owner Gina Fernandes Harfman wanted to do something sensational for the winery's 15th anniversary.
So, she changed the name of the winery on Oliver's Black Sage Bench to Nostalgia Wines.
"We wanted to celebrate with something big and Nostalgia is it," said Harfman.
"It really is a hug from the past for us because after I purchased Oliver Twist in 2012, we introduced the Nostalgia labels with the pin-up girls and the classic cars from the 1950s and '60s."
The pin-up girls are still on some of the labels and the rest of the new Nostalgia labels, designed by Vancouver-based Town Hall Brands, are abstract and meant to evoke whatever nostalgia means to you.
The rebrand coincided with a renovation and new landscaping at the winery and tasting room.
What hasn't changed with the rebrand is the commitment to estate farming and quality winemaking.
Grapes come from Nostalgia's 14.5 acres of home vineyards on the Black Sage Bench and 15 acres of Harfman's dad's vineyard in Osoyoos.
Harfman crafts all the wines — red, white, rose and sparkling — to be fruit-forward with bright acidity.
The wines are all available at the winery or online at NostalgiaWines.ca and many are also available at private liquor stores and the wine section at Save-On Foods grocery stores.
The Nostalgia portfolio is made up of 10 such wines:
— 2020 Kerner ($22)
— 2020 Pinot Gris ($22)
— Pin-Up Series Chantilly Lace off-dry sparkling ($25)
— 2020 Rose ($24)
— 2018 Merlot ($33)
— 2018 Family Collection Red Meritage ($38)
— 2020 Pin-Up Series Boogie Woogie White ($20)
— 2020 Viognier ($25)
— 2020 Chardonnay ($25)
— 2018 Family Collection Syrah ($40)
Canada Day wines
Liquidity Wines in Okanagan Falls and Road 13 Vineyards in Oliver are expecting more wine lovers will be dropping by now that pandemic-related travel restrictions have been lifted in the province.
The two wineries, which are both part of the Iconic Wineries of BC portfolio along with Mission Hill in West Kelowna, CedarCreek and Martin's Lane in Kelowna and CheckMate in Oliver, are expecting to be busy over Canada Day and have developed new summer tasting experiences.
At Liquidity, there's A Taste of Okanagan Falls for $25, which includes a guided tasting of five wines with views of the Lucy and Allan vineyards, and the $55 Art of Food & Wine tasting of five wines with matching bites prepared by winery chef Phil Tees.
The newly released 2020 Rose ($29), Viognier ($29) and Pinot Gris ($21) are likely to be on tasting lists because they are ideal for summer and will be welcomed on any patio, picnic, barbecue or brunch, lunch or dinner table.
At Road 13, starting Canada Day you can add, for $18, a barbecue roll and kettle chips to your $25 Golden Mile Tasting of six wines while enjoying the view of the Black Sage Bench and Osoyoos Lake.
Also starting July 1 is the $35 Vineyard's Edge Experience of three wines sipped, as the name suggests adjacent to the Castle Vineyard, with barbecue roll and kettle chips.
Winemaker Barclay Robinson most assuredly has chosen the new-release 2020 Chip off the Old Block Chenin Blanc ($19), Honest John Rose ($17) and Rose ($24) for the experiences because each of them tastes like summer.
Reserve at LiquidityWines.com and Road13Vineyards.com.
Steve MacNaull is an Okanagan wine lover and Canadian Wine Scholar. Reach him at Steve.macnaull@ok.bc.ca.
>>> Don't Miss Today's BEST Amazon Deals!
Originally Appeared Here