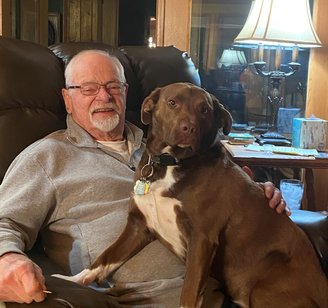 Earl Leroy
Moranda
October 23, 1937 –
February 19, 2021
Earl "Big
E/Pepaw/Peeps" Leroy Moranda, age 83, of Arcata passed
away Friday,
February 19, 2021. He was born on October 23, 1937.
Earl was preceded in
death by his parents Walter and Marguerite, his brother Allen, and
his wife Patricia "Pat" Moranda. He is survived by his son, Brett
Moranda
and wife Tina; his daughter, Traci Moranda; grandchildren; Julianna &
fiancé Dave Vogelsang; Isabella
& boyfriend Jake Hanson; Sophia, and Vincenzo; and
great-grandchildren Viviana and baby Hazel.
Earl
is also survived by his cousin Marjorie Mercola and her son Thomas
MacArthur; along with his sister-in-law, Mary Lou Smith and nieces,
Michelle Tuel, Kathy Duncan, and great-nieces Cheyenne and Lily.   
He grew up on the
family dairy ranch in the Arcata bottoms, where he developed his
strong work ethic and love for duck hunting.  Earl attended
Arcata High School where he was an All-County athlete in football and
baseball, graduating in 1955. He then proceeded to college at
Humboldt State College where he played baseball. After one year, he
transferred to Shasta Junior College to study Criminal Justice. While
at Shasta College, he played both football and baseball. During these
years, he established many lifelong friends and shared many great
memories. He graduated from Shasta College with an associate degree
in 1959.
Following college, he
returned to Arcata, where he became a police officer with
the City of Arcata. In the same year, he also became an Arcata
volunteer Firefighter, in which he was an active member for 45 years.
On July 17, 1961,
Earl married the love of his life, Pat Gaines. They were happily
married for 52 years, until Pat passed away in 2013. Within the first
year of their marriage, he was activated from the army reserves
during the Cuban Missile Crisis.
In 1965, after the
birth of his son Brett, he decided to become a probation officer due
to it being higher paying and not having to do shift work as a
police officer. In 1969, his daughter Traci was born, which completed
their family. He continued to work at the Humboldt County Probation
Department until 1977. Earl then changed careers and became an
insurance agent for Cal Farm Insurance. He later started the Earl
Moranda Insurance Agency out of his grandmother's home which he
converted into a beautiful office, located at 11th
and K St in Arcata, currently Dutchy's Pizza. Earl worked in the
insurance industry for over 25 years where he thrived utilizing his
best attribute; building long-lasting friendships with his customers
and other agents in the industry. His philosophy was simple, "treat
your customers like they're your family."
When Earl turned 65,
he retired and sold his insurance business.  He and Pat were
able to travel extensively throughout the US and abroad but spending
time with the grandchildren was their priority.  You could
always find them watching their grandchildren play sports from the
early ages up through high school.  Earl and his son, Brett,
enjoyed working on projects together, whether it was renovating a
bathroom or building fences, just to name a few.  They enjoyed
their weekly lunches discussing what their next projects would be. 
Earl had a passion for good wine!  He and Pat enjoyed many trips
visiting Traci in Santa Rosa to enjoy the beautiful weather and wine
tasting adventures throughout Sonoma and Napa.
Earl's love of
sports never wavered.  He and Pat loved attending
the home games for the HSU Basketball team for 40+ years and were
season ticket holders.  His most recent passion was cheering on
the University of Oregon Ducks football team and attending a handful
of games every year.
Earl was
exceptionally proud of his grandchildren and was an active
participant in their daily lives. He had a nickname for them all! 
He loved seeing his eldest grandchild Julianna (Jules) become a new
mother, Isabella (Izra) complete undergrad in Human Physiology at U
of O, Sophia (British Girl) continuing her undergrad in Advertising
at U of O, and most of all he enjoyed having his grandson Vinnie
(Vinster) live with him and help with his rentals for the past year.
Becoming a great-grandfather to Viviana was another huge milestone
for him and he was looking forward to meeting his new
great-granddaughter Hazel this past March.
Earl became a devoted
member of the Wesleyan Church of McKinleyville where he developed
many new friendships. He was extremely passionate for his faith and
attended most Sunday services and numerous church events.
Earl was a well-liked
person around this community and was especially known for his great
humor, infectious smile, and generosity. He truly cared for others
around him. He could talk your ear off and tell the best stories with
his amazing long-term memory. He created a beautiful coffee table
book in which he wrote about his life growing up on his family's
ranch titled, "The
Haymow"
that included his favorite pictures throughout his childhood. 
Earl was fondly referred to as the "walking Arcata landmark", as
his knowledge of the history of Arcata was extensive.
In January 2018, Earl
adopted his beloved companion, his dog, Prince Riley. While lounging
in his recliner, he loved having Riley sit on his lap and have him
show off his tricks. He enjoyed taking him on truck rides to the
ranch, around town and to Burger King for some treats. 
Earl cherished his
friendships, both old and new including friendships that started at
the age of six, the neighborhood kids he used to get in trouble with
at the ranch, high school and college friends, and many more
throughout his entire life.  After retirement, he and Pat met
new friends who they loved to travel with.  Earl had a passion
for cooking, you could find them hosting big dinners with friends and
parties with all.  Russ and Berit Locatelli had a special place
in Earl's heart. He introduced Russ to the Arcata Fire Department
and took him under his wing. Wade and Sabrina DeLashmutt were also
considered family and Earl enjoyed "supervising" Wade on all of
his many projects. 
Earl lived a full and
prosperous life. He was loved so much by his family and friends and
will be greatly missed.  We want to thank all his friends and
the community for all the kindness and generosity during this
difficult time.  As he said, "It has been a good ride". 
Due
to the pandemic, a celebration of life will be held in the near
future.  In lieu of flowers, the Moranda family requests
donations to be made to the following organizations of your choice;
The Salvation Army and the Humboldt County Animal Shelter in
McKinleyville. 
###
The obituary above was submitted on behalf of Earl Moranda's loved ones. The Lost Coast Outpost runs obituaries of Humboldt County residents at no charge. See guidelines here.