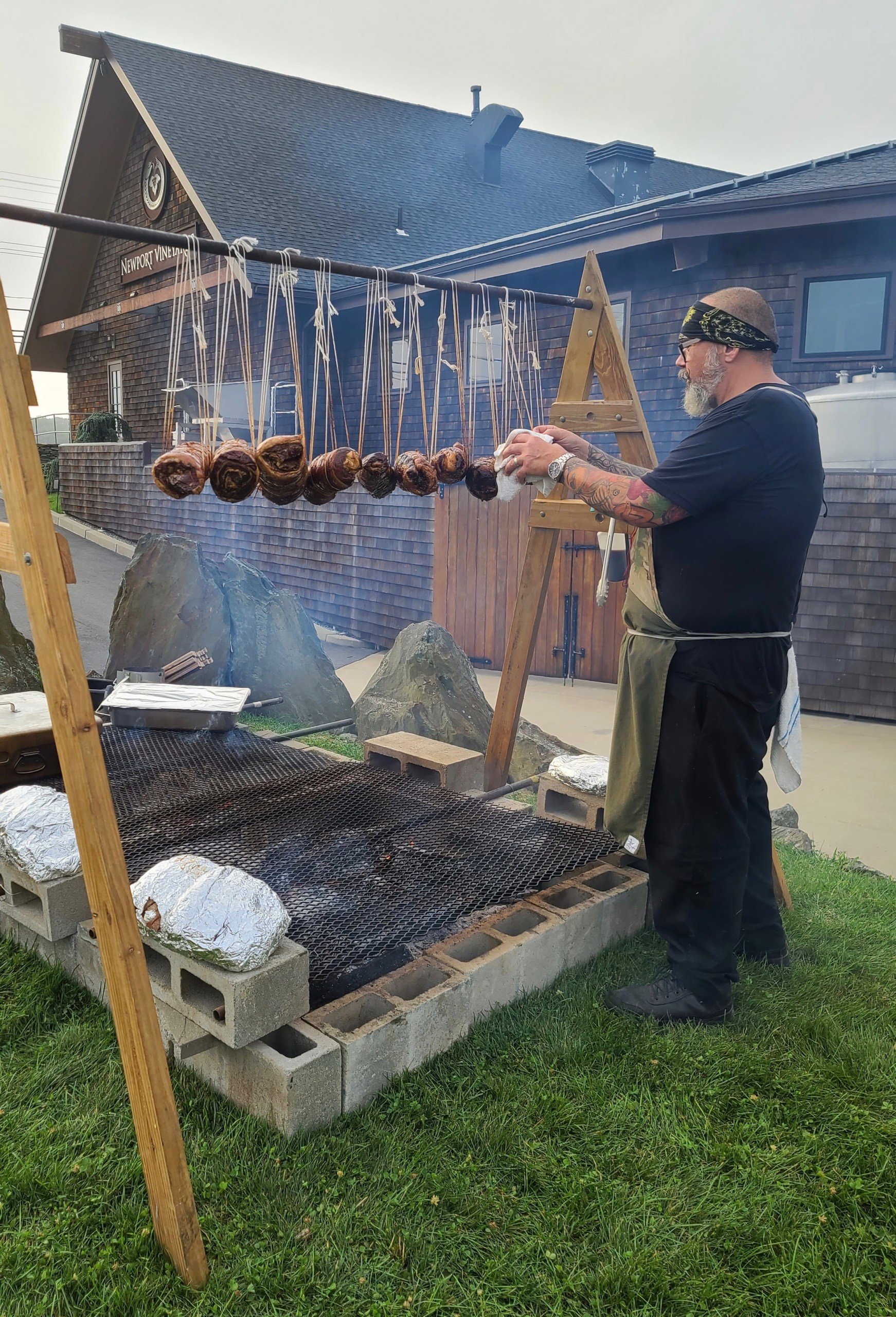 Newport Vineyards executive chef Andy Teixeira stands in front of an open fire with ten prime ribs hanging by butcher's string over the smoking pit; the flames dance below the roasts, slow-cooking the meat. Long skewers of slightly charred thresher (a species of sustainably fished shark) are grilling on the grates of the fire down below. The fish will be served Portuguese charrasco style, portioned tableside on plates by servers, right off the rods. The scent of smoke and fire-cooked beef and seafood permeates the breezy ocean air on the patio. Guests are seated at outdoor tables surrounded by vines of growing grapes, and flanked by the indoor tanks of wines that are fermenting in the vineyard's tasting room.
This is the annual Mid-Summer Fire Dinner, a special multi-course meal that the Newport Vineyards culinary and wine team looks forward to each year. The menu is planned around what is being harvested from the vineyard's farm and surrounding farms, and Teixeira makes a point to include sustainable seafood and locally raised meats in the meal. Each course is paired with wine made from grapes harvested right at the vineyard as well as some of the beer made in the on-site brewery, Taproot Brewing Co. The vineyard is located on seventy-five acres of preserved farmland on Aquidneck Island.
The wines at the vineyard are earning more accolades as Newport Vineyards' Dry Rosé recently won Best in Show at the 2021 Rosé Competition held in Ft. Lauderdale, Florida.
"I thought what kind of food am I going to make with this," says chef Teixeira. "It makes my job so much easier and it just keeps getting better."
The Rosé Competition received over 160 entries and sixteen wine judges awarded twenty-four Double Gold Medals, 34 Gold Medals, and 75 Silver Medals. During this meal, a kohlrabi salad with strawberry vinegar and blue cheese is served with Newport Vineyards sauvignon blanc.
"We picked the kohlrabi yesterday at our farm," Teixeira says. "We are a farm and not just a grape farm. We are able to grow vegetables and we do it and we have a lot of fun. We also picked the carrots for the charred carrots this morning. We fermented the strawberries with all of our strawberry trim and we made strawberry jam, so that's how we got the strawberry vinegar for the salad."
For the next course, thresher churrasco is served with In the Buff Un-oaked Chardonnay and the grilled housemade chourico is served with the on-site Taproot Brewing Co. Burnout Smoked Lager. "The thresher seems to be the most popular item of the day. I'm glad everyone enjoyed it and it opened your eyes to different species of fish instead of just swordfish, cod, haddock and salmon. Thresher shark is being caught this time of year, it's in season, it's beautiful. It's clean like swordfish," Teixeira says. "The chourico on fire was inspired by all the Portuguese restaurants I grew up going to. We made chourico this morning. We have a butcher on staff, and we break down animals. We make sausage out of all our trim."
In between the next courses, housemade chokeberry sorbet is served; the chokeberries were obtained during what Teixeira dubs "date night foraging." "When we have a date night, we go foraging because food is our life," says Teixeira with a laugh, gesturing toward his wife, who is present for the meal. "Thank you Emmy."
Teixeira also serves Bluefin tuna with charred carrots and onions, paired with the Vineyard's dry reisling, followed by prime rib with cured tomatoes and spoon bread, paired with the vineyard's Cabernet Franc. "The tuna dish was inspired by Portugal," he says. "I've never cooked tuna all the way before. I always had it seared rare and sliced. To cook it all the way like that really changed the complexity of the fish. It was really interesting the way we experimented with it."
The meal concludes with not one, but three, desserts, including a stone slab of shared sweets followed by a plated dessert of vanilla lemon thyme cake with warm lapsang cream, fire-caramelized peaches, blackberry semifreddo and bee pollen lemon thyme windows. The desserts are paired with Newport Vineyard's Vidal Ice Wine. Then comes the finale: tableside roasted s'mores. Servers walk around with open flames to allow guests to roast their own housemade marshmallows at their seats. It is a fiery end to a roaring good time.
While this Newport Vineyards Mid-Summer Fire Dinner is a one-time annual event, guests can still visit Newport Vineyards for wine tastings and a scratchmade, locally harvested farm-to-table menu on the patio and inside Taproot Brewing. newportvineyards.com
RELATED ARTICLES
Diner's Update
Wine Daytrips: Newport and Little Compton
Five Wines to Try at Newport Vineyards
>>> Don't Miss Today's BEST Amazon Deals!
Originally Appeared Here