Those who know him love him as a man with a withering look, a towering intellect and a remarkable gift for words – all of which are captured in a new biography.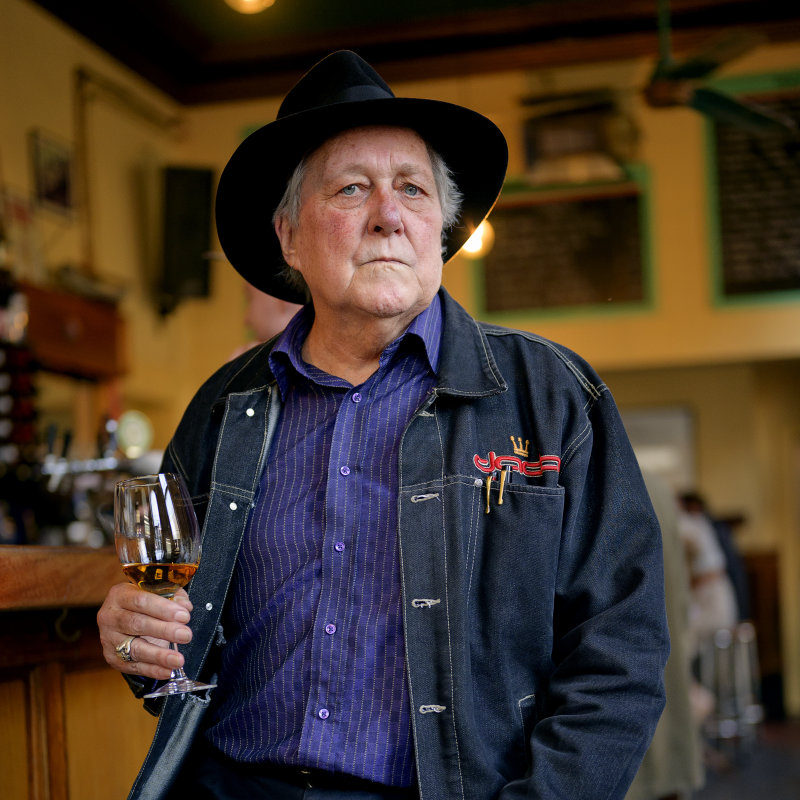 It's a late afternoon in April and I'm sitting on the verandah of an old stone cottage on the edge of a vineyard in McLaren Vale, where 66-year-old wine writer Philip White has been living for the past few years.
As jazz and blues and soul music drifts out from the living room, Whitey's doing what Whitey does better than all the rest of us booze hacks: he's using his peerless command of the English language to construct concepts in the air that make you look at your world differently.
"What Australia needs," he says, "is to calculate what its intoxication requirements are, and then work backwards from there to see how we can satisfy those requirements without stuffing up the land."
We're talking about how the Australian wine industry has, over the years, done such a godawful job of truly sustainable grape farming: sucking up precious Murray water to flog cheap grog in supermarkets on the other side of the planet. By devising this "intoxication budget", he flips the whole thing on its head, questioning the water profligacy and waste.
It's long been a bugbear of Whitey's. Along with his scowling contempt for how industry leaders have destroyed much of Australia's viticultural heritage in the pursuit of profit; how the state-sponsored vine-pull scheme of the mid-1980s was a thinly disguised attempt by the big wineries to – as he wrote at the time – "clean out the Barossa's peasant-scale patchwork of old vineyards, limit the number of growers, and remodel viticulture to make it more consistently, industrially samey".
The year is 2019, and I've been meaning to do this for a long time. Just sit and yarn and share a drink or two with him, without wine company PR people hovering in the background.
I first came across Whitey at tastings in the 1990s when I was a new kid on the wine block, and he was the fearsome, long-time critic at The Advertiser. Like many others, I was intimidated by his piercing blue eyes, intellect and his outlaw image – the skull earrings, cowboy boots, black hat and frequent cry-cackle laughter.
But I was absolutely sucked into his writing. He puts words together like none of us can: there's more inventiveness, colour, richness and originality in his paragraphs on plonk than anyone else's.
Also, we share interests and passions: vintage stringed instruments (we both own mandolins made in the 1920s); poetry (mine infrequent, timid and private; his bold, fearless and very public); synaesthesia (a lifelong reality for him, an abiding curiosity for me).
But, to be blunt, what finally took me to Whitey's verandah in April 2019 was the fact it could have been the last chance I got.
In November 2018, Philip White went for tests on a hernia and came away with a diagnosis of cancer. He was riddled with it, and it was moving aggressively through his lower body. He was given six weeks to live. Thanks to a team of incredible doctors, an army of supportive friends and some unstoppable life force inside him, he failed to meet the six-week deadline. Now, 2½ years later, he is still very much with us.
When I saw him the April after the diagnosis, he was deep in the woozy weeds of chemo and hormone therapy, shovelling sacks of drugs, in pain and full of sickness. I nursed a glass of red; he was on a home-brew of medicinal herbs steeped in vodka. His fingernails were in such pain he couldn't bear to touch a fret board. So, I tuned his old Washburn and played some old-timey tunes for him.
Two years ago, I wasn't the only one sitting down to talk about life with Whitey. Veteran Adelaide journalist Robert Brechin was busy writing a biography, trawling through his past, interviewing friends and colleagues. Last month, that biography, Blood on the Typewriter: The World of Philip White, was published by Wakefield Press.
And what a world. The son of an old-school street preacher, Whitey leapt into music, geology, film and the artistic community of Adelaide in the 1970s before settling on wine as the lens through which to observe the world and project it back on itself.
As Brechin writes: "He has led a life that could be a film. Tension and drama aplenty. Romance. Adventure. Risk-taking. A man who cannot be held by speed limits. He has a beguiling way of sucking you into his orbit, be you Leonard Cohen, Paul Kelly, Tubby Justice, Lowell George of Little Feat. Maynard Keenan of Tool. Don Dunstan. David Gulpilil. Max Schubert. Peter Lehmann."
I didn't envy Brechin his task. Phillip can be scathing with his friends, let alone his enemies. Sometimes I find him almost as intimidating now as I did 25 years ago. He's taken issue with me at times, publicly, in his writing. Halfway through our verandah chat, I made the mistake of heading down a conversational path that wasn't to his liking. "This is getting really f—in' boring, sunshine," he said. "Get your own ideas."
But for every growling snap, I've learnt there's an abundance of open-hearted generosity.
"In the beginning I had an enormous fear of him," artist George Grainger Aldridge told Brechin. "Yet now I feel nothing but a great love and affection for him. He takes me where I've never been before; he has this intriguing accuracy and detail about the ground he stands on … He moves across the planet and civilisation with such wonderful insight."
There's a photograph in the book of White as a toddler perched high on the shoulders of his grandfather, striding through the ferns in the Strzelecki Ranges in Gippsland, Victoria, where he was born in the 1950s. Whitey has written with rich, visceral beauty about this time, about the sights and sounds and smells of that early life, how it formed his fascination with flavour, trained him to observe the world acutely.
It's this side of him, immersed in the sensual world, vision imbued with tenderness and vulnerability, that is at the heart of Brechin's biography, and was on raw display at the standing-room-only launch of the book at the Exeter Hotel in Adelaide last month.
Whitey held court at the Exeter for years in the '80s and '90s, declaiming and rocking on his sharp cowboy heels in the front bar, surrounded by other regulars and a steady stream of acolytes.
"When he built up a bit of verbal steam," writes Brechin, "when he floated into a zone, he could be mesmerising. An orator. Voice rising and falling in a deliberate, theatrical way. The boy who did his pastor father's bidding and preached the Old Testament on the main street of Murray Bridge had become the man who parlayed that fire and brimstone into inspirational, free-form discourse."
At the Exeter last month, other speakers captured some of that raucous spirit in their affectionate appraisals of Whitey. But when it was his turn to speak, he walked slowly to the microphone and spoke slowly, deliberately, holding back tears.
"I'm a bit overwhelmed by this, because I never expected to be here," he said. "I've had a couple of real bad years, so this is an incredible event for me. It's bigger than I can comprehend."
He spoke with raw emotion about how he'd promised to help Brechin write the book of his "really big life" back in 2018, and how cancer got in the way, and how instead he had to focus every vibration in his body on trying to stay alive.
But then the steely blue eyes narrowed under that big black hat, and the voice dropped a tone or two. "I have to tell you," he said, "I've been literally dying to read this book."
A beat, to let the laughter subside. Then a sly smile.
"And I'm ready to forgive those of you who made comments about me imagining I'd never live to read them."
He brought the house down.
NEED TO KNOW
Blood on the Typewriter, the World of Philip White by Robbie Brechin is published by Wakefield Press ($34.95)
Introducing your
Newsfeed
Follow the topics, people and companies that matter to you.
Read More

Max AllenDrinks columnistMax Allen is The Australian Financial Review's drinks columnist. He is an award-winning journalist and author who has written about wine and drinks for close to 25 years. Connect with Max on Twitter. Email Max at max@maxallen.com.au