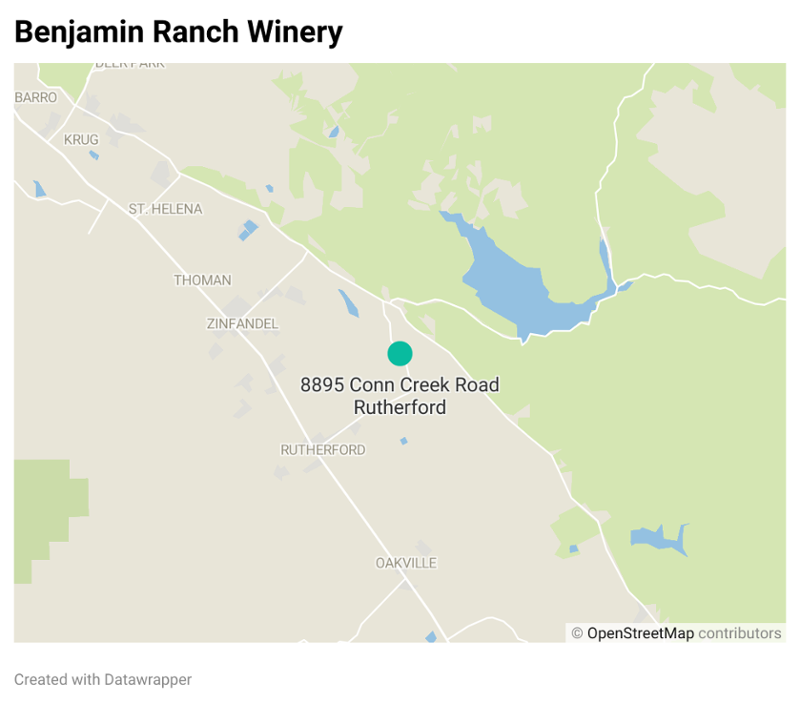 The Napa County Planning Commission recently approved the construction of a new 475,000-gallon winery on the Napa Valley floor in Rutherford.
Frank Family Vineyards LLC proposed to build the future Benjamin Ranch Winery on an 81-acre site off Conn Creek Road in order to consolidate its wine production.  The Frank family plans to continue to operate its winery on Larkmead Lane near Calistoga.
About 5.1 acres of vineyards will have to be removed for the development of Benjamin Ranch Winery, which entails the construction of an 87,400 sq ft. winery/tasting room. An existing barn will be relocated to make room for the production facility.
Owners Leslie and Rich Frank asked to have 150 visitors Monday through Wednesday and 300 visitors Thursday through Sunday; nine marketing events a year for up to 150 guests.
Their attorney, Scott Greenwood-Meinert said the existing winery on Larkmead Road can only produce 40,000 cases a year and is maxed out. The Frank family, which continues to increase grape production on its vineyards and under long-term contracts, has crushed grapes in various locations, including Domaine Carneros, Cuvaison and Whiskey River Ranch Winery in Pope Valley.
On May 19, the Planning Commission approved the Benjamin Ranch Winery proposal with a 3-2 vote.
Commissioner Dave Whitmer was among the commissioners who supported the proposal which was initially considered in September.
Whitmer noted the new winery would allow the consolidation of the Frank family's winemaking operations.
What we're about here is creating the best wine we can and that happens when it's under the control of the winemaker from start to the end of the process and there is an opportunity to control it in a way that this project makes sense to me."
Planning Commission Chairman Andrew Mazotti also supported the proposal.
"If you're going to move somewhere where wineries can be built, you have to expect that some wineries might be built," he said. "Vineyards are not free landscaping. There is a business behind them."
However, commissioners Joelle Gallagher and Anne Cottrell voted against the project. Their concerns included the scale of the project.
Cyril Chappellet, president and CEO at Chappellet, was among the project's supporters who urged the Planning Commission to approve the winery. "The proposed winery facility is on a large flat property with sufficient water, very good distancing from the few homes in the area and will be barely visible from the Rutherford Cross Road," he wrote.
Darioush Khaledi, owner of Darioush, noted the Franks' four vineyards and winery are green certified. Rich and Leslie Frank have grown grapes and produced wine in the Napa Valley for 27 years, he wrote. "They are great stewards of the land and extremely charitable citizens in our community."
Another vintner, Carmen Policy, of Five Vines LLC, said the proposed winery is the type of project the supervisors support for the Agricultural Preserve.
Neighbors strongly questioned the size of the project, citing traffic and other environmental concerns. They asked the Planning Commission to reconsider or reject the proposal.
Judith Crichton, of Rutherford, urged the Planning Commission to deny the project, saying it is better suited for a "corporate park."
"Plunking a Costco-size building, 94 parking spaces and a commercial two-lane road into one of the last pristine swaths of vineyard in the (Agricultural) Preserve is unconscionable," said Crichton, who cited the scale and the traffic concerns.
"Napa Valley is over-saturated and being destroyed," Crichton said.
Michael Honig, president at Honig Vineyard and Winery on Rutherford Road, asked the Planning Commission to postpone the hearing for 90 days so the parties could study the project. His cited the need to review the project's impact on traffic, water, noise, soil contamination, waste disposal. His attorney, Amy Minteer, asked for an in-depth environmental evaluation of the proposal — an Environmental Impact Report.
Like Honig, Diane Wilsey, of Rutherford River Ranch, said the Planning Commission should postpone the hearing.
"Given its size and location, I am really surprised there has not been more consideration given to the implications of the proposal. As currently proposed, the project is out of character for Rutherford and the surrounding community of which I am a part," Wilsey said.
Long-time Conn Creek Road residents James and Barbara Fetherston also asked for a delay and an Environmental Impact Report.
They cited their experience with the winery Caymus Vineyards on Conn Creek Road. In 2013, Caymus agreed to pay $1 million to Napa County which had alleged the winey was overproducing.
"It took years for the County to work out an agreement with Caymus. And for years the neighbors suffered the consequences of unmitigated impacts from a winery that was over producing wine, entertaining too many visitors and running a 24/7 truck stop, year round," Barbara Fetherston wrote. "We do not want to see that happen again so we are being vigilant with regards to the plans for (Benjamin Ranch Winery)."
Before the vote, Greenwood-Meinert told that Planning Commission that given the recent fires, "any development in our hills going forward will face steep regulatory and expense climbs."
This will cause, the attorney said, "a re-focus on the ag preserve and exacerbate an already existing need for more production capacity in Napa County."
"Significant wineries already truck wine out of Napa Valley in large amounts because of the lack of production capacity," Greenwood-Meinert said.
The project, he said, "frees up needed production space for others in already existing facilities"
"Napa Valley wasn't built on boutique wineries and mansions on prime agricultural soils. It's just become that place. I'm not condemning those wineries. I'm not condemning those mansions. But it is undeniable that they are not as efficient or as an effective use of agriculture as this project is," Greenwood-Meinert said.
Honig expects last week's vote to be appealed. "There is a large number of people and groups that oppose this project. I can't imagine someone will not appeal this decision," Honig said Saturday.