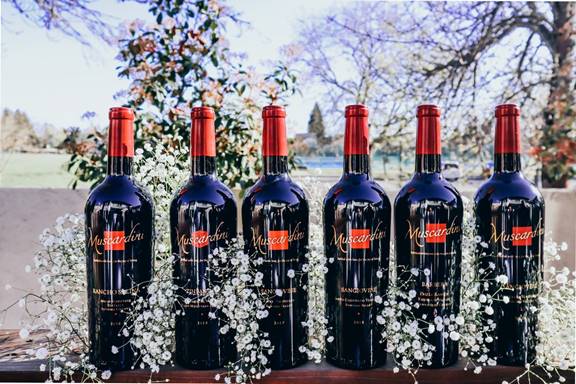 KENWOOD, CA (March 22, 2021) – Michael Muscardini is pleased to announce the Spring Release Weekends happening at Muscardini Cellars on Friday, April 9-Sunday, April 11 and Friday, April 16-Sunday, April 18. The release weekends will feature a flight of new wines each paired with a unique small bite. Wine Club Director and Food+Wine Pairing Specialist, Karen Hannah, has worked with owner and winemaker Michael Muscardini to develop an Italian-inspired menu that features both classic and unique Italian pairings to accompany Muscardini Cellars new Italian releases. The release weekend tasting flight and food pairings is $35 for general public and $15 for wine club members. Reservations are required. Reservations can be made by calling (707) 933-9305 or emailing info@muscardinicellars.com. 
The menu includes herbed goat cheese bruschetta, prosciutto and melon salad, and Italian-style gumbo. Wines being featured during the Spring Release Weekends include: 2019 Rosato di Sangiovese (Santo Giordano Vineyards), 2017 Sangiovese (Alice's Vineyard), 2018 Sangiovese (Alpicella Vineyards), 2018 Sangiovese (Santo Giordano Vineyards), 2018 Barbera (Pauli Ranch Vineyards) and 2018 Zinfandel (Los Chamizal Vineyards, Moon Mountain).
As a second generation Italian-American, Michael Muscardini has called the Bay Area home throughout his life. After receiving an undergraduate degree in art from California College of the Arts, he spent nearly three decades designing and building homes. Michael now makes his mark in Sonoma Valley with unique wines, focusing on Sangiovese, Barbera, and his proprietary Super-Tuscan style blend, Tesoro. Paying homage to his family roots on both sides of his family who hail from Tuscany and Piemonte, Michael has become a maverick in Italian winemaking in California. Michael seeks out growers in Sonoma County and beyond for their organic or sustainably grown grapes, building the Muscardini label into a world-class winery located in the heart of Sonoma Valley.
Muscardini Cellars is doing their part to maintain a safe environment for your visit. Please be sure to wear a face covering, practice social distancing, and wash hands during the visit. Hand sanitizer is located around the property. Muscardini Cellars currently requires all guests to make reservations. Same-day reservations will be accepted if there is availability. All reservations will be taken on a first-come, first-serve basis. Please call directly to (707) 933-9305 or email at info@muscardinicellars.com to make a reservation.
About Muscardini Cellars
Proprietor Michael Muscardini has been a maverick winemaker in Sonoma Valley for 15 years. Michael Muscardini is making just 5,000 cases a year of mostly classic Italian reds as well as robust blends and Cabernet Sauvignon. He is one of the winemakers that has been leading the way in the revival of Sangiovese and Barbera wines in Sonoma since 2005.  Michael's deep community ties and warm relationships with local growers enables him to source some of the best fruit for his wines from some of the most unique vineyards in the county and beyond. Muscardini Cellars graces Sonoma Valley's (Valley of the Moon) Monte Terra with its estate grape vines, family home and barrel room. The Kenwood tasting room is located at 9380 Sonoma Highway and can be reached by calling (707) 933-9305.