Wine is an art in France. And a business. Considering its dual nature, perhaps there was no one better to revolutionize both aspects of the French wine industry than a Rothschild. One from a family that has been entwined for centuries in Europe's money and its art, as patrons and creators.
Nowadays, to the extent that he is remembered at all in the Anglophone world, Baron Philippe de Rothschild is remembered as a race car driver or the husband of style icon Pauline. However, the Baron was also a poet, film and theatre producer, playwright, translator, and vigneron of almost unparalleled success.
Château Mouton Rothschild, a wine estate located in Pauillac, southwestern France, has been in the Rothschild family since 1853, when it was purchased by Nathaniel de Rothschild and renamed from Château Brane-Mouton. Nathaniel was actually an English, not a French, Rothschild, though he spent the majority of his life residing and working in the country with the French branch of the family, and Phillipe believed that this is why the vineyard was denied Premier Cru status despite meeting the price standard. (The Bordeaux Wine Official Classification of 1855 was based on each château's trade price and reputation, which at the time was closely related to the quality of the wine that it produced. Even in the face of significant criticism, the classification list remains in force today). Despite Nathaniel's love of it, Château Mouton Rothschild little interested James Mayer de Rothschild, the heir, or his son Henri.
WWI was what saved the estate from another generation of neglect. Phillipe was sent from Paris to live there in 1914, when he was twelve, by his father, who was intent to keep his youngest son as far away from the fighting as possible. During his years in Pauillac, Phillipe fell in love with both the countryside and the vineyards. Only eight years after he was first sent there, Phillipe took full control of Château Mouton Rothschild. Showing typical flair and creative intelligence, he decided to take a path with the 1924 harvest unheard of among French vignerons. General practice was to sell the wine (really casks of semi-fermented grape juice and whatever additives producers might have seen fit to add) directly to merchants, and for them to allow it to mature and bottle, label, and market the final product. While the château would probably keep its hands on a portion to do this to itself, either for in house consumption or small scale sale, it sometimes led to wild variations in quality and end result from the same winery's grapes.
Phillipe, instead, kept the entirety of the '24 stock, and set up a production process. From then on, the shrewd future Baron surmised, Mouton Rothschild would be regarded as a brand, with consistent quality among its years. Premier Cru producers quickly began to follow suit. Rather than waste grapes that did not meet his high standards, or risk lowering the quality of the house wines, he created a separate brand in 1932 under which to make and sell a second-string vintage. Mouton Cadet, the result of that venture, is the most sold red wine in the world.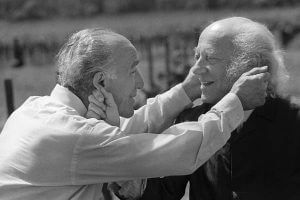 In 1940, Château Mouton Rothschild was seized by Phillipe Pétain's Vichy government, and Phillipe de Rothschild's French citizenship was revoked. Upon his release in 1941, he escaped to London to join de Gaulle's Free French Forces. By the time he finished his service in 1945, he had earned a Croix de Guerre, but lost his wife, Élisabeth de Chambure. The two were separated, estranged in a passionate and tempestuous marriage by the death of their son Charles Henri shortly after his birth in 1938. Phillipe was struck by the bitter irony that the only member of the most famous Jewish family in the world was a Catholic who converted to Judaism a few months before her wedding, and haunted by imagining how she might have suffered, and died, in Ravensbrück concentration camp. Despite their separation, he was still deeply in love with his wife, and turned to repairing the vineyard, damaged by German occupation, to soothe his grief.
The château took in a 1945 harvest, and returned to production in the early 1950s. Despite his joy in reviving the château, though, Phillipe was still greatly angered by the fact that their wine remained under the 1855 Deuxièmes Crus designation, something which even some contemporaries of the original list thought smacked of anti-Semitism. Considering the price his wines sold at, and its international reputation, the Baron's upset was justified. He launched a one-man crusade to have his château's designation made Premier Cru. Finally, after decades of lobbying, Georges Pompidou's government changed it to First Growth status in 1973. (Pompidou began working at Rothschild & Co in 1953, and only left in 1962 to serve as de Gaulle's prime minister, having achieved the status of general manager). It was the first time, with the exception of the 1856 addition of Macau's Château Cantemerl to Premier Cru, that the Official Classification was changed.
The winery's motto was Premier ne puis, second ne daigne, Mouton suis ("First, I cannot be. Second, I do not deign to be. Mouton I am."), and that same year it was changed to Premier je suis, Second je fus, Mouton ne change ("First, I am. Second, I used to be. Mouton does not change.") During the Baron's lifetime, the winery continued to grow, and even add vineyards, while he worked with Robert Mondavi in the 1980s to form the Opus One Winery in Oakville, California. He died in January of 1988, at the age of 85, still fully engaged with the business he had helped to become a world leader.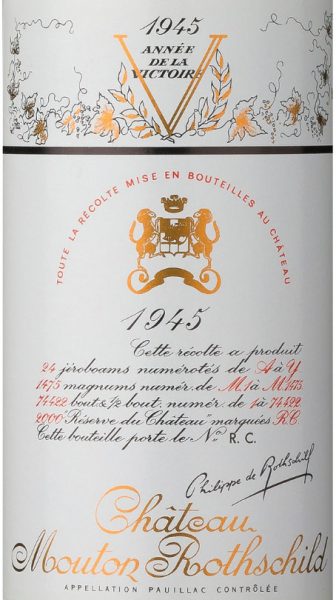 However, I think the beauty of Phillipe's chapter in the story of Château Mouton Rothschild goes beyond his dazzling display of the family's typical acute business acumen, and talent for innovation. Phillipe saw the intersection between art and capitalism, and represented that in a charming, creative way. In 1924, the future Baron commissioned Jean Carlu, a well-known poster designer, to create a label for that year's vintage. Every year since 1945, a famous, or up and coming (and Phillipe could certainly spot them), artist has designed the grand vin's label. Among the Rothschild alumni are Henry Moore, Marc Chagall, Pablo Picasso, Andy Warhol, Francis Bacon, Salvador Dalí, Lucian Freud, César, Jeff Koons, David Hockney, the Prince of Wales (Charles), and Pierre Soulages.
Naturally, Phillipe meant for the high quality, exclusivity, and excellence, of his product to be reflected even in the art that adorned the bottle. From day one he showed clearly that he understood the power of a brand. But Phillipe was not only a consummate businessman, he was an artist in his own right. The beauty of the wine as an art form and a craft was meant to be reflected in the labels. Likewise, the labels represented his creation's existence as part of a high culture, one which encompassed the best of enduring literature, food, cinema, music, and art. A rich man who bought the wine might learn something of that culture, and be drawn to patronize it with his wealth, or an artist that saw the bottles could begin to understand how his art might enter a world beyond galleries and museums. As much as anything, the labels represent an effort and an act of mutual understanding, a celebration of the profundity and connectedness of human creativity in all fields, whether the end result was a painted canvas or a bottle full of Bordeaux.
Phillipe's message is especially wonderful when one stops to consider the history of his family. Before the advent of early modern capitalism, the vast majority of art was in the hands of kings, princes, lords, and abbots. Artists worked at the pleasure of their patrons, and mostly produced what those patrons desired. We hear much nowadays about how art was stifled by capitalism, and while quite a bit of beautiful art was produced in the early middle ages, it was capitalism that really helped to set it free. As bills of exchange and long-distance trade started to build a merchant, and from there a middle, class, the market for potential buyers exploded. Artists certainly still had patrons, but they could also create works in line with their own brilliances, and sell them to a much wider potential clientele. The Rothschilds first arrived on the European economic scene in 1567, one of the heights of early modern capitalism, and helped to build the banking and financial world as we know it today. They assisted in creating and sustaining the market which grew a freer, more innovative art world.
It seems fitting that more than three centuries later, one of the family's greatest descendants would so perfectly encapsulate the idea of capitalism as a thing of beauty.
Published in General