Jan 18: Gurgaon is fast becoming wine retail capital of North India, after the failed experiment of monopoly in Haryana in 2017-2019, and quasi-monopoly in 2019-2020, opening up the market and touching lives of the residents with modern retail, thanks to a lacklustre policy in the adjoining Delhi. GTown Wines in Sector 40 is the biggest liquor store in North India which caught the fancy of Subhash Arora who visited it and believes the female friendly store is a boon for women and all wine and spirits drinkers though the focus is currently more on spirits but wine getting increasing traction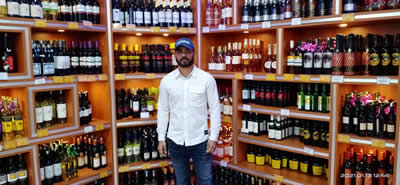 Modern Retail might have been started by Spencers in Gurgaon, but the exclusive wine and liquor store was first opened as GTown in Sector 40 by Arun Malik a couple of years ago. He is the young lad of 25 years, whose father has a well-established, roaring business of liquor wholesaling and retailing in Haryana, UP and even HP with 300 stores under his belt. The family had a license under the name of Jagdish Wines at this location but Arun has single-handedly taken it to present day heights, making it the biggest supermarket in North India. GTown Wines with several branches in Gurgaon, has 8000 sq. feet of customer area with another 20,000 sq. feet dedicated as the warehouse, says Arun.
Also Read: Haryana allows wines sales through department stores
No prizes for guessing the origin of the name GTown Wines. 'Wine' has the same connotation 73 years after the British left India. A majority of its business is liquor. In fact, Arun's father is a hard-core, big liquor merchant who was not keen on the wine business but his millennial son is passionate about wines and took a big step of adding wines to the portfolio. He apportions significant space, time and funds to promote wine and says, 'I would love to add hundreds of more wine labels next year. We have taken only baby steps. I want to promote it even in Tier 2 and Tier 3 towns aggressively.'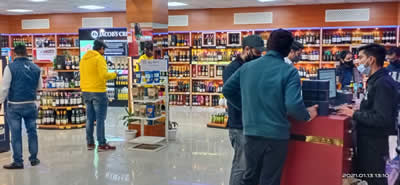 One cannot find fault with his ambitious dreams. 'As we have liquor stores in Chandigarh Panchkula, Rohtak, Sonipat, Panipat, Rewari, Narnaul and Gurgaon in Haryana and in UP-Noida, Ghaziabad, Agra Meerut, Saharanpur and even Una in Himachal Pradesh, we can promote wine in all our retail vends under modernisation, 'says Arun with a twinkle in his eyes. 
One could argue who pioneered the Modern Retail liquor store in Gurgaon (Spencers, maybe?). But GTown claims to be the first Female Friendly Liquor Store Chain in GTown. Ample parking space and valet parking makes it easy for women to walk into the store- and directly to the exclusive section at the back where most imported and Indian wines and imported liquor bottles are stacked, with its own billing system. Otherwise, there are 12 billing clerks in the main section for the computerised billing. In case you are wondering, Gurgaon has been notorious for not issuing receipts in the past. On a purchase of Rs.2000 women are also offered a free gift (check with the store manager for details).
I chatted with a female customer about her shopping experience as she stood in the check-out line. She had 12 bottles of Absolut Vodka, a few bottles of whisky and a couple of bottles of Jacobs Creek in her cart. She told me the liquor was for friends and she was a wine drinker and the 2 bottles of Jacobs Creek at Rs. 1000 each were for herself. But she was not aware of the promotion for single women. One would like to see this welcome displayed at a prominent position in the store and not only outside on the main signage.
Also Read: New Haryana Excise moves from Monopoly to Oligopoly
Attractive Pricing
One of the reasons why she was carrying so many bottles was perhaps because there are special rates for 3,6 or 12 bottles on most labels- details are already fed in the computer software. One could negotiate further if the quantity is higher. I noticed Old Monk Rum displayed at Rs. 350 each but Rs. 950 for 3 bottles.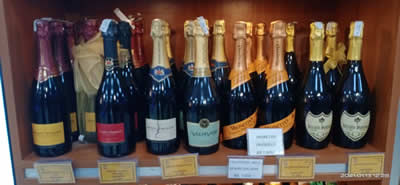 There are several imported wines selling at very attractive prices. Imagine Moet and Chandon Brut Champagne at Rs. 4500 (compared to Rs. 5900 for Veuve Clicquot Ponsardin Brut). Or the delicious Bernard Massard Selection Brut from Luxembourg for Rs. 2200 (it sells for Rs. 3500 in Delhi when available, as Amit Agarwal of Hema Connoisseur, the importer tells me).
There is a wide range of quaffable imported wines for under Rs.1200. How can you go wrong with all variants of Jacobs Creek at Rs. 1000 each?! Or Emiliana at Rs. 850 and Danzante Pinot Grigio/ Merlot at Rs. 1250? Or the Australian Black Label from McGuigan for Rs. 1200? San Simone Rose Spumante at Rs. 1300 seems to be a good deal.
Indian wines are also priced well. Sula Brut Tropicale at Rs. 1000 (!), Sula Brut at Rs. 850, Sula Dindori at Rs. 800, Grover La Reserve (Rs. 950), Vijay Amritraj R and W at Rs. 1100, Fratelli Chardonnay/Sauvignon Blanc at Rs. 800 and Chandon Rose Brut at Rs. 1300 are a few examples. If you want to scrap the bottom of the barrel, there is Senorita from Chile and Fishing Cat at Rs. 850 each. So was the French Camas Red wines at Rs. 800 earlier but the prices seem to have been increased recently to Rs. 1000.  All these prices are taken from the Price List displayed in the store.  
Also Read: Monopolistic Haryana Excise Liquor Policy for 2017-18
All bubblies are not Champagne
I noticed that every sparkling wine at G Town (I visited 2 stores) is classified as Champagne. I explained to Arun that it was a GI product and could not be flashed casually. He says most customers don't know the difference. Reminded me of the wedding of a friend's daughter where I helped him procure Carpene Malvolti Brut Prosecco (my personal favourite -imported by Aspri Spirits and Wines).
The guests loved it saying, 'ye dil maange more Champagne' organised at multiple counters. After numerous failed attempts to tell them it was Prosecco and not Champagne, I gave up and let them enjoy this 'Champagne' as much as I do. But I still don't think it fair calling every sparkling wine a Champagne (for the uninitiated, champagne is made only in Champagne, France under very strict rules by a trade-marked process called Méthode Champenoise).  
Spirits are equally priced very competitively. Red Label for Rs. 1000 (in new red bottle), Black label/Chivas at Rs. 2150, Or Grey Goose Vodka (750 mL) at Rs. 2500. There are additional quantity discounts on most wines, spirits and beers. Interestingly, a bottle of chilled Corona sells for around Rs. 100 a pint only, Arun tells me. Buy a case of chilled beer and you are ready to party, as it is stored in their exclusive chilled beer and white wine storage room.
Offers on wine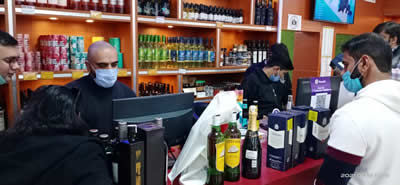 On top of excellent prices on a majority of wines, GTown conducts offers regularly. While Arun promised me a sale very soon (I suggested a 3-day Republic Day Sale would be a great gesture-it's a Dry Day but why not enjoy our National Day in the privacy of our homes!). The remnants of their New Year Sales are still visible on several bottles. This Sale had offers of Altazano (Spain) at Rs. 600, Australian Black Label White wine (Rs. 700), Emiliana White (Rs. 600), Scanavino Gavi docg (Rs. 1900). For future Offers, watch out for this space. It is a pity that the most expensive wine is Dom Perignon at Rs. 16,000. 'My clientele is more of whisky drinking and does not like to spend much on wines.  Hopefully, his future offers will include premium wine as well.
Also Read: RETAIL: The Liquor Warehouse (TLW) in Gurgaon with excellent Potential
 GTown has multiple locations- I visited 2 and found the Sec-40 (earlier known as Jagdish Wines L-1) to be THE go-to place for all wine and spirits lovers. It may be reached by taking the Sec 31 exit on NH-8 from Delhi. After about a km you see a red board showing Jagdish Wine L-1 on your right. You need to take a U-turn and take a left turn at this spot- you hit the Store after about 100 m.
Stores like GTown have shown that despite the crazy import duty of 150%, a good excise policy can be used to promote business and can be a boon to a customer. One hopes Delhi amends its duty structure, reducing the registration charges and making MRP only a guideline for the maximum price. It will help many more brands enter the market- a boon for the consumers with parched throats and the possibility of recovering much higher tax revenue. 
Subhash Arora
GTown is likely to tempt you to buy more wines/liquor because of attractive prices and ambience and we advise our readers to buy as much as they like on a single trip but please drink in moderation. Remember, even if it feels like it is being doled out free, your lever, heart and kidneys are yours to watch. And please never drive after drinking (rule of thumb- 2 glasses of wine (125 mL) of 13% alcohol and drinking slowly with food). I am a great proponent of drinking wine- in-moderation and proving to the government and policymakers wrong about ill effects of alcohol, particularly wine-editor)