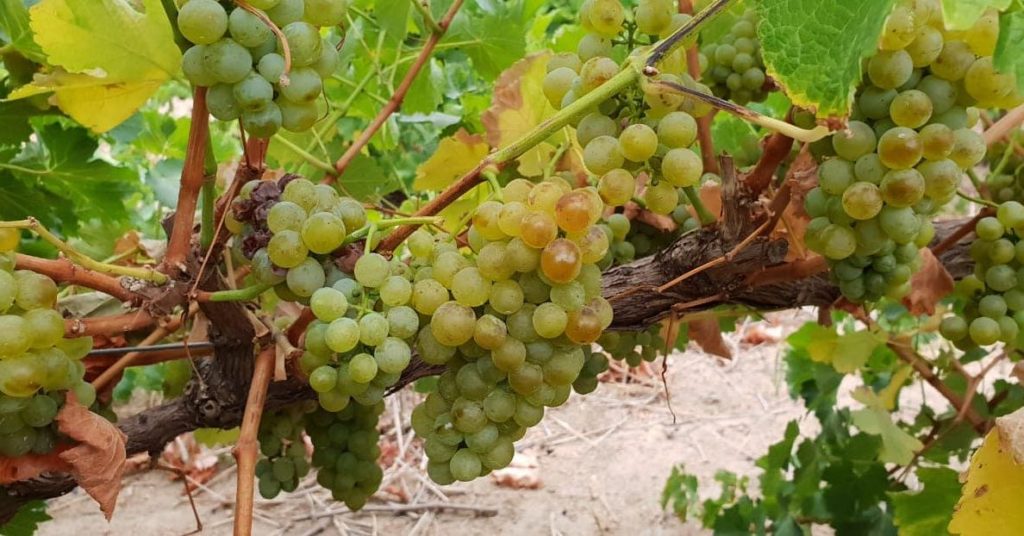 "Until Easter," Mr Salie said. The cut-off for the last late-harvest bunches of the Constantia real McCoy. It was February and the Cape was just into the 2021 crush (as the Americans call it) and the annual joy of crushy, sweet hanepoot grapes were being sold at Mr Salie's kiosk near Peddlars-on-the-Bend.
A Constantia late-summer institution, the past year or three has been the last of these roadside seasonal slap-up stalls which sold the exquisite ripe grapes from the surrounding vineyards. Previously there were more, but this is the way things go. What makes the little informal afdakkie special is what it signals: old-style grapes, rich in local heritage, destined for the table, harvested by the workers, sold for their needs, while the rest of the previous old Constantia vineyards are carefully cultivated for high-end sauvignon, cabernet and the rest.
Hanepoot, a colourful, old colloquial appellation which may or may not refer to a cock's testicles, couldn't sound more of a cheerful send-up of the poncy official (colonial?) name for the grape as muscat d'Alexandrie. Indeed. From the great sophisticated ancient city of erudition and culture in the north to the humble coast of the tip of the continent. Most local vinous historians agree it came along with the first varieties. Yes, the colonial invasion of the glorious 'weed' (as a famous viticulturist once called the vine.)
Muscat, as those viti-experts confirm, comes in many variations, historically named and linked to special places. In contrast to Alexandria, there is Frontignac (só French sounding!) from which the famous Constantias of yonks were made and today's fine muscadels, and also muscats of Alsace, Hamburg, Asti, etc. And the even more smartly French-intoned muscat blanc à petites grains ronds, "the oldest and noblest variety" according to Jancis Robinson.       
Adam Mason, then winemaker at Klein Constantia, once told me he thought the hanepoot from Constantia had become endemic, explaining the sometimes reddish tinge of the skins. Whether true or not, it makes a nice story. (And those roadside grapes of the season just passed, certainly tastes uniquely local.)
Of all the muscat grapes, hanepoot is probably the most fragrant and pronounced in taste. You can't not recognise it. It is what is offhandedly classified as 'table grapes'. (Widely sold until supermarkets decided consumers don't like grape pips despite their health benefits.) While relatively easy and happy to be cultivated, hanepoot is challenging to winemakers because of that outspoken character. Classic muscadel and jeripigo can be made, yes, but even Frontignan and Hamburg are better choices for a touch of sophistication.
So hail to those South African winemakers who have and take up the hanepoot wine talent test. The link to locality and history is a vital aspect in this. And so to these stories:
Gavin Bruwer Slabbert and Bruwer Raats, vinous cousins with a sense of adventure if not alternativeness, have an outfit they boldly call the B Vintners Vine Exploration Company. And in their cellar they have faced hanepoot head-on, resulting in two white wines that can unashamedly claim a Cape-ness no other has.
B Vintners De Alexandria is a bright wine, crisply dry, that plays tricks with your perception. It is 100 percent hanepoot. The muscat fragrance morphs into gentle rose water and spice and conjures up Eastern exotica.
The B Vintner's adventurously named Haarlem to Hope is a full-blown ode to the Cape's old vineyards. A magician's blend of chenin blanc ('steen'), Semillon ('groendruif'); muscats d' Frontignan and d' Alexandrie ('hanepoot') – old varieties of wine grapes that those colonial Dutch brought from Haarlem (misspelled in the Platter guide, which awarded the wine five stars!) or such to the Cape of Good Hope.  Drink that, you culture vultures!
The challenge of a dry 'table wine' made from hanepoot has intrigued wine people like Beaumont's Sebastian Beaumont and Mulderbosch's Henry Kotzé, who made one for Akkura in the style of Sicily's Zibibbo di Pantelleria.
Meanwhile a last bunch of late-harvested hanepoot did bring some joy this past Easter.
Melvyn Minnaar has written about art and wine for various local and international publications over the years. The creativity that underpins these subjects is an enduring personal passion. He has served on a few "cultural committees".
Help us out. If you'd like to show a little love for independent media, we'd greatly appreciate it. To make a financial contribution, click here. Invoice available upon request – contact info@winemag.co.za