Madonna winery resolves permit issues with Napa County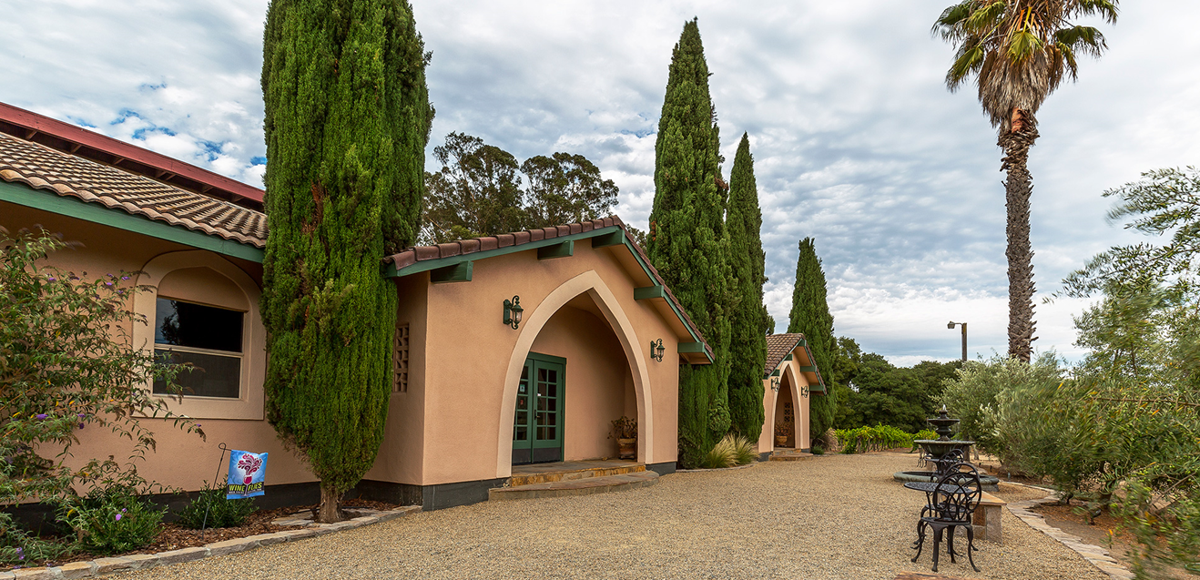 Madonna Estate Winery in the Carneros region can continue serving up to 54,000 visitors annually, but from this point on with Napa County's blessings.
The winery is the latest to step forward voluntarily to resolve use permit issues under the county's code compliance program. That meant going through a Planning Commission hearing on Wednesday.
Madonna winery since 1989 has had county approval to serve 26,000 visitors annually, but was seeing double that amount, county reports said. The commission changed the permit to accommodate the higher number.
Support local news coverage and the people who report it by subscribing to the Napa Valley Register.
A selling point to commissioners — about 90% of the visitors arrive by bus or shuttle.
"I think it's also important to acknowledge that's a business model we don't see a lot," Commissioner Anne Cottrell said. "And it really helps address traffic issues in the valley."
Madonna winery is located on 4.4 acres at 5400 Old Sonoma Road. It is along Highway 12, the main road linking southern Napa County with southern Sonoma County.
"I can assure you we will do our best to make the valley proud as the second-oldest wine-making family still producing wine today in the Napa Valley," Taylor Bartolucci of the winery told commissioners.
In 1913, her great-grandfather Andrea Bartolucci took a chance, boarded a boat, and left Italy for Napa Valley, she said.
"Because somehow, he knew he was meant to be here," she said.
In 1922, the Bartoluccis bought land in Oakville that had a winery, launching what is now almost 100 years of Napa County winemaking. In the 1960s, Taylor Bartolucci's father worked at the family winery, which was named Mont St. John Cellars.
The family sold the winery and in 1970 bought 160 acres for vineyards in the Carneros region. In 1978, the family bought 4.4 acres at 5400 Old Sonoma Road for a new winery. Taylor Bartolucci's father and grandfather constructed the building with an arch design in front.
"What these stories do is put in a context our family's past while we look forward to our future," Taylor Bartolucci told the commission.
While the Bartoluccis have been growing grapes and making wine, county regulations have changed over the years. The family wants to voluntarily and in good faith ensure the winery is in compliance, she said.
Several commissioners said it's important that the winery is treating the violations in that manner.
"And so your commitment is to come before us and ask to rectify that and to update your business plan for the next however many years," Commissioner Dave Whitmer said.
Madonna winery has no marketing events, which is unusual for a winery visitation issue before the commission. No neighbor complained at the public hearing about the existing visitation. Wine production remains at 50,000 gallons annually.
Besides approving the visitation, the commission said Madonna winery can continue using six full-time employees and seven part-time employees. That compares to the five full-time and one part-time previously authorized.
The commission also allowed the winery to keep using picnic tables at Old Sonoma Road and Highway 12 as an employee waiting area.
Commissioners voiced no areas of concern. The vote to grant Madonna winery's requests was unanimous.
"I think this is pretty straightforward," Commissioner Joelle Gallagher said.
Taylor Bartolucci is a fourth-generation Napa native who graduated from Justin-Siena High School. Among other things, she co-founded Lucky Penny Productions and served on the city of Napa's Parks and Recreation Commission.
Winery violations became a high-profile issue a few years ago. Some in the community said rule-breakers thought it easier to seek forgiveness than permission. Others said layers of complex county winery rules over decades led to use permit confusion.
The county Board of Supervisors in December 2018 created the code compliance program to address the issue. It gave businesses the chance to review their permits and step forward by March 29, 2019, if they found violations without facing penalties.
About 54 businesses — mostly wineries — stepped forward by the deadline. They can seek county permission to make violations legal, with no guarantees this will be the outcome.
WATCH NOW: THIS IS WHAT WINE AGED IN SPACE TASTES LIKE
In March of 2020, the daily lives of Napa County's health care providers changed dramatically. A year into the pandemic, they reflect on the m…
A Harley-Davidson restored by the late Jack Christianson was stolen in 2018. Over the last few weeks, St. Helena recovered it and returned it …
CalVet, which runs the home, declined to say whether security had been heightened since 2018. Some officials say additional security isn't nee…
An unassuming plant has produced a giant stalk for the first time in over 20 years in a Napa yard. What do you make of it? 
Three of Brandan Nylander's relatives filed suit March 15 in connection with his death  following an April 2020 vehicle pursuit.
Take a sneak peek inside a new Napa tiki bar, Wilfred's Lounge, planned to open this summer. 
Abide Medical Cannabis Dispensary is now open in downtown Napa.
Disagreement over extending a 120-day pay-raise requirement beyond supermarket workers puts an ordinance on hold, at least for now.
This retro midcentury modern style can be found in neighborhoods around town. What was old is now cool. 
COMMENTARY: Kevin Courtney: You hear stories. Now I was going to find out for myself.
SEE PHOTOS OF ST. HELENA BARRELS OF FUN
Photos: Barrels of Fun St. Helena, 2021
Barrels of Fun, 2021
Barrels of Fun, 2021
Barrels of Fun, 2021
Barrels of Fun, 2021
Barrels of Fun, 2021
Barrels of Fun, 2021
Barrels of Fun, 2021
Barrels of Fun, 2021
Barrels of Fun, 2021
Barrels of Fun, 2021
Barrels of Fun, 2021
Barrels of Fun, 2021
Barrels of Fun, 2021
Barrels of Fun, 2021
Barrels of Fun, 2021
Barrels of Fun, 2021
Barrels of Fun, 2021
Barrels of Fun, 2021
Barrels of Fun, 2021
Barrels of Fun, 2021
Barrels of Fun, 2021
Barrels of Fun, 2021
Barrels of Fun, 2021