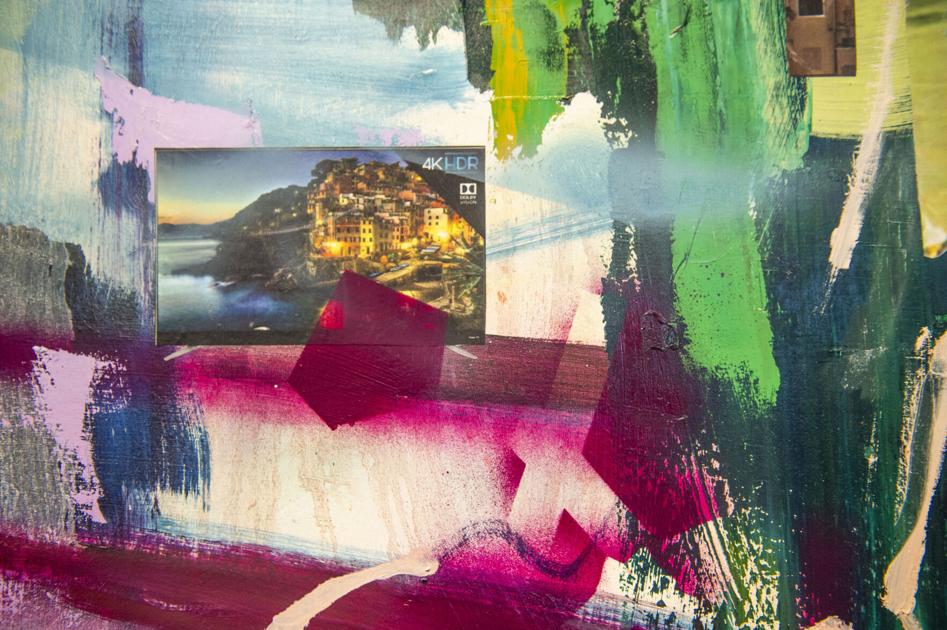 Emily Somoskey didn't paint her collection now on display at Walla Walla's Foundry Vineyards during the COVID-19 pandemic, but that doesn't mean it can't inform your feelings about it, the 30-year-old artist said.
The large 8- by 6-foot paintings, composed of multiple mediums, can be reframed in light of whatever life has become at the moment, Somoskey said.
"The scale really allows for that relationship. Maybe these are spaces that really exist and you could just walk into it."
Somoskey's "BEING, SENSING, DWELLING" will be the first display at Foundry Vineyards since November and only its second art display since the pandemic began, said owner and operator Lisa Anderson.
The high, spacious interior of the tasting room gallery is the perfect place for Somoskey's large paper canvases, which will be on display starting with an opening reception from 5-7 p.m., Thursday, May 27. The exhibit will be up through the end of the summer, Somoskey said.
The canvases are covered in mixed media — oil, acrylic, prints, even spray paint.
"I kind of work between these different materials to kind of complicate the way that we understand and perceive these images," Somoskey said. "Some are really recognizable and others become more ambiguous."
Some of the layers are so intricately intertwined and the colors are matched so well that you have to get up close to the painting to even see what's what. And that may be exactly what the artist wants, she said.
Somoskey, a visiting professor at Whitman College, had the canvases in her studio in East Lansing, Michigan, prior to moving to Walla Walla in July 2020. The large artworks had to be professionally moved and are now finally able to be fully displayed together.
Part of the idea in making the pieces so large was to allow someone to feel like they were walking into a scene, Somoskey said.
"I guess I'm really trying to have people question a little bit what they're looking at," Somoskey said. "And I like the openness of these (paintings). There's just enough that you feel like you can orient yourself into it. You know that this is some kind of space, like there's something recognizable, like (a) chair, but then there's other things like, 'OK, well how does this fit?'"
The "spaces" are hybrids. Somoskey began the designs based off interior settings, she said, but there are exterior elements, too.
"When I put things together that don't necessarily fit together, putting things in a space that you don't expect to see, it kind of makes you reevaluate why they're put together. This can kind of branch into thinking about things that are valuable or things that we hold as valuable."
For example, one piece, called "Nested," features what appears to be furniture and interior decorations and a basket overflowing with a pearl necklace. But in the center of the painting is a bird's nest — the eggs are the same color as the necklace, a baby blue.
The bird's nest is up high, above everything else, while the necklace is down at the lowest point.
Nature, nurture, gender, conformity, uniformity. That's some of the stuff that came to her mind, but it's not that to all people.
"Nested" in particular perhaps took on a new meaning for some people once the pandemic began, Somoskey said. Maybe some may see being "nested" completely differently after staying quarantined at home for so long.
It's an example of how life can create a new frame.
"I love how everyone is able to see something differently in it," Somoskey said. "I love talking with people about the things that they see and sometimes it's unexpected for me, but it's always interesting for me to see how people interpret and respond to these."
Each massive frame is filled with the familiar and the strange. The colors, artistically aligned, and the shapes, carefully crafted, draw the viewer into the frame, inviting an interpretation or at least a longer look.
And with a canvas of such great size, it's easy to take that longer look.
Just like life can invite people to take a longer look at times.
"I see these as being a reflection of the complexity of our lives," Somoskey said. "We're living in this time when we've all been stuck in our homes for a long time, but there's also so much going … mentally and that changes from day to day.
"And I think about time passing with these … some elements are fading into the background and some are coming forward.
"They weren't made during the pandemic but I feel they have a different relevance to them … Now I look at these and I think about them a little bit differently — there's a tension to them."
>>> Don't Miss Today's BEST Amazon Deals!
Originally Appeared Here