Cheshire is preparing for the launch of two exclusive leisure developments fronted by former pop star Recardo Patrick.
Cheshire House Bar and Grill, Knutsford and Recardo's, Hale, will target the 'Cheshire Set' with the emphasis firmly on entertainment, including a late-night drinking licence until 2.30 am.
Directing the creative development of these new ventures is soul singer and hospitality entrepreneur, Recardo Patrick, who is renowned within the entertainment industry, first shooting to fame in the 80's as the lead singer of the 70's band Sweet Sensation.
He has since performed with icons such as Prince, Whitney Houston and Michael Jackson and says he counts President Clinton and Naomi Campbell as personal friends.
Known as 'The King of Clubs', Patrick has built a career within the hospitality industry, pioneering nights such as Boogie in Wonderland at Heart Ibiza and brokering deals for major clubs and bars worth more than £900m.
Recently appointed as associate director of acquisitions for Aspirational Brands, one of the UK's fastest-growing hospitality groups, Patrick will be drawing on his years of experience and contacts to spearhead the development of these two new innovative drinking and dining concepts.
Based at Raymond Blanc's former site Brasserie Blanc, the 4,000 sq ft Cheshire House Bar and Grill, Knutsford will open on May, 24.
Following a stunning venue refit and menu overhaul, this new Knutsford hotspot will combine enticing cuisine with attentive service in a chic and stylish setting.
With table service until 11.30 pm, Cheshire House Bar and Grill aims to be the place to go for a relaxed evening drink.
Set to open in August, is Recardo's, Hale, which has taken over the former Suburbia club. This eclectic new venue will be the North West's first floral cafe, adorned with stunning foliage from floor to ceiling, providing a host of instagrammable moments in an unusual and spectacular setting.
By day, Recardo's will be the place to grab a light bite serving up delicious artisan patisseries, luxury coffees and speciality teas, along with a selection of tasty plant-based nibbles. As the sun goes down, Recardo's, which has capacity to hold 350 people, will become an after party venue, with a licence to serve until 2.30am.
Entertainmeht will feature a line-up of live performers playing 70's, 80's and disco classics, which is the venue's strict music policy.
Recardo's also promises a curated programme of jazz artists and vocalists along with salsa nights and wine tasting experiences for those looking for more relaxed entertainment.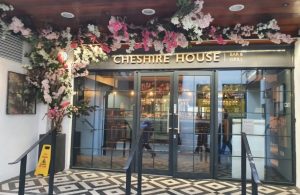 Adam Howitt, chief executive of Aspirational Brands, said: "We are very excited to be opening both the Cheshire House Bar and Grill in Knutsford and Recardo's in Hale, both of which will bring a host of jobs and footfall to the areas.
"Each venue will have its own unique identity, which is the foundation of our core beliefs. We are not a large commercial outfit pumping out chain restaurants. We are experts at nurturing independent brands built on community spirit.
"Our years of hospitality experience, combined with a wealth of contacts, will enable us to offer genuinely exclusive and immersive experiences at both venues."
In a bid to save jobs in the local area and assist the struggling hospitality industry, Aspirational Brands have retained all of the former Brasserie Blanc staff for Cheshire House Bar and Grill, in addition to opening up another 30 positions across both new sites.