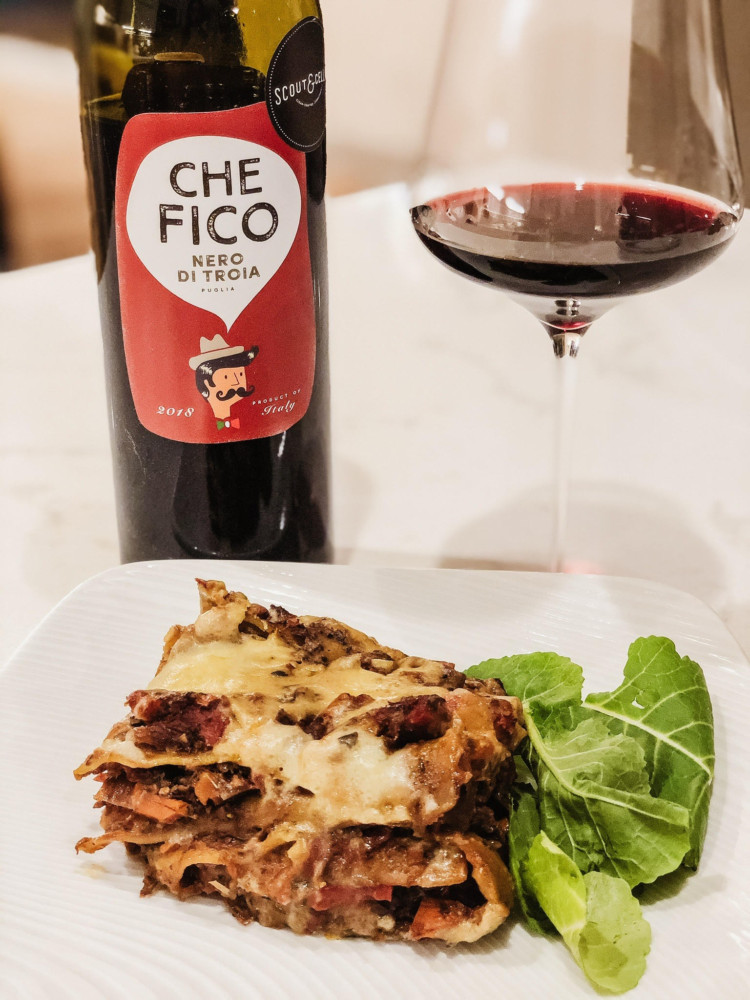 By: Felicia Zeeh
Did you know not all wine is vegan? When I became vegan, this came as a huge shock! I was aware about non-vegan ingredients in beauty products, medications, and even candies. But to learn that wine- a fermented grape beverage was not vegan was hard to wrap my head around. This revelation was my impetus to learn all about winemaking and the processes that made my favorite drink of choice not vegan.
Wine, in its natural state, has a slight haze to it owing to the remnants of grape or yeast particles from fermentation. To the naked eye, the haze is usually not noticable, but to please their connoisseurs, many winemakers will clarify their wines. Clarifying wine entails different steps, one of which is "fining". 
Fining uses animal products like fish bladder, egg whites, casein and even gelatin. These components act like a magnet to attract the particles in the wine so they can be filtered out. In addition to purification techniques, many mass produced wines use large machinery to harvest the grapes instead of hand-picking the grapes. These machines take everything off the vines. Yes, EVERYTHING, including birds nests, which get dumped in a bin and head to the sorting machine. 
This is why hand harvested and hand sorted grapes are the way to go. Small-scale wine producers typically take every precaution to ensure that their grapes are handled and picked with care. As an ethical vegan I no longer wanted to support practices that caused harm to other living beings and our planet.
That led me to my next question- where and how does one find vegan wine? This can be challenging since nutrition labels are not required on wine. One easy way around this is to look for wines labeled "un-fined" or "unfiltered." Fortunately, as more consumers are demanding natural and vegan products, producers are responding by adopting vegan-friendly clarifying techniques that use limestone, plant casein or bentonite clay, or by bypassing these steps entirely. 
This is definitely an exciting time with more and more natural wines hitting the market! My one-stop-shop for all natural, sustainably sourced vegan wines is Scout & Cellar! The website Barnivore is also a great resource to find vegan friendly wines. If a wine subscription box is your jam, give Winc's featured vegan wines a go! I would also suggest just walking into your favorite local wine shop and asking. Usually, folks working in wine shops love talking about all things vino and find pure joy in finding their customers a memorable wine that will blow them away!
Ok, so now, you've found the perfect vegan, and natural wine. Now what do you pair it with? This is my favorite part!! Food and wine are a match made in heaven. A great wine can truly elevate your dish. It's a common misconception that wine should be paired with dairy cheese or animal meats, when in fact, it's not the protein or cheese you are pairing with, it's the flavors! Fortunately, as vegans, we know all about spices and sauces that maximize flavors in foods. Here are a few guiding principles when pairing food and wine-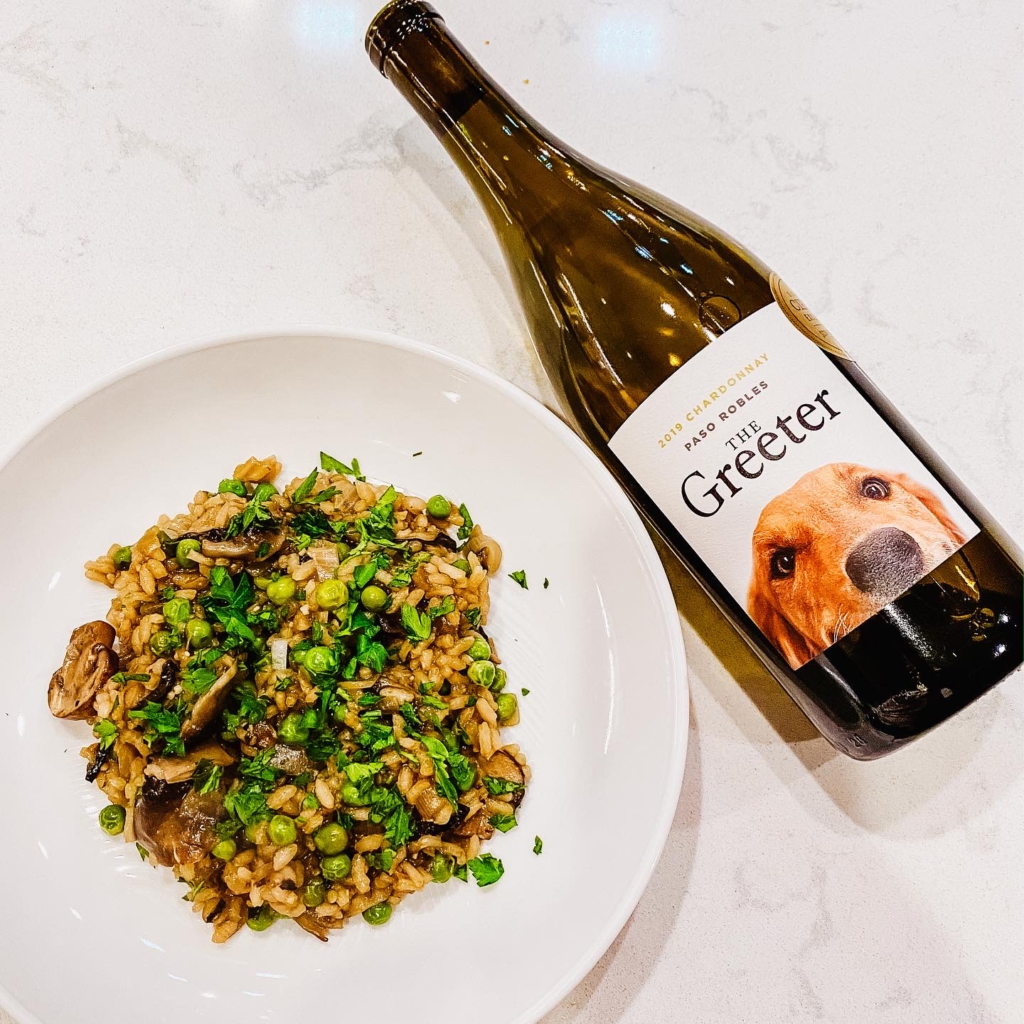 Pair weight with weight or "intensity"- A high fat dish or heavy meal like lasagna or a beyond burger will pair well with a full-bodied cabernet. On the contrary, if you're craving a perfectly battered and fried plant-based meal, then a lighter wine such as sparkling wine or champagne will work as a palate cleanser by cutting through the heaviness of the dish. When in doubt order champagne! 
All about that sauce- I generally stick to the rule: 'white wine with white sauce' or 'red wine with red sauce'. Or 'earthy with earthy' -mushrooms and pinot noir are a match made in heaven!
Acidity- Think about the acidity of your dish. If your mouth waters from it, like eating a lemon or green apple, then it's a high acid food! Something with a lime juice base or other high acid liquid such as salad dressings go best with a high acid wine such as riesling, prosecco or a cool-climate Sauvignon Blanc.
Sweetness- Sweetness in food can diminish the perception of sweetness and fruitiness in wine. This can be an advantage when serving dessert wines like ice-wine that are overly sweet on its own. Slightly sweet wines like an off-dry Riesling or a Chenin Blanc will offset the heat in spicy food. Look no further for a delightful compliment to your vegan stir fry!
Bitterness- On the contrary to the dynamics of acidity and sweetness, bitterness in food will enhance the bitterness of the wine. Green vegetables like broccoli, spinach and asparagus have elements of bitterness, which can be offset with wines that have medium-high acidity and some residual sugar. Chenin Blanc or Pinot Grigio are great options. 
Umami foods like soy sauce or nutritional yeast diminish the perception of the wine's sweetness, fruitness and richness. High acid wines like Sauvignon Blanc or sparkling wine or more fruit forward wines like California Zinfandel or Malbec can provide a good balance to the flavors in your dish. 
While these are guiding principles, ultimately it comes down to preference. I always say, "If it tastes good then drink it!" 
Felicia is a fabulous Vegan Wine Consultant with Scout & Cellar. Follow her on Instagram and check out her website for fun recipes and more wine pairing ideas!
Image Sources: Vino and Veggies