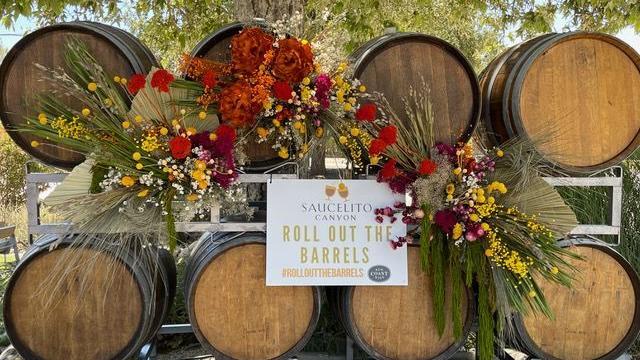 So, you've procrastinated too long and think you've missed out on the popular SLO County Roll Out the Barrels (ROTB) annual wine tasting events in Edna Valley.
Imagine this, you still have a chance today to attend a great wine tasting experience or bid in the online auction for some excellent wines and lifestyle events. Now today (Sunday, June 27) is the last day for wine tasting rooms in the south county region of San Luis Obispo to celebrate ROTB, but most will be open for the standard wine tasting on Monday, June 28.
ROTB was formerly held at the Avila Beach Golf Resort with all of the wineries under tents, but that's still on hold. Due to safety precautions the tastings are held strictly at the individual wineries, and most of them require a reservation. That ensures a smaller group of people to serve, with no crowding. That said, you can still call today and see if you can snag an opening because someone was forced to cancel. Isn't that worth a simple phone call, which is easy to find thanks to the world wide web!
Among them will be the terrific Saucelito Canyon winery in Edna Valley, just a half-mile off Hwy. 227 (Broad Street), renowned for their excellent zinfandels and other top notch varieties.
They rank among SLO County's historic pioneers in Central Coast wine country. Saucelito Canyon invites you to enjoy a great photo op, as pictured here, framed by their "Idlewood dried floral barrel wall."
They will also feature musician Jill Knight for your enjoyment on Sunday. They open Sunday for the featured reserve wine tasting or standard tasting, and standard tasting only on Monday. It's well worth calling to make sure you can get a reservation. Although they will be busy, sometimes they can accommodate walk-ins.
These days, locals are so happy to be free to visit inside or outside again, local wineries and restaurants are very busy. Along with the vintners, we are all quite grateful for that. Every wine tasting room I visit lately, no matter what day of the week or time, is packed with joyous wine lovers.
Another generous winery glad to accept walk-ins is Filipponi Ranch in San Luis Obispo, just off Los Osos Valley Road, near Hwy. 101. On Sunday, they will feature live music from 1 until 4 p.m. Their line-up of wines will include the new release of 2019 Edna Valley chardonnay, and a 2018 Edna Valley grenache, plus barrel samples to preview. The tasting fee is $15 per person and "walk-ins are welcome."
Another favorite in Edna Valley is Claiborne and Churchill, located on Hwy. 227. And with all of their enticing treats to enjoy in their soothing garden patio, it's a win-win. For ROTB they are offering a delicious wine country brunch in the garden patio. They will complement the delightful late breakfast with a house flight of their aromatic white wines, dry rose, and their pinot noirs and Rhone reds varieties.
Or you can choose an all white wine or red wine flight. You will receive full table side service and live music by Chris Beland. It's a 90-minute wine and food lover's experience but reservations are required. Now I can't promise you can get in today, but isn't it worth a phone call (there are always last minute cancellations). I know for a fact they will do their best to accommodate you if they can.
This event only takes place from 11 a.m. until 2 p.m. If you can't make it today, you can visit any time as they are open daily from noon until 5 p.m. Do check our their website for special weekly events like "happy hour Friday."
New at Sinor-LaVallee in Avila Beach is the Morro Bay Oyster Co.'s oyster shucking experience. You can have their Pacific Golds paired with pick five out of the eight wines produced by Sinor-LaVallee, or a white or a red flight, and you'll enjoy a treat only found on the Central Coast.
The wine tasting room can also provide an oyster knife and glove to protect your hand, that you can purchase. This is not just a ROTB special, they have earned a license so they can provide this oyster and wine pairing nearly every day. The key is ordering the bivalves online in advance of your visit, and you're guaranteed your dozen oysters.
Vintner and winemaker Mike Sinor told me they're calling it the "the shuck shack at Sinor-LaVallee," and the freshly caught oysters are very fairly priced $25 a dozen to the public, and only $20 per dozen for wine club members.
I love this idea, and Sinor's prices are far more reasonable than the average oyster price in restaurants. The pandemic is finally fading out, and thanks to our creative vintners who struggled to survive it, they are coming up with some fantastic ideas for their tasting rooms!
>>> Don't Miss Today's BEST Amazon Deals!
Originally Appeared Here